DIY lash extensions manga style segment pre cut cluster lash
Now DIY lash are more and more popular, as DIY lash can be finished at home and no need
go to salons. I see false lashes are needed in US and Europe. Now as the pandemic, DIY lash

at home now are more and more.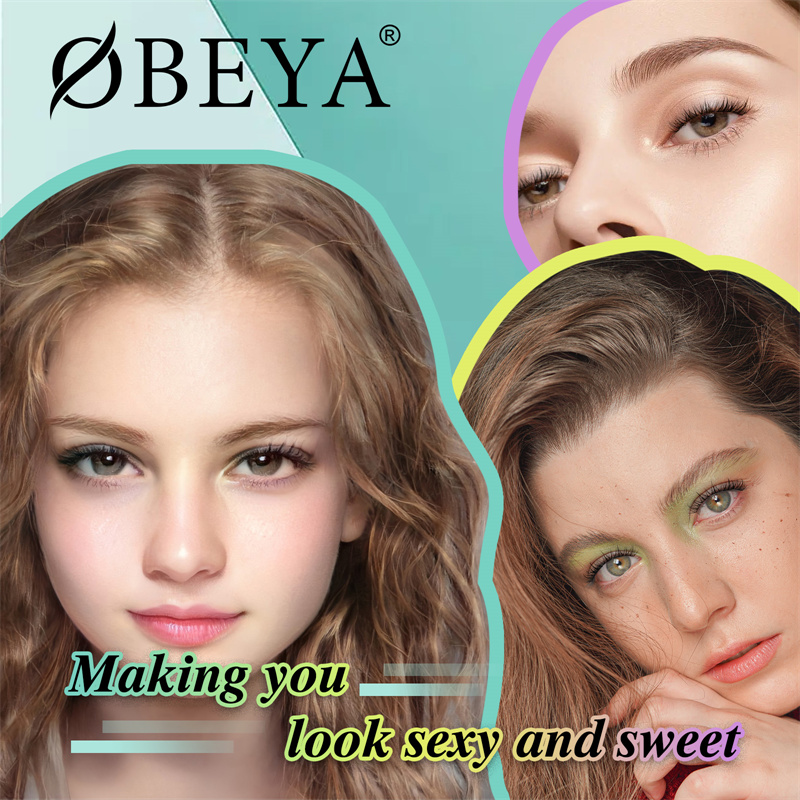 DIY lash extensions manga style segment pre cut cluster lash Introduction
This lash we also called trilogy lash, you can just wear 3 pcs to creat a beautiful lash look. It is
very easy. You see the lash design the middle is a bunch of thick spike lashes, then with 2 less
thicker cross lash on the side. Small cross are between them.
Lash designs usually like crosses which give wispy look, light weight feeling.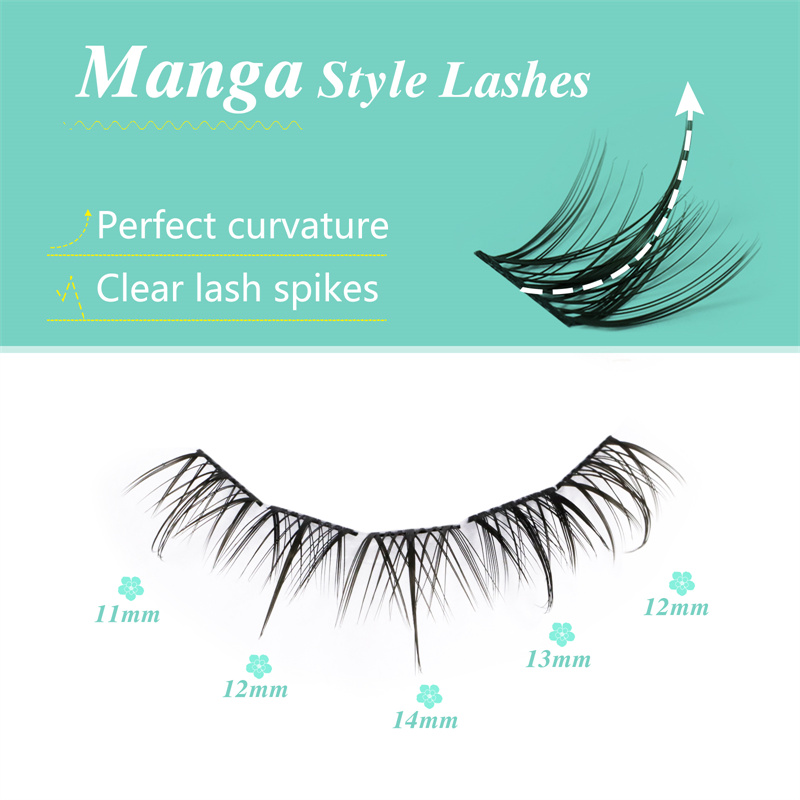 DIY lash extensions manga style segment pre cut cluster lash Advantages
We use premium silk material which is very soft feeling,and you will feel very comfortable.
The band we use cotton material strong band which can be used for several times. And we
updated craft which are very thin, so you will feel zero touch and hold for longer time.
DIY lash usually can hold for 7 to 10 days.
DIY lash are small pieces so they are very easy to apply on.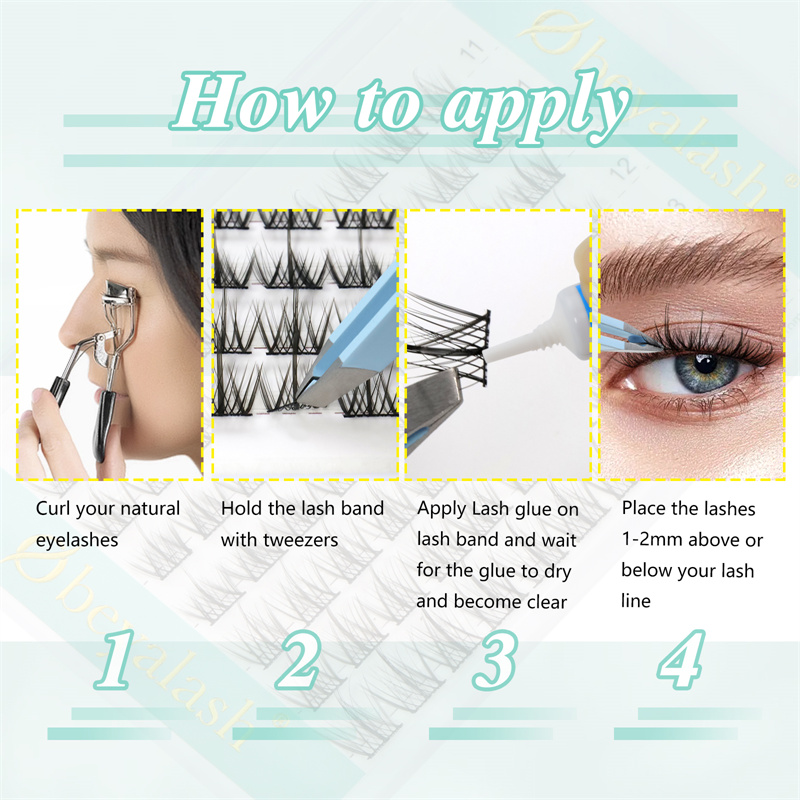 DIY lash extensions manga style segment pre cut cluster lash Use info
1. Use lash curler to curl your lash firstly, make it upside.
2. Clip the lash from the base. That will be easy to get it, if you clip the hair, the lash are easy to be
broken.
3. Apply glue on the lash band, you can use our super strong glue. And wait a few seconds,
the glue will be very strong.
4. Then apply lash on.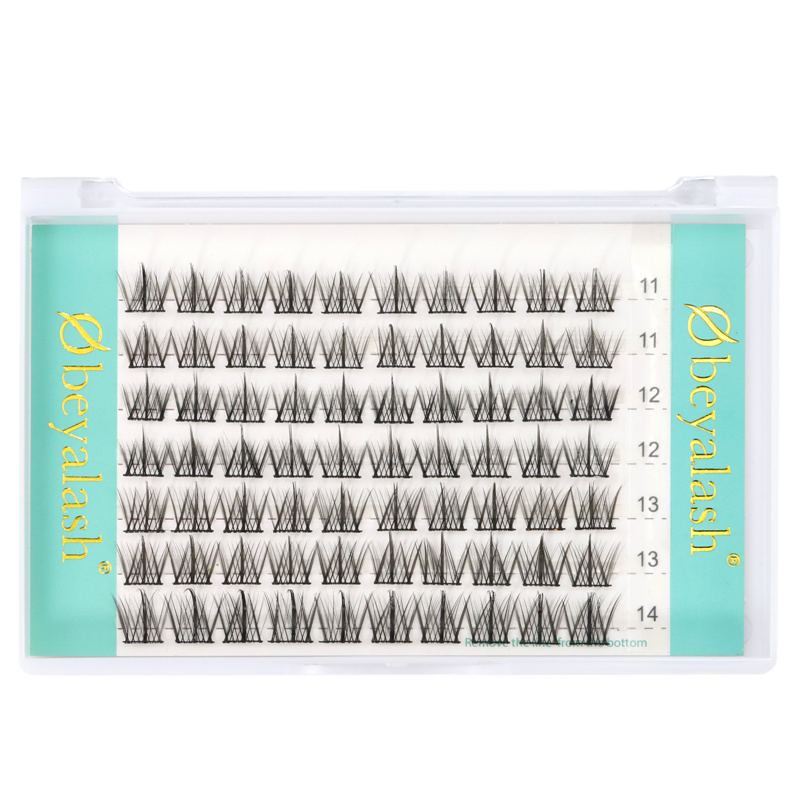 DIY lash extensions manga style segment pre cut cluster lash with private label
You see we do plastic box for the DIY lash, we also can do custom paper box and magnetic box
Paper boxand magnetic box we can print your logo, the pattern and color you like, your social info.
Before print we will show you design file to confirm firstly, then we start production.

CONTACT ME for more details.
Monica:
Whatsapp: +86 185 6261 5183
FAQ:
Q: What are DIY lashes?
A: DIY lashes, also known as do-it-yourself lashes, are false eyelashes that can be applied at home without the need for professional assistance. These lashes come in various styles, lengths, and materials, allowing individuals to customize their look according to their preferences.
Q: How do DIY lashes differ from regular false lashes?
A: DIY lashes are designed specifically for self-application, whereas regular false lashes may require professional assistance or specialized tools. DIY lashes often come with adhesive strips or glue that is easy to use, making them more accessible for individuals who want to enhance their lashes at home.
Q: Are DIY lashes suitable for beginners?
A: Yes, DIY lashes are generally suitable for beginners. They are designed to be user-friendly and come with instructions on how to apply them. However, it may take some practice to perfect the application technique and achieve the desired look.
Q: What materials are DIY lashes made of?
A: DIY lashes can be made from various materials, including synthetic fibers, human hair, or mink fur. Synthetic lashes are more affordable and widely available, while human hair and mink fur lashes offer a more natural and luxurious look. Choose the material that aligns with your preferences and values.
Q: How do I choose the right DIY lashes for my eye shape?
A: When choosing DIY lashes, consider your eye shape to achieve the most flattering look. For example, individuals with hooded eyes may benefit from lashes with a more dramatic curl, while those with almond-shaped eyes may prefer lashes with a winged or cat-eye effect. Experiment with different styles to find the one that enhances your eye shape.
Q: How do I apply DIY lashes?
A: To apply DIY lashes, follow these steps:
Prepare your natural lashes: Curl your natural lashes and apply mascara if desired. This helps create a base for the false lashes to adhere to.
Measure and trim the lashes: Hold the false lashes against your eyelid and trim them to fit the width of your eye. Trim from the outer edge to maintain the desired style.
Apply adhesive: Apply a thin layer of lash adhesive along the lash band. Wait a few seconds for the adhesive to become tacky.
Placement: Using tweezers or your fingers, carefully place the lashes as close to your natural lash line as possible. Start from the center of your eyelid and press the lashes down gently.
Secure and blend: Once the lashes are in place, press them down gently to ensure they are securely attached. Use an eyelash curler to blend your natural lashes with the false lashes for a seamless look.
Q: How long do DIY lashes last?
A: The longevity of DIY lashes depends on various factors, including the quality of the lashes, the adhesive used, and how well they are cared for. Generally, DIY lashes can be worn for a day or evening event and should be removed before sleeping. With proper care, they can be reused multiple times.
Q: How do I remove DIY lashes?
A: To remove DIY lashes, gently peel them off starting from the outer corner of your eye, working your way inward. Avoid pulling or tugging on the lashes to prevent damage to your natural lashes. Clean any residual adhesive from the lash band using a gentle eye makeup remover.
Q: How do I clean and store DIY lashes?
A: After removing DIY lashes, gently clean them using a mild cleanser or makeup remover to remove any residual glue or mascara. Place them back in their original packaging or a clean, dry container to maintain their shape and protect them from dust and damage.
Q: How can I test the quality of DIY lashes?
A: To test the quality of DIY lashes, you can consider the following factors:
Material: Check the material used for the lashes. High-quality DIY lashes are typically made from synthetic fibers, human hair, or mink fur. Look for lashes that are soft, lightweight, and comfortable to wear.
Construction: Examine the construction of the lashes. The lash band should be flexible, yet sturdy enough to hold the lashes in place. Ensure that the lashes are evenly spaced and securely attached to the band.
Appearance: Assess the overall appearance of the lashes. Look for lashes that have a natural-looking shape, consistent length, and a well-defined curl. Avoid lashes that appear overly shiny, stiff, or unnatural.
Reusability: Consider the reusability of the lashes. High-quality DIY lashes can be reused multiple times without losing their shape or becoming damaged. Look for lashes that maintain their integrity even after several uses.
Adhesive: Evaluate the quality of the adhesive included with the DIY lashes. The adhesive should be strong, long-lasting, and safe for use on the eyelids. It should also dry clear and not irritate the skin or eyes.
Reviews and recommendations: Read customer reviews and recommendations to gauge the quality of the DIY lashes. Look for feedback on durability, comfort, and overall satisfaction with the product.
Q: How can I determine if DIY lashes are safe to use?
A: To ensure the safety of DIY lashes, consider the following:
Adhesive ingredients: Check the ingredients of the adhesive included with the DIY lashes. Look for adhesives that are latex-free and hypoallergenic to minimize the risk of allergic reactions.
Patch test: Perform a patch test by applying a small amount of adhesive to your skin, preferably on your forearm. Wait for 24 hours to check for any adverse reactions such as redness, itching, or irritation.
Comfort and fit: When wearing the DIY lashes, assess how comfortable they feel on your eyelids. Lashes that cause discomfort, itching, or irritation may not be suitable for your needs.
Proper application: Ensure that you follow the instructions provided with the DIY lashes for proper application. Incorrect application or misuse of the lashes can lead to discomfort or potential eye injuries.
Quality of materials: Choose DIY lashes made from high-quality materials that are safe for use near the eyes. Avoid lashes that have sharp or jagged edges, as they can cause discomfort or injury.
Professional advice: If you have sensitive eyes or any existing eye conditions, it is advisable to consult with an eye care professional before using DIY lashes to ensure they are safe for your specific situation.
Q: Can I test DIY lashes before purchasing them?
A: It may not be possible to test DIY lashes before purchasing them, especially if you are buying them online. However, you can rely on customer reviews, recommendations, and the reputation of the brand to assess the quality and performance of the lashes. Additionally, some retailers may offer return or exchange policies that allow you to try the lashes and return them if they do not meet your expectations.
Q: What should I do if I find issues with the quality of DIY lashes?
A: If you encounter quality issues with DIY lashes, such as poor construction, uncomfortable fit, or defective adhesive, you can take the following steps:
Contact the seller: Reach out to the seller or manufacturer to express your concerns and provide details about the issues you have encountered. They may offer a refund, replacement, or provide assistance to resolve the problem.
Check the return policy: Review the return policy of the retailer or online platform where you purchased the DIY lashes. If the lashes are eligible for return or exchange, follow the instructions provided to initiate the process.
Share your experience: Consider leaving a review or feedback about the quality issues you experienced with the DIY lashes. This can help other potential buyers make informed decisions and may prompt the seller to address the quality concerns.
Seek alternatives: If you are unable to resolve the quality issues, consider trying different brands or seeking professional assistance for lash application. There are various options available in the market, and experimenting with different products can help you find the right ones for your needs.
You may also like
Wholesale popular silk faux mink vegan eyelashes with logo XJ92