Tiktok hot clear band super natural manga style silk lashes
Now tiktok have hot clear band silk lashes, we introduce some manga style. Such kind lash
are very natural which suite for daily life. And clear band have its big advantages which are
easier to apply lashes. So such lashes are welcomed!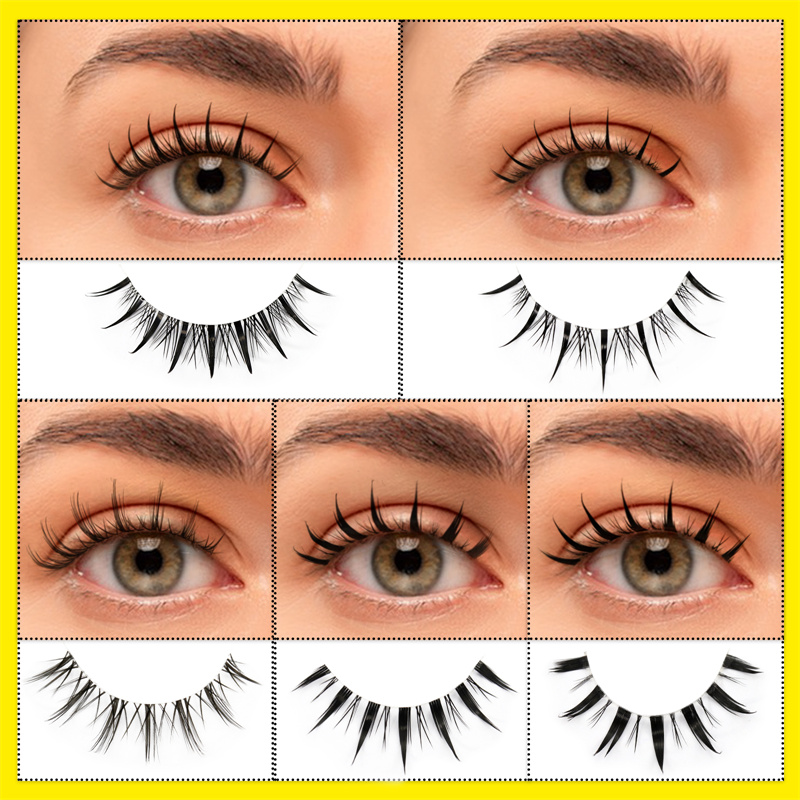 Tiktok hot clear band super natural manga style silk lashes introduction
You see this time we introduce 5 styles all manga style silk lashes.
The first one and second one are similar, the second one is more wispy and natural. The first
one is more suite dark makeup. You see bunches of lashes are more thicker of the first one.
The third one is the most light weight one, less hair of cross and less hair of the long bunches.
The fourth one and fifth one are similar, the long hair are much thicker ones then the small
bunches are very less hair.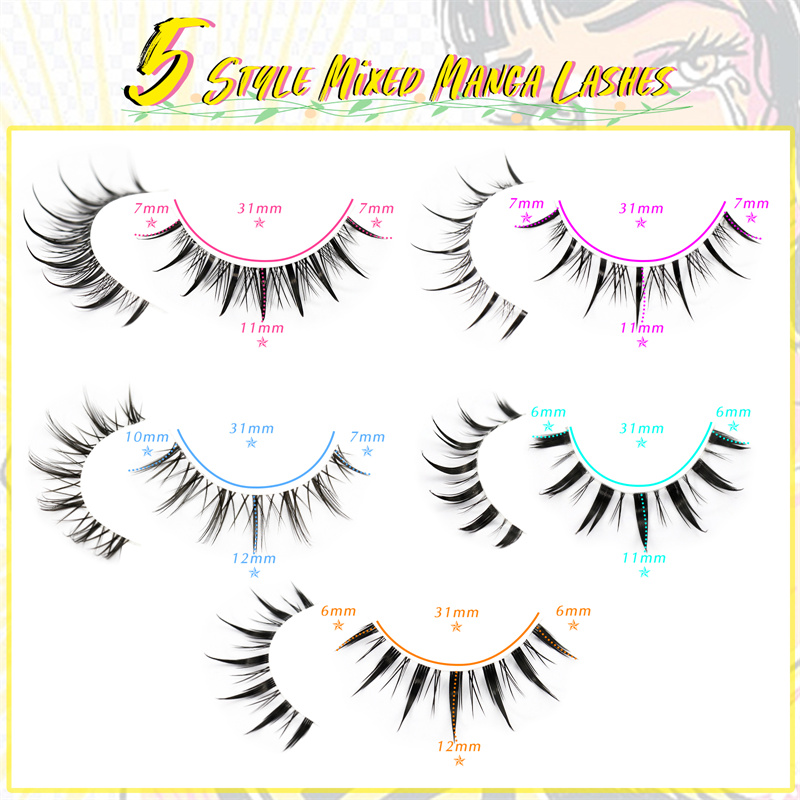 Tiktok hot clear band super natural manga style silk lashes Advantages
All these styles are round eye shape which have a sunflower look. Such lash styles will make
your eyes bigger and charming. As these are manga styles which make you look younger.
You see the lash lengths are all natural length, 11mm-12mm.
The clear band we use updated material and craft which are reusable.
The lash are imported synthetic material which are super soft and light weight.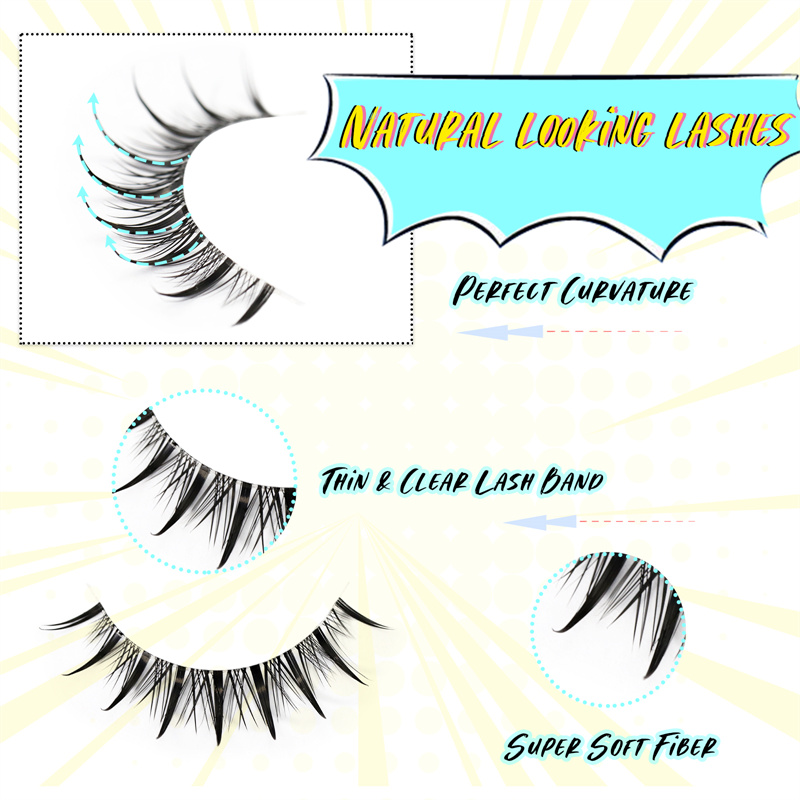 Tiktok hot clear band super natural manga style silk lashes with private label
Such clear band lash price lower so we do muti pairs pack with paper box and sell on Amazon.
We can do custom paper box, magnetic box and plastic box for your strip lashes. Paper box
and magnetic box we can print your logo, the pattern and color you like, your social info.
Faux mink lashes cheaper you can try paper box more economic.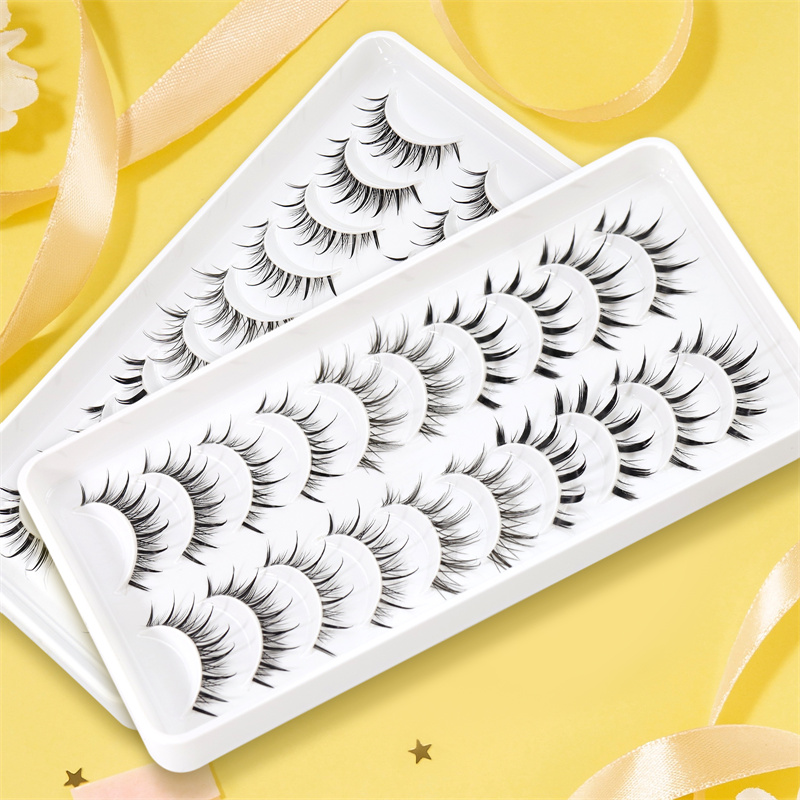 Tiktok hot clear band super natural manga style silk lashes related lash tools
Beside lashes we also have lash tools, such as lash glues, lash applicators and lash tweezers.
And lash tools we also can print logo and do custom package box. You can contact me for
more details.
CONTACT ME for more details.
Monica:
Whatsapp: +86 185 6261 5183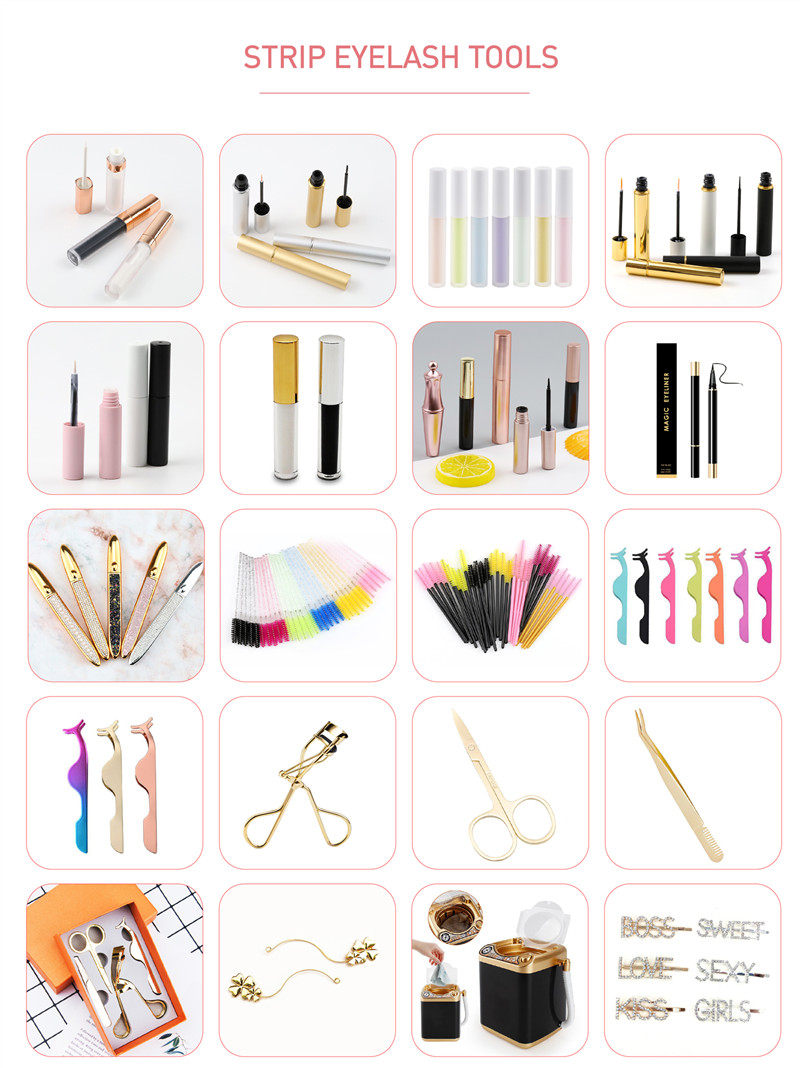 FAQ:
Q: What are manga style lashes? A: Manga style lashes refer to the exaggerated and stylized eyelashes commonly seen in manga and anime artwork. These lashes are often depicted as long, thick, and dramatic, emphasizing the characters' eyes and adding to their overall appearance.
Q: How are manga style lashes different from regular lashes? A: Manga style lashes are typically more exaggerated and artistic compared to regular lashes. They are often longer, thicker, and more dramatic, designed to enhance the characters' expressions and emotions. In contrast, regular lashes aim to provide a natural and subtle look.
Q: Can I recreate manga style lashes in real life? A: Yes, it is possible to recreate manga style lashes in real life using false eyelashes or lash extensions. There are various styles available, ranging from natural-looking lashes to more dramatic and voluminous options. By selecting lashes with longer and thicker strands, you can achieve a similar effect to manga style lashes.
Q: Are manga style lashes suitable for everyday wear? A: Manga style lashes are typically more suitable for special occasions, cosplay, or artistic purposes rather than everyday wear. Due to their exaggerated nature, they may appear too dramatic or unnatural for daily use. However, if you enjoy experimenting with your look, you can certainly incorporate elements of manga style lashes into your everyday makeup routine.
Q: How can I apply manga style lashes? A: To apply manga style lashes, you will need false eyelashes, lash glue, and tweezers. Start by measuring the lashes against your eyelid and trim them if necessary. Apply a thin layer of lash glue along the lash band and wait for a few seconds until it becomes tacky. Using tweezers, carefully place the lashes as close to your natural lash line as possible. Press gently to secure them in place. Remember to remove the lashes properly after use to avoid damaging your natural lashes.
Q: Where can I find manga style lashes? A: Manga style lashes can be found in various beauty supply stores, online retailers, or specialty cosplay shops. Look for brands that specifically cater to cosplay or anime-inspired makeup. Additionally, you can find tutorials and recommendations from makeup enthusiasts or cosplayers online, which can help you discover specific brands or styles that suit your preferences.
Q: Can I customize manga style lashes? A: Yes, you can customize manga style lashes to suit your desired look. You can trim them to fit your eye shape, add additional layers for more volume, or even combine different lash styles to create a unique effect. Experimenting with different techniques and styles can help you achieve the desired manga-inspired look.
Q: Are manga style lashes suitable for everyone? A: Manga style lashes can be worn by anyone who enjoys experimenting with their appearance. However, it's important to consider your personal style, comfort level, and the occasion when deciding to wear them. If you're unsure, you can start with more natural-looking manga style lashes and gradually work your way up to more dramatic styles if desired.
Q: Can I wear manga style lashes with glasses? A: Yes, you can wear manga style lashes with glasses. However, it's important to consider the length and thickness of the lashes to ensure they don't interfere with your glasses or cause discomfort. Opt for lashes that are shorter in length and avoid excessively voluminous styles that may brush against your glasses.
Q: How can I start selling manga lashes? A: To start selling manga lashes, you can follow these steps:
Research the market: Understand the demand for manga lashes and identify your target audience. Look for gaps in the market that you can fill with unique or specialized products.
Source suppliers: Find reliable suppliers who can provide you with high-quality manga lashes. Consider factors such as price, variety, and shipping options when choosing your suppliers.
Create your brand: Develop a brand identity that resonates with your target audience. This includes creating a brand name, logo, and packaging design that reflects the style and essence of manga lashes.
Set up an online store: Create an e-commerce website or set up a shop on popular online marketplaces to showcase and sell your manga lashes. Ensure that your website is user-friendly and visually appealing.
Marketing and promotion: Utilize social media platforms, influencer collaborations, and targeted advertising to promote your manga lashes. Engage with your audience, share tutorials or makeup tips, and offer special promotions to attract customers.
Provide excellent customer service: Respond promptly to customer inquiries, address any concerns or issues, and ensure timely shipping and delivery of orders. Positive customer experiences will help build your reputation and encourage repeat business.
Q: How can I differentiate my manga lashes from competitors? A: To differentiate your manga lashes from competitors, consider the following strategies:
Unique designs: Create distinctive lash designs that stand out from what is already available in the market. Experiment with different lengths, thicknesses, and shapes to offer a diverse range of options.
Quality and durability: Ensure that your manga lashes are made from high-quality materials that are comfortable to wear and can withstand multiple uses. This will help build trust and loyalty among your customers.
Collaborations: Partner with popular manga artists, cosplayers, or influencers to create limited-edition lash designs or collections. This can attract a dedicated fan base and generate excitement around your brand.
Customization options: Offer customization services where customers can request specific lash designs or modifications to suit their preferences. This personal touch can set you apart from competitors.
Packaging and branding: Invest in visually appealing packaging that reflects the manga aesthetic. Consider including informative and engaging content on the packaging, such as character profiles or makeup tips.
Q: How can I reach potential customers for my manga lashes? A: Here are some effective ways to reach potential customers for your manga lashes:
Social media marketing: Utilize platforms like Instagram, TikTok, and YouTube to showcase your manga lashes through visually appealing images, videos, and tutorials. Engage with your audience, collaborate with influencers, and use relevant hashtags to increase visibility.
Online marketplaces: List your manga lashes on popular online marketplaces such as Etsy, Amazon, or eBay. These platforms have a large customer base and built-in search functionalities that can help potential customers find your products.
Cosplay events and conventions: Participate in cosplay events, conventions, or anime/manga-themed gatherings where you can set up a booth to showcase and sell your manga lashes. This allows you to directly interact with your target audience and build brand awareness.
Collaborations: Partner with manga artists, cosplayers, or influencers who have a strong following in the manga community. They can help promote your manga lashes to their audience, increasing your reach and credibility.
Influencer marketing: Reach out to beauty influencers or makeup artists who specialize in manga or anime-inspired looks. Offer them free samples of your manga lashes in exchange for honest reviews or features on their social media platforms.
Q: How can I ensure the quality of my manga lashes? A: To ensure the quality of your manga lashes, follow these steps:
Source from reputable suppliers: Choose suppliers who have a good track record and positive reviews. Request samples before making bulk orders to assess the quality of the lashes.
Test the lashes: Wear the lashes yourself or have a group of testers try them out to evaluate their comfort, durability, and overall quality. Take feedback into consideration and make any necessary improvements.
Conduct quality control checks: Inspect each batch of lashes upon arrival to ensure they meet your quality standards. Check for any defects, inconsistencies, or damage before packaging and selling them.
Seek customer feedback: Encourage customers to provide feedback on their experience with your manga lashes. This can help you identify any issues or areas for improvement and make necessary adjustments.
Maintain good communication with suppliers: Establish a good relationship with your suppliers and communicate your quality expectations clearly. Regularly check in with them to address any concerns or quality issues that may arise.
Q: How can I price my manga lashes competitively? A: When pricing your manga lashes, consider the following factors:
Cost of production: Calculate the cost of materials, packaging, shipping, and any other expenses associated with producing and selling your manga lashes.
Market research: Research the prices of similar manga lashes in the market to understand the price range and competitive landscape. Consider the quality, uniqueness, and brand value of your lashes when comparing prices.
Profit margin: Determine the profit margin you want to achieve and factor it into your pricing strategy. Ensure that your pricing allows for a reasonable profit while remaining competitive.
Value proposition: Consider the value your manga lashes offer to customers. If your lashes have unique designs, high-quality materials, or customization options, you can justify a higher price point.
Promotions and discounts: Offer occasional promotions, discounts, or bundle deals to attract customers and create a sense of value. However, ensure that your pricing still allows for profitability even with these offers.
You may also like
Wholesale popular silk faux mink vegan eyelashes with logo XJ92
Latex free Korean Strip eyelash glue XJ78