Private Label Long Stem Volume Premade Fans Vendors
Long Stem Premade Fans Description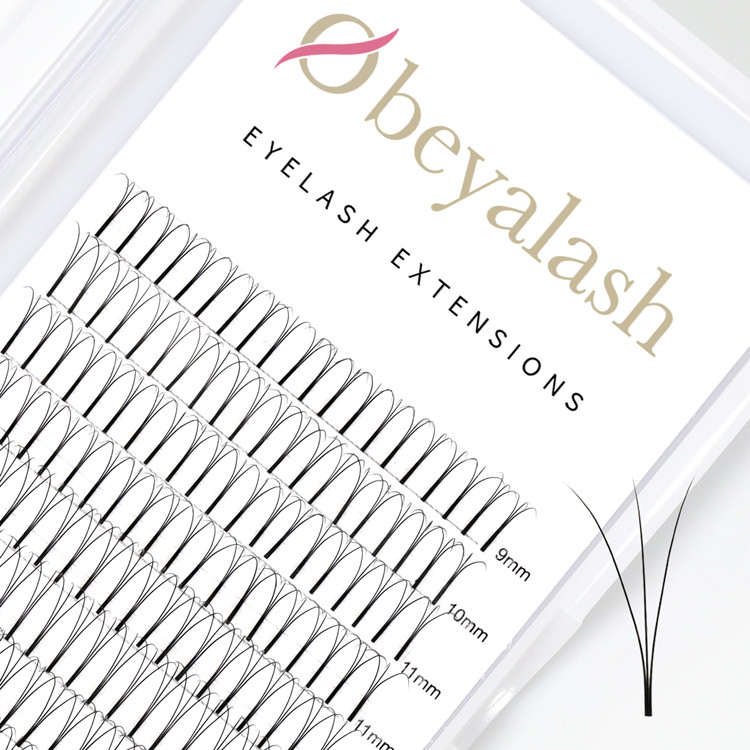 Our long stem premade fans,the material is PBT,because they are long stem,so they are easy to pick up from bottom card,feel very soft and comfortable.We can do 9-15mix length.Also we can do 0.07/0.10mm thickness,C/D curl,8-15mm single length and mix length,each line have 20 fans,regular 12 lines,total 240 fans,very economical for customers.

Long Stem Premade Fans Advantages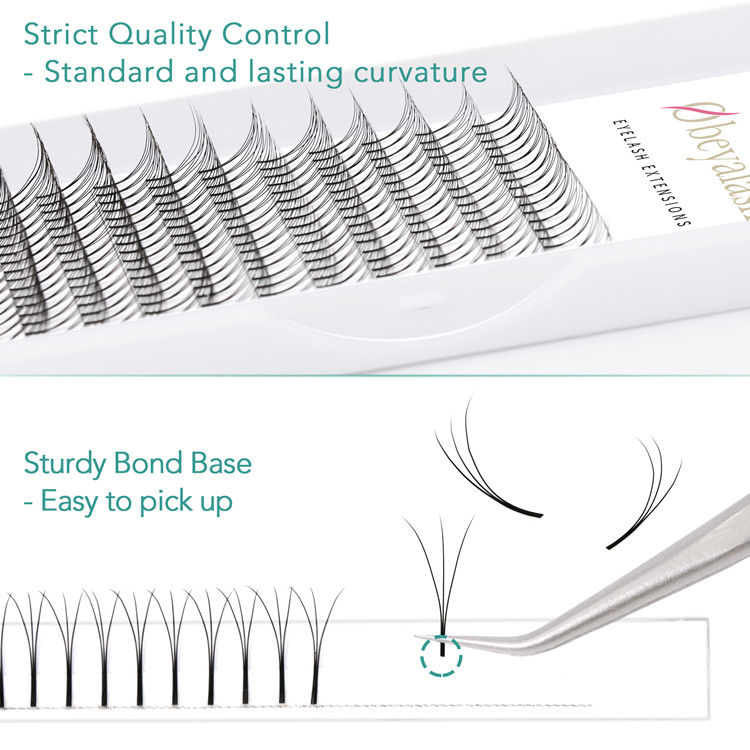 1.Our long stem premade fans have strict quality control,standard and lasting curvature for long time.Because it is long stem premade fans,when sturdy bond base,very easy to pick up.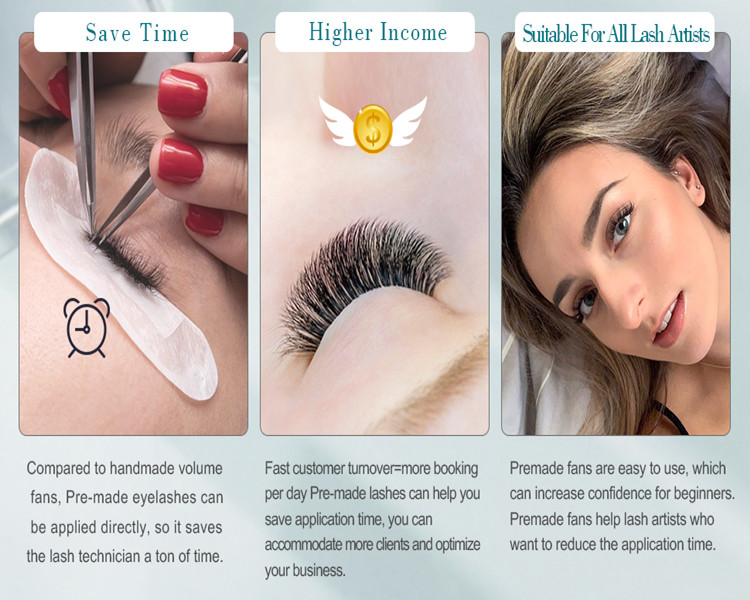 2.Compared to handmade volume fans,premade fans can be applied directly,so it saves the lash technician a ton of time;

Fast customers turnover-more booking per day premade lashes can help you save application time,you can accommodate more clients and optimize your business;
Premade fans are easy to use,which can increase confidence for beginners,premade fans help lash artists who want to reduce the application time.
Premade Fans Long Stem VS Short Stem Difference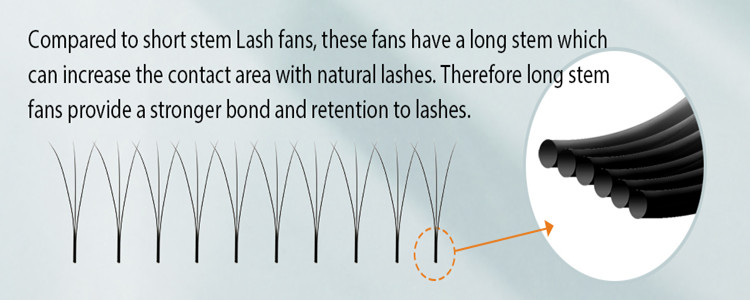 Compared to short stem premade lash fans,our long stem premade fans have a long stem which can increase the contact area with natural lashes.Therefore long stem premade fans provide a stronger bond and retention to lashes.

Long Stem Premade Fans LOOK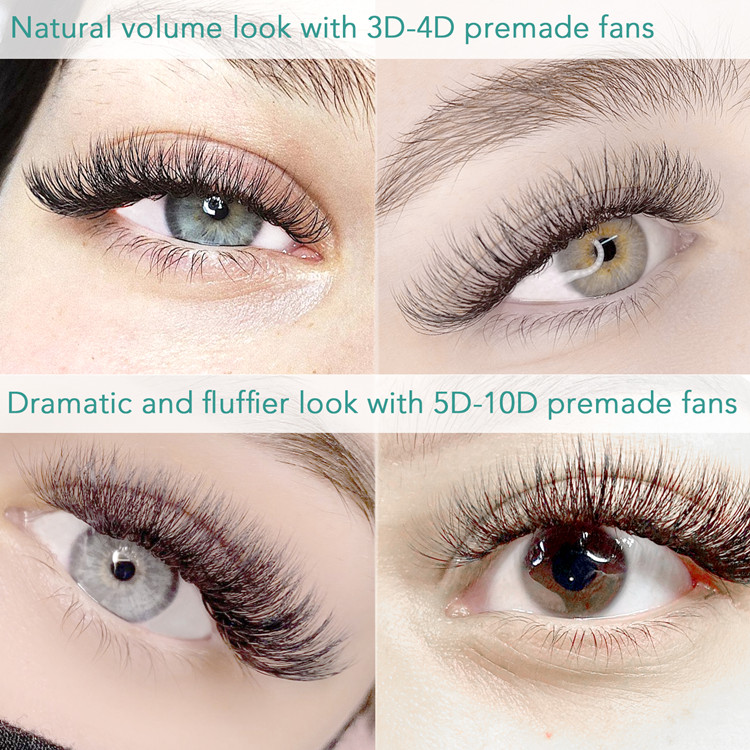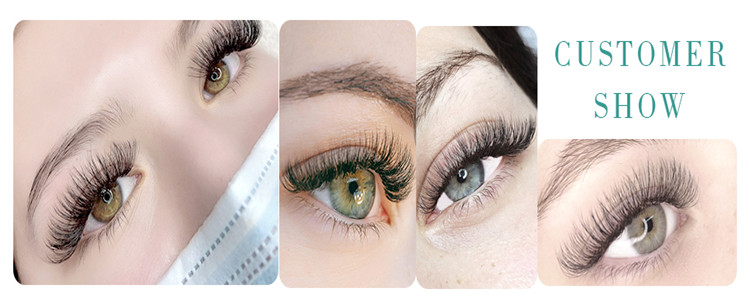 When customer have 3D/4D long stem premade fans,they look like natural volume lashes,as shown as above pictures.When they have 5D-10D long stem premade fans,will look more dramtic and fluffier.Make your eyes more natural,looks more beautiful and charming!
Long Stem

Premade Fans Private Label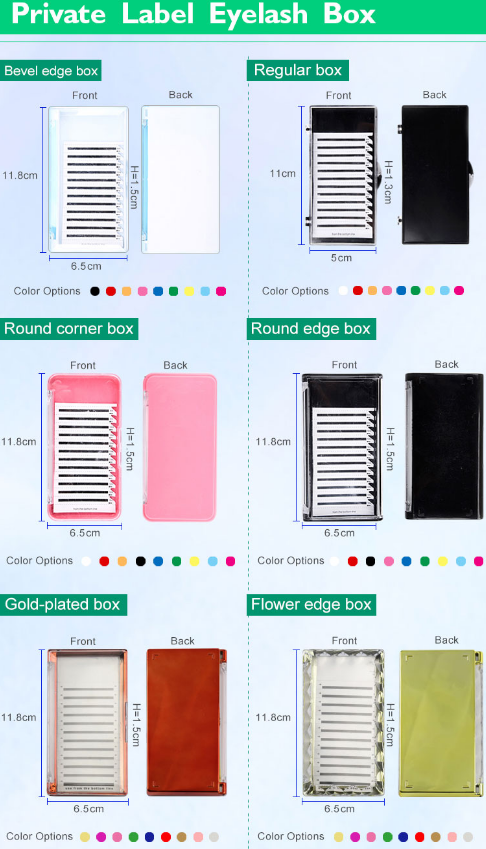 If you want our long stem premade fans with your own logo or brand name,we can provide custom box,as shown as above picture,there have different outer (inner)shape,different color you can choose,or you can tell us your idea we can design for you FREELY.Also we accept custom paper card,as shown as below picture,3 lines,5 line,6 lines,10 lines,12 lines,16 lines,20 lines are all accepted.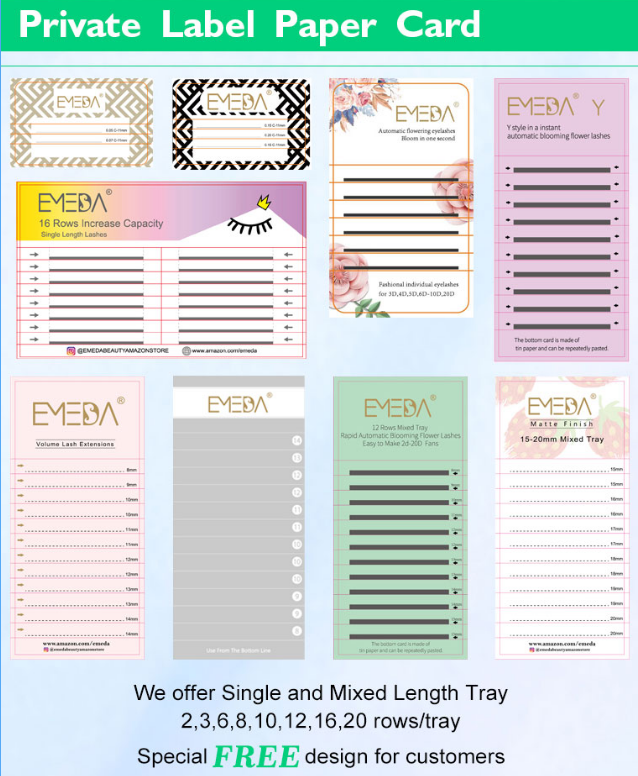 Long Stem

Premade Fans Related Products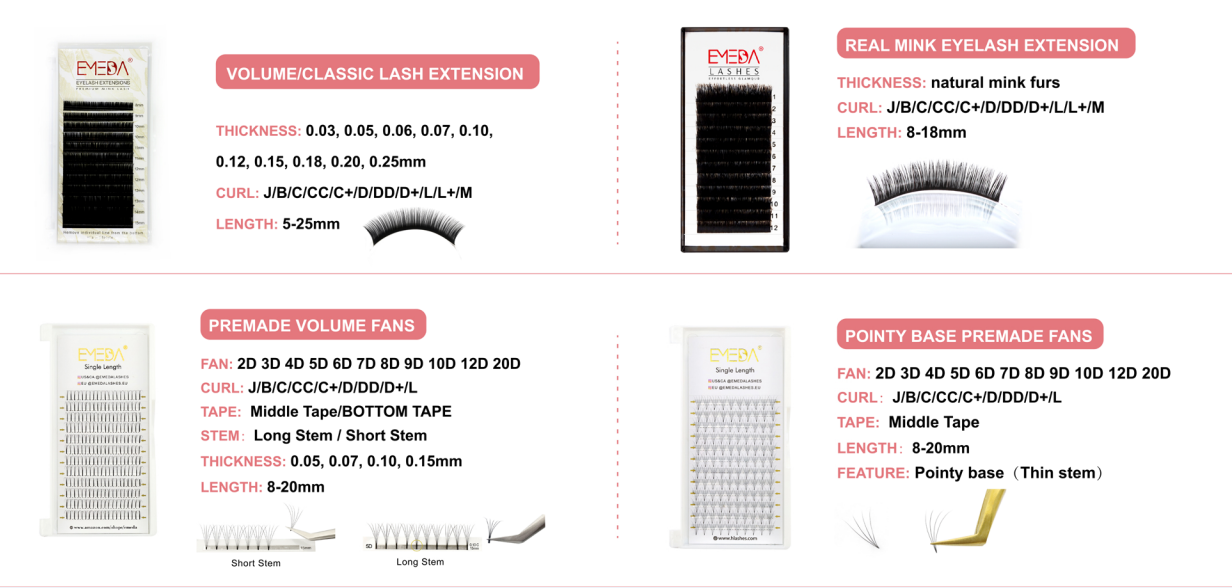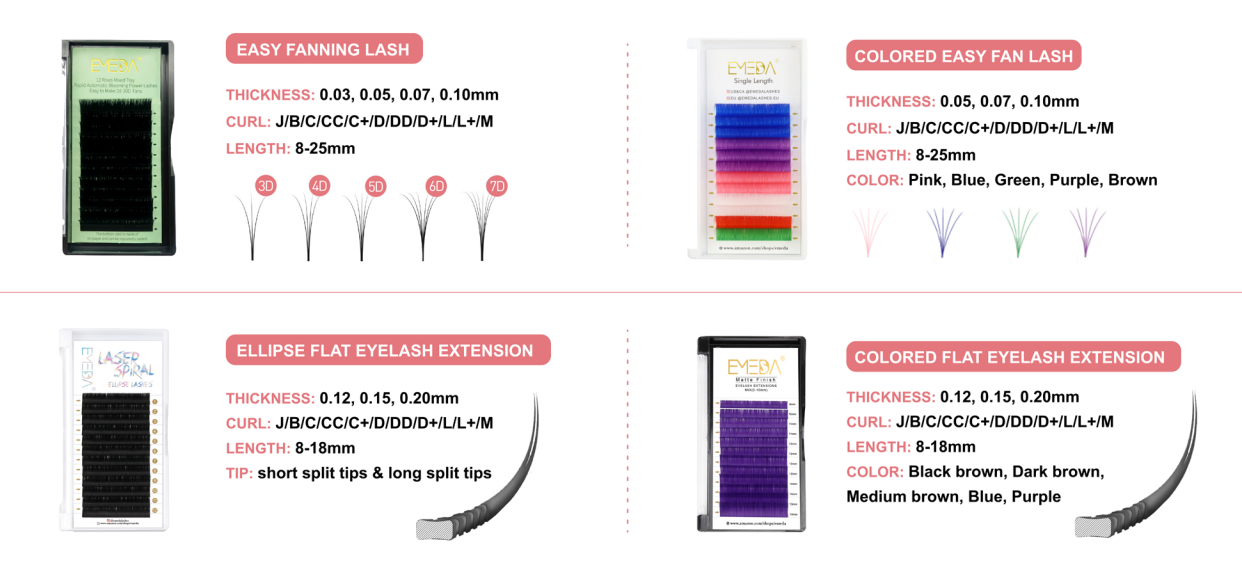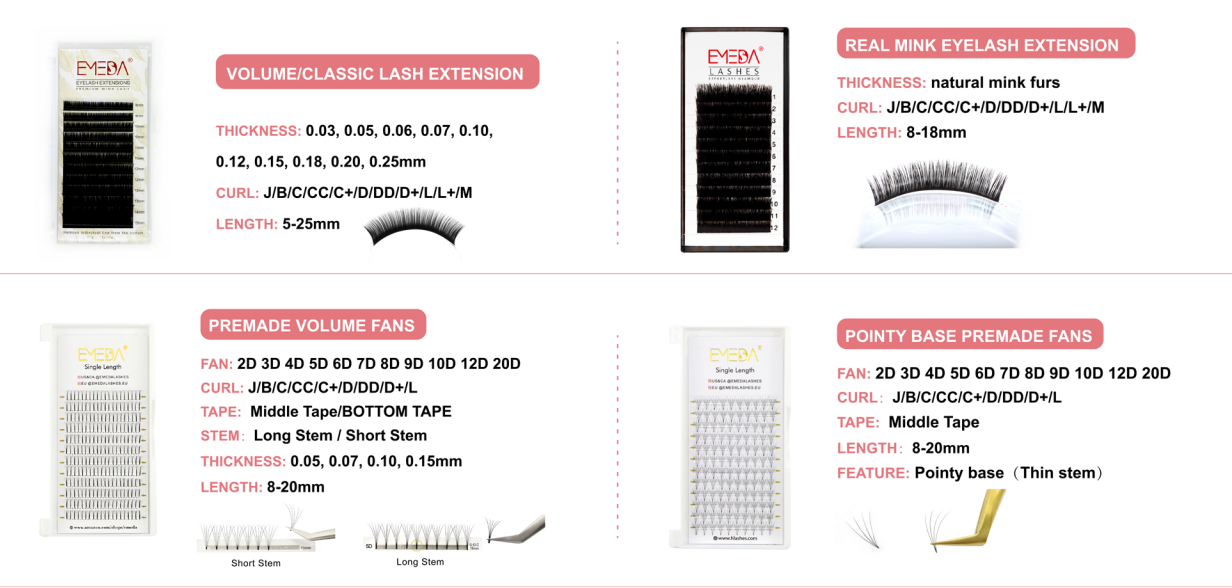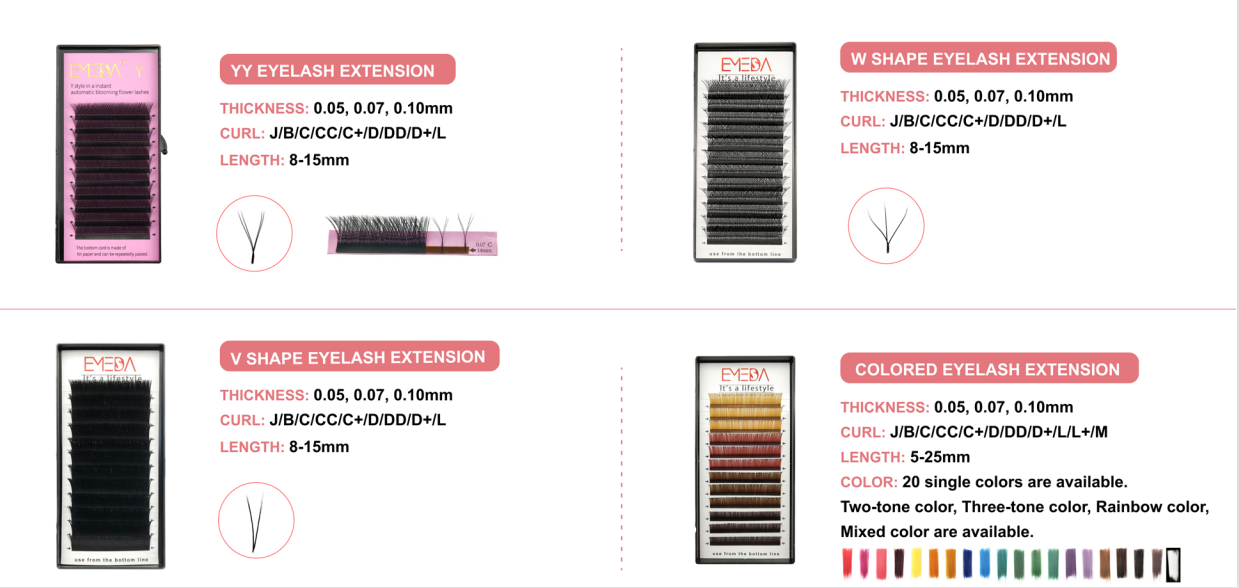 Except long stem premade fans,we have some new lash extensions:colored ombre lashes and colored neon lashes;and volume lashes,classic lashes,easy fans,flat lashes,colored lashes,colored easy fans ,colored flat lashes,Y/W/V shape lashes and real mink lashes.Welcome to choose your favorite lash extensions.

You may like
Contact us for more details
Whatsapp:8618562611508
Email:sales06@emedaeyelash.com