OBEYA Lash Shampoo Kit Foam Cleanser for Eyelash Extension
Lash Shampoo Kit Description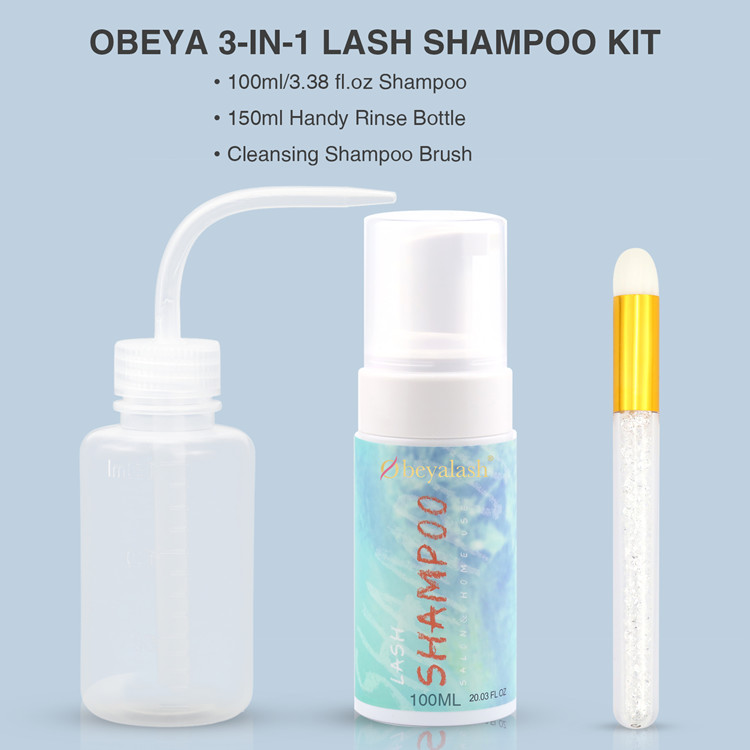 OBEYA 3-IN-1 Lash Shampoo Kit including three kind of products:lash shampoo about 100ml, handy rinse bottle about 150ml and cleansing shampoo brush.Our lash shampoo you can custom package andstickers with your your own logo or brand name,we provide FREE design service.
Lash Shampoo Kit Advantages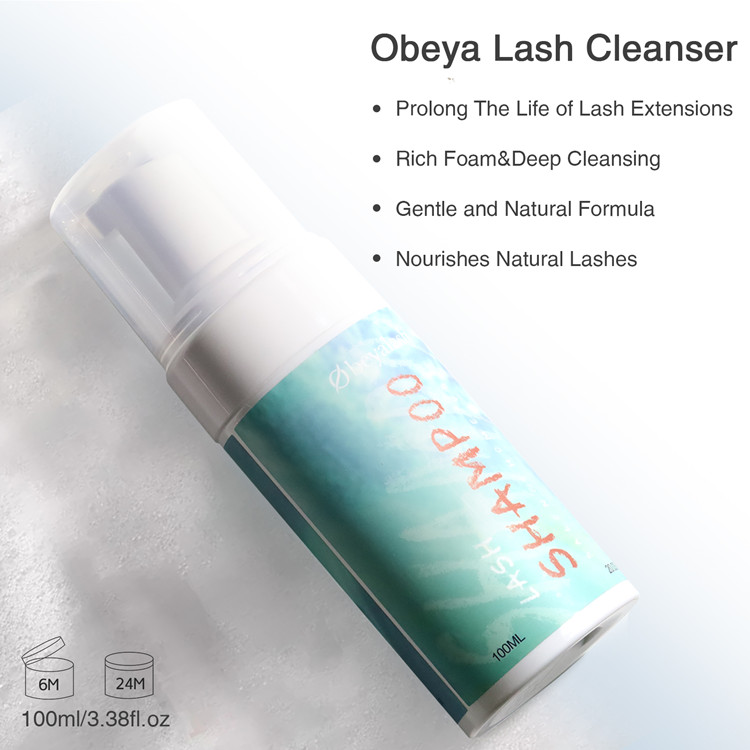 1. OBEYA Lash Cleanser can prolong the life of eyelash extensions,also it have rich foam and can deep cleansing. It is very gentle and natural formula,nourishes natural lashes.Except,our lash cleanser have 100ml,can service for many customers,use long time ,very economical and practical.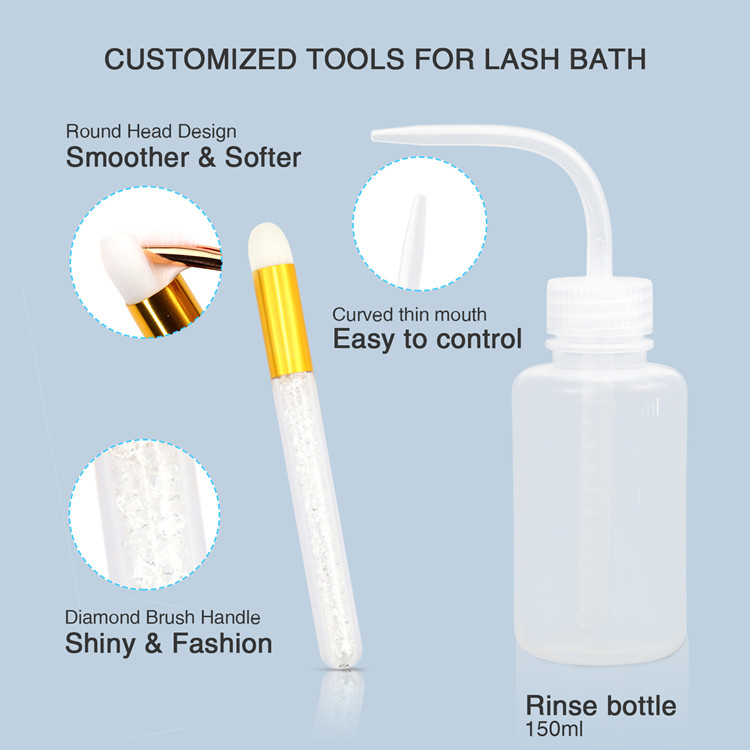 2. OBEYA Lash Shampoo Kit, including two tools, cleansing shampoo brush and handy rinse bottle. For the cleansing shampoobrush, it is round head design, feel smoother and softer, also diamond brush handle, look very shiny and fashion, for rinse bottle, it is 150ml, also have curved thin mouth and easy to control.

Lash Shampoo of Lash Shampoo Kit Compared with others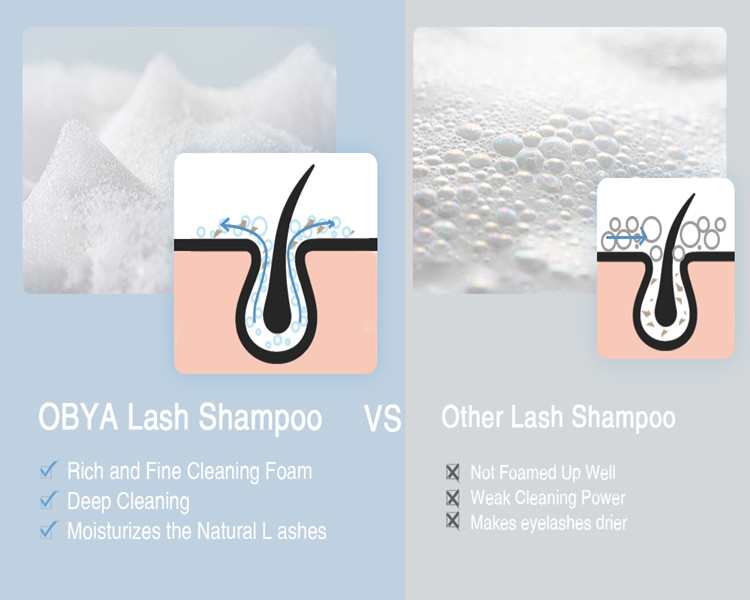 OBEYA Lash Shampoo
Rich and fine cleaning foam;
Deep cleaning;
moisturizes the natural lashes.
Other Lash Shampoo
Not foamed up well;
Weak cleaning power;
Make eyelashes drier.
Lash Shampoo Kit Use Effect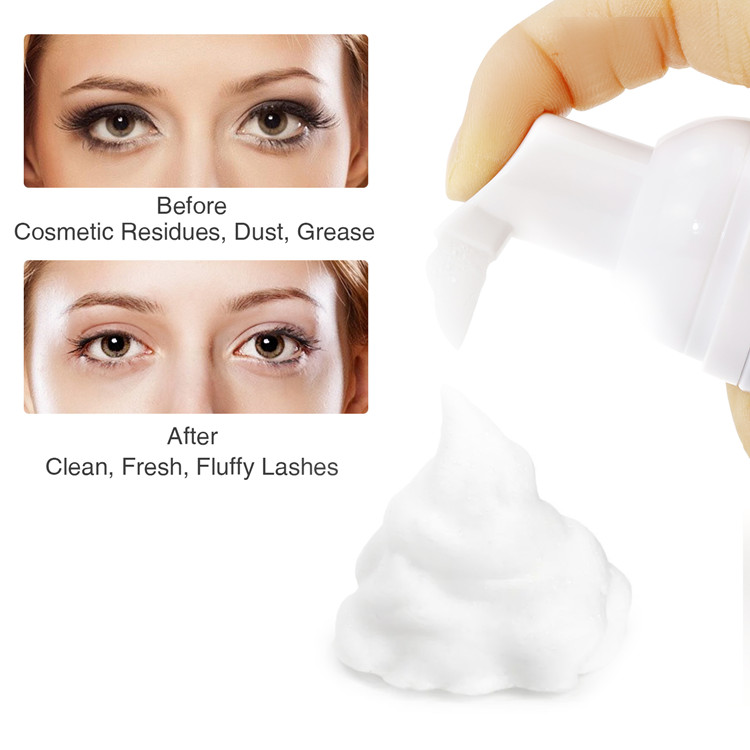 Before use our lash shampoo,eyelash extensions look cosmetic residues,dust and grease;

After use our lash sampoo,eyelashes become more clean,freash and fluffy.
FAQ
Q: What is a lash shampoo kit foam cleanser for eyelash extensions?

A: A lash shampoo kit foam cleanser is a specially formulated cleanser designed for cleaning and maintaining eyelash extensions. It typically comes in a kit that includes a foam cleanser, a brush and diamomd brush handle for easy application. The cleanser is gentle and safe to use on eyelash extensions, effectively removing dirt, oil, makeup residue, and other impurities without causing damage to the extensions or natural lashes.

Q: How often should I use a lash shampoo kit foam cleanser?
A: It is recommended to use a lash shampoo kit foam cleanser for eyelash extensions at least 2-3 times a week. Regular cleansing helps to keep the extensions clean, free from buildup, and prolong their lifespan. However, the frequency of use may vary depending on individual factors such as skin type, lifestyle, and personal preference. Consult with your lash technician for specific recommendations tailored to your needs.

Q: Can I use a regular face cleanser or makeup remover to clean my eyelash extensions?
A: It is not recommended to use regular face cleansers or makeup removers on eyelash extensions, as they may contain ingredients that can weaken the adhesive bond or cause damage to the extensions. Lash shampoo kit foam cleansers are specifically formulated to be gentle and safe for use on eyelash extensions, ensuring effective cleansing without compromising their integrity.

Q: How do I use a lash shampoo kit foam cleanser?
A: To use a lash shampoo kit foam cleanser, start by dampening your eyelashes with water. Take a small amount of the foam cleanser onto the provided brush or applicator and gently apply it to your lashes, focusing on the lash line and the base of the extensions. Use gentle, downward strokes to cleanse the lashes thoroughly. Rinse off the cleanser with water, ensuring that all residue is removed. Pat dry with a clean towel or use a cool blow dryer on a low setting to dry the lashes.

Q: Can I use a lash shampoo kit foam cleanser on my natural lashes?
A: Yes, a lash shampoo kit foam cleanser can be used on both eyelash extensions and natural lashes. However, it is important to be gentle when cleansing the lashes to avoid tugging or pulling, as this can cause damage to the natural lashes. Focus on the lash line and the base of the lashes, where dirt and oil tend to accumulate.

Q: Can I use a lash shampoo kit foam cleanser if I have sensitive skin or allergies?
A: If you have sensitive skin or known allergies, it is advisable to check the ingredients list of the lash shampoo kit foam cleanser before use. Look for cleansers that are specifically formulated for sensitive skin or are hypoallergenic. It is also recommended to perform a patch test on a small area of your skin before applying the cleanser to your eyelashes to ensure that you do not have any adverse reactions. If you experience any discomfort or irritation, discontinue use and consult with a healthcare professional.

You may like
If you are intereted in any our products, please do not hesitate to cantact me!
Whatsapp: +86 13573804926