Clover lash extension is developed based on the foundation of eyelash grafting technique and a new trend. It can increase density and length of the eyes, by grafting four artificial lashes onto one natural lash, creating a four-leaf clover effect. This technique can make the eyelashes appear thicker and more curled, giving a natural and unique beauty.
It's weave lashes and made of premium raw material, 100% cruelty free. Four artificial lashes as a cluster, easy to use and grafting speed is increased more than 50% comparing to individual lashes.
We believe that in the near future 2024, this clover eyelash will be used by more and more people.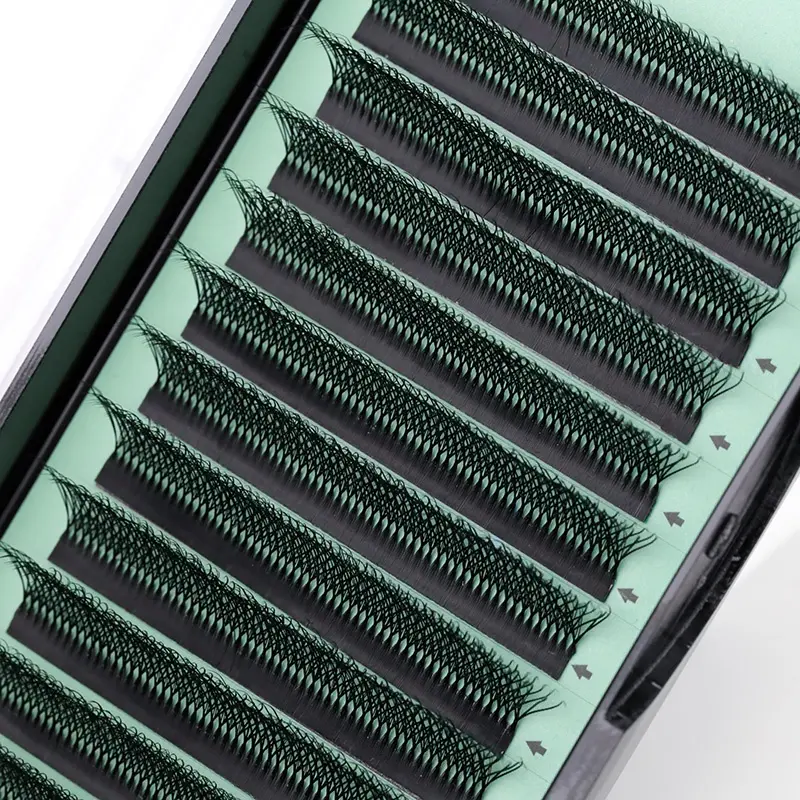 | | |
| --- | --- |
| Product Name | Clover Lashes |
| Material | Synthetic Hair |
| Curl | C D |
| Length | 8-15 MM |
| Thickness | 0.05mm 0.07mm |
| Type | Handmade |
| Style | Natural Volume |
| MOQ | 1 Tray |
| Sample | Accept Sample Order |
| Logo | Accept Customized Logo |
| Service | Wholesale or Vendor |
| Payment | Paypal/Western Union/Bank Transfer |
| Shipping | 3-7 Days |
Lead Time:
| | | | | |
| --- | --- | --- | --- | --- |
| Quantity (trays) | 1 - 200 | 201 - 2000 | 2001 - 5000 | > 5000 |
| Lead time (days) | 5 | 12 | 20 | To be negotiated |
Packaging and delivery
Selling Units: Single item
Single package size: 12X5X2 cm
Single gross weight: 0.050 kg.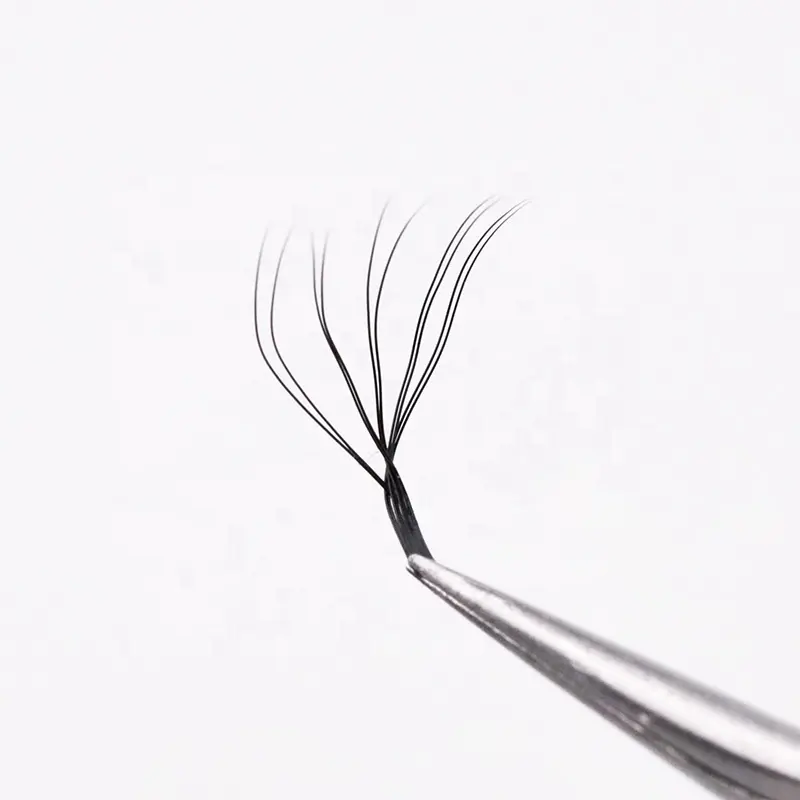 About 3D/3DV/4D/4DW/5D/5DV/5DW/6D/7D

Clover lashes
These extensions are named after the number of dimensions (3D, 4D, 5D, etc.) and may also include a "V" or "W" to indicate a specific sector or pattern. When it comes to eyelash extensions, the general meaning of each term is as follows:
3D/4D/5D/6D/7D: These numbers represent the number of lashes that combine to form a single fan shape. For example, in 3D lashes, three individual lashes come together to form a fan shape. In 4D, use four lashes and so on. This technique is used to make eyelashes thicker and fuller. In the actual eyelash grafting behavior, the larger the 3D/3DV/4D/4DW/5D/5DV/5DW/6D/7D number, the thicker your eyelashes are.
V/W: Indicates the shape of a single fan. A "V" usually means the lashes fan out in a V-shape, while a "W" creates a W-shaped pattern. This also means the effect of grafting. Because different eyelashes will have different effects after being grafted with V/W eyelash extensions, beauty salons can use the most suitable eyelash extensions according to different eyelash shapes.
Clover: This term may refer to a specific style or technique used in eyelash extensions. It may involve using the eyelashes to create a clover-like pattern, potentially giving a unique and unique look.
Remember, if you are looking to purchase new eyelash extensions, you can purchase them wholesale from OBEYA lashes. When wholesale eyelashes, please refer to the following points.
Clover eyelashes also evolved from the changing needs of the market, meeting the demand for high efficiency and good grafting results. 2024 is a new beginning for many start-up companies. They can try to use new models to leverage new customer groups. Maybe the advent of Clover will give your business a better choice.
wholesale Clover eyelash extensions
There are several important things to note when wholesale Clover eyelash extensions:
Quality and Brand Selection: Make sure to choose a reliable supplier or brand like Obeya Beauty to ensure the quality and reliability of your eyelashes. Check the reviews and word of mouth to see the credibility of this Obeya Beauty supplier.
Ingredients and Materials: Know what the eyelashes you purchase are made of. Make sure they meet relevant safety standards to avoid triggering allergic or other unpleasant reactions.
Styles and Designs: Learn about the different styles and designs of eyelashes to meet the needs of different customers. Different numbers (such as 3D/3DV/4D/4DW/5D/5DV/5DW/6D/7D, etc.) and letters (such as V, W) represent different designs and effects.
Quantity and Packaging: Determine the quantity and packaging of each batch of eyelashes. Determine the appropriate order quantity taking into account your anticipated demand.
Price and Cost: Make sure you get a reasonable wholesale price, taking into account costs and expected profits. Compare prices from different suppliers, but also make sure you don't sacrifice quality.
Shipping and delivery times: Understand your supplier's shipping and delivery times to ensure you can meet your customers' needs on time.
After-sales service: Understand the supplier's after-sales service policy, including return and exchange policies and solutions to quality problems.
Regulations and Standards: Make sure the products you purchase comply with local regulations and standards to avoid potential legal issues.
Customer feedback: Before choosing a supplier, try to get feedback and reviews from customers to understand their product quality and service performance.

Contracts and Agreements: Make sure you have a clear contract or agreement with your supplier, including product specifications, prices, payment terms and other important details.
After confirming these wholesale policies, wholesale Clover eyelashes will be much smoother.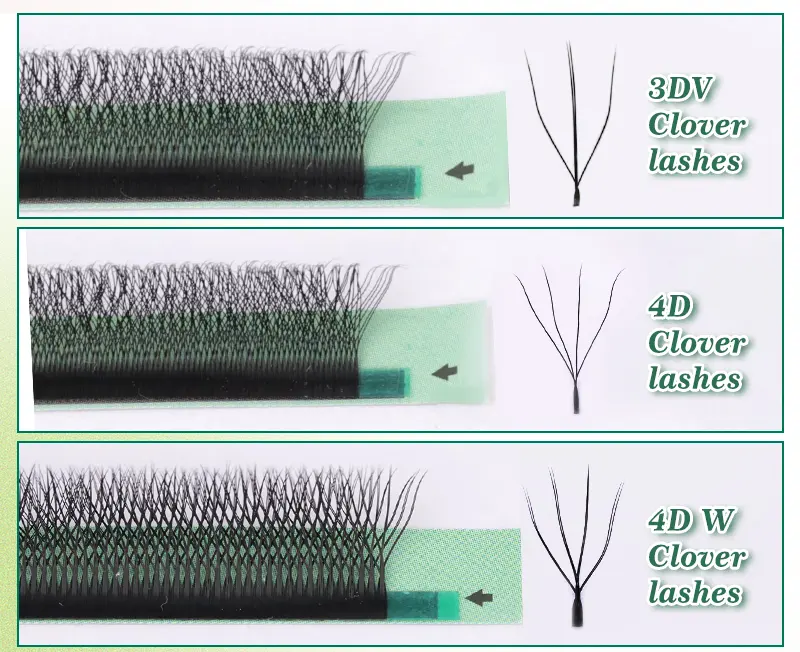 These are 3D, 4D and 4DW clover lashes. It can be clearly seen from the photos that the number of braided eyelashes is increasing and becoming thicker and thicker. When you wholesale clover lashes, please choose carefully.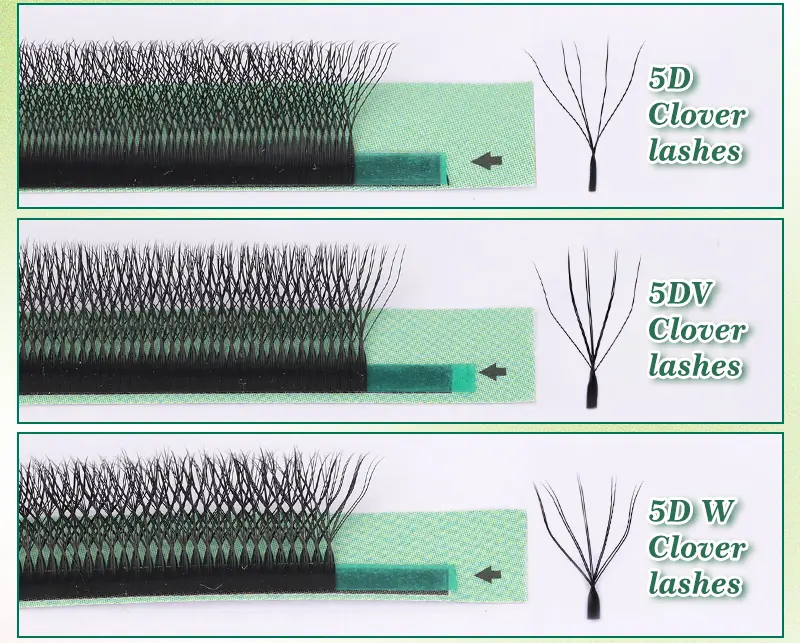 These are 5D, 5DV and 5DW clover lashes. From the photos, you can clearly see that the number of braided eyelashes is getting larger and thicker. 5D, 5DV and 5DW clover lashes are representative clover lashes. Improving grafting efficiency means increasing profit margins. If your grafting skills are not very proficient, it is still recommended that you go to a beauty salon for grafting and find an experienced grafter to give you a quick and beautiful experience. If you are a brand operator, you can try wholesale clover lashes. If the experiment is successful, you can customize bulk purchases.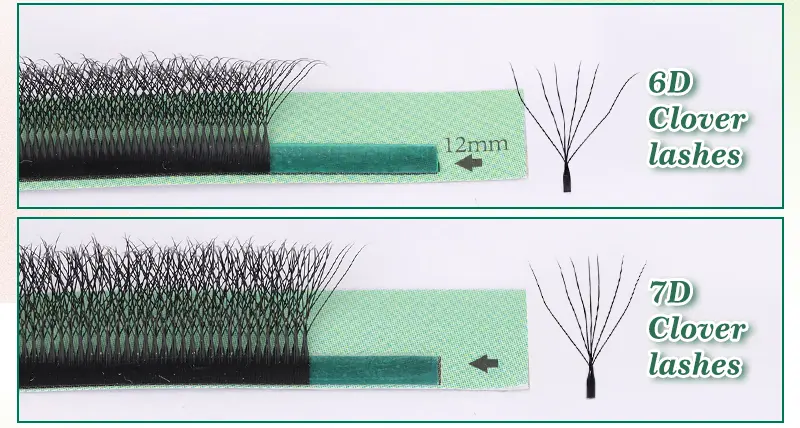 How to use?

When using 3D/3DV/4D/4DW/5D/5DV/5DW/6D/7D Clover eyelash extensions in a beauty salon, the following are the specific steps:
1,Consultation and Assessment
2,Prepare
3,Separation
4,Create a clover
5,Glue
6,Paste
7,Repeat steps
Consultation and Assessment:
Begin with a consultation to learn about the client's preferences, desired results, and any specific needs or allergies.
An assessment of the client's natural eyelashes, including length, density and condition, to determine the appropriate type and number of lashes.
Prepare:
Make sure the client's eyes are clean and free of any makeup or residue. If necessary, use a mild cleanser or makeup remover.
Provide clients with eye protection such as under-eye pads or stickers to protect lower eyelashes and skin.
Separation:
Use tweezers to separate each natural lash individually to prevent multiple lashes from sticking together during the extension process.
Create a clover:
According to the desired effect, select a single eyelash. Here is the already formed clover effect.
Glue:
Gently dip the base of the clover into a small amount of eyelash glue, making sure to distribute it evenly but don't use too much glue.
Paste:
Gently adhere the clover to the separated natural lash, making sure it is firmly attached but avoiding contact with the skin or adjacent lashes.
Repeat steps:
Continue to separate the natural lashes and apply clover to the lash line, alternating between eyes to maintain an overall balanced effect.
Drying time:
Allow the glue to dry and set for the recommended time, usually 24-48 hours, to ensure maximum bond strength.
Check and adjust:
Check your eyelash extensions to make sure they are well bonded and evenly distributed. Make any necessary adjustments for symmetry and comfort.
Finish:
Once all eyelash extensions are properly applied and secured, remove any under eye protection and gently comb your lashes to keep them neat and styled.
After-sales and guidance:
Provide after-sales care guidance to customers, including avoiding the use of oil-based products, not rubbing eyes, and combing eyelashes regularly.
Follow-up:
Schedule follow-up maintenance and refill appointments, usually every 2-3 weeks, depending on the client's natural eyelash growth cycle.
When performing this procedure, it is important to be careful, meticulous, and pay attention to detail to ensure optimal results and maintain the safety and comfort of the client.
2024 is coming soon. It is recommended to use wholesale cost to purchase clover eyelashes and go back for market verification. Once successful, you can private label eyelashes or customize them. We look forward to hearing from you!