New Thin band faux mink lash clear band eyelashes
Now more and more girls are looking for more comfortable lash, then our new thin band
faux mink lash come out. Faux mink lashes are vegan material crueltly free which are loved
more. And also have thin clear band eyelashes.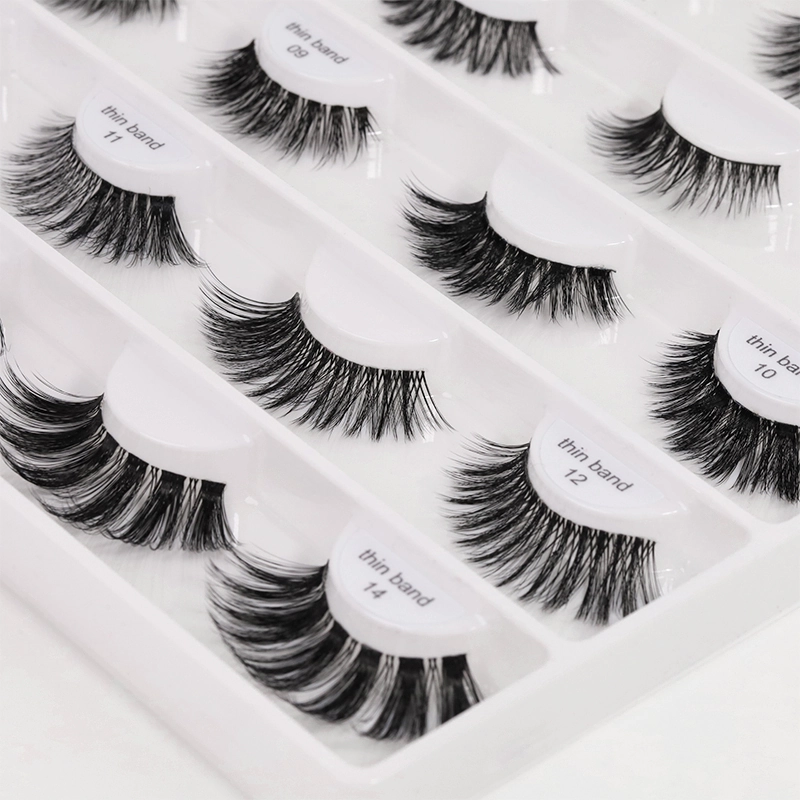 Thin band faux mink lash Introduction
Product name


Thin band faux mink lashes/Thin cotton band eyelash/Thin clear band eyelash

Band

Cotton band or Clear band very thin 0.08mm

Material

Preium Faux mink/Silk

Craft

Handmade

Sampe

Accepted

MOQ

50pairs per style

Styles

Natural styles (10-15mm), Classic styles middle length (18-22

mm), Dramatic styles (22-25mm)

Package box

Plastic box, custom paper box and magnetic box, drawer box,

lash kit box can print with logo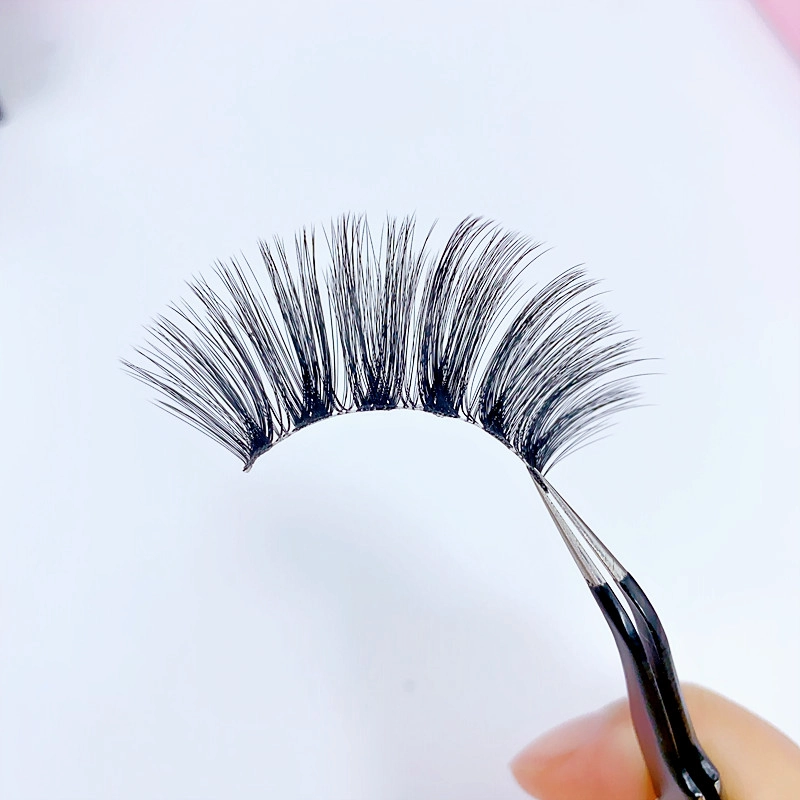 Thin band faux mink lash Advantages
For the band---You can see the comparision of band between the three kind lashes.
The first one is regular cotton band, the second one is our new thin cotton band lash
much thinner and the third one is our new thin clear band lash.
Thin band lash are more softer and lightweight, so customers can get better feeling
of lashes.Although the band is thin, it is strong and reusable, you can use for many
times.
For the material---The lash material use premium material, you can feel it soft not
plastic fiber.
For the styles---we have natural styles, classic styles and dramatic styles. Cat eye
shape, doll eye shape with crosses between them also have.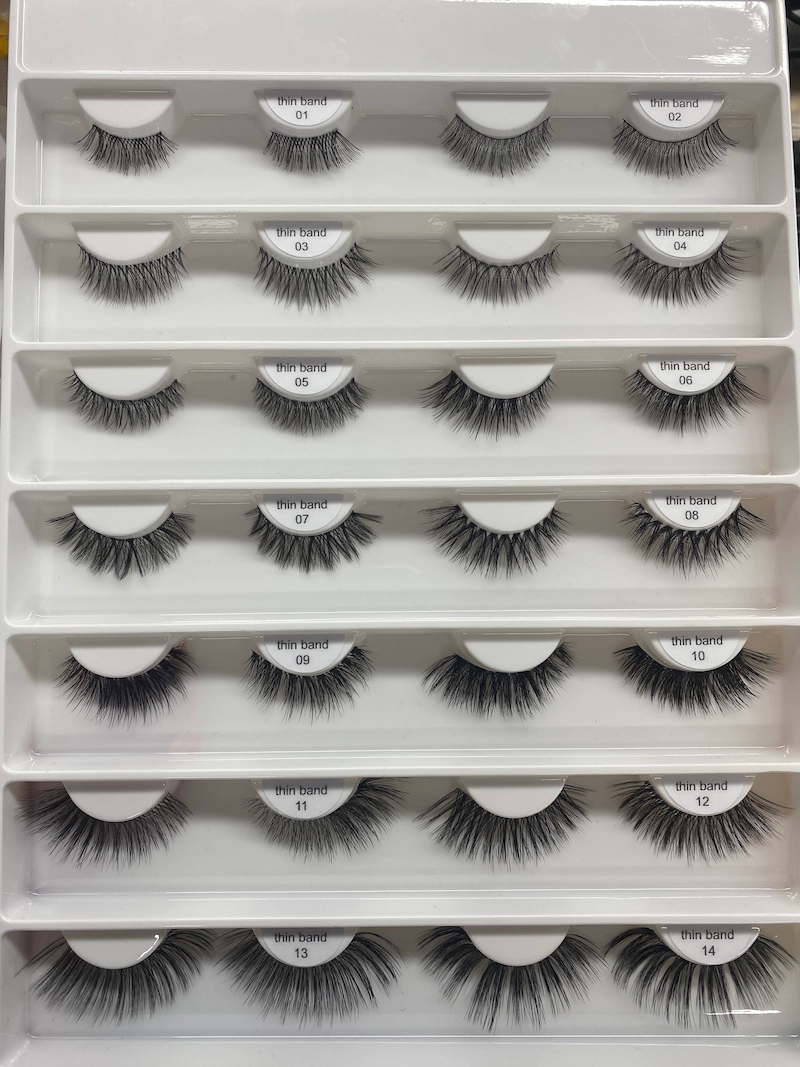 Thin band faux mink lash with private label
We can do private label lash box, you can do plastic box or Acrylic box, paper box and
magnetic box.
Plastic box and Acrylic box can print logo on cover or with stickers.
Paper box and magnetic box can be customized, you can put your logo, the pattern and color
you like on the box. Also you can print your social info on the box.

Thin band faux mink lash related lash tools
Beside lashes we also have lash tools, such as lash glues, lash applicators and lash tweezers.
And lash tools we also can print logo and do custom package box. You can contact me
for more details.
CONTACT ME for more details.
Monica:
Whatsapp: +86 185 6261 5183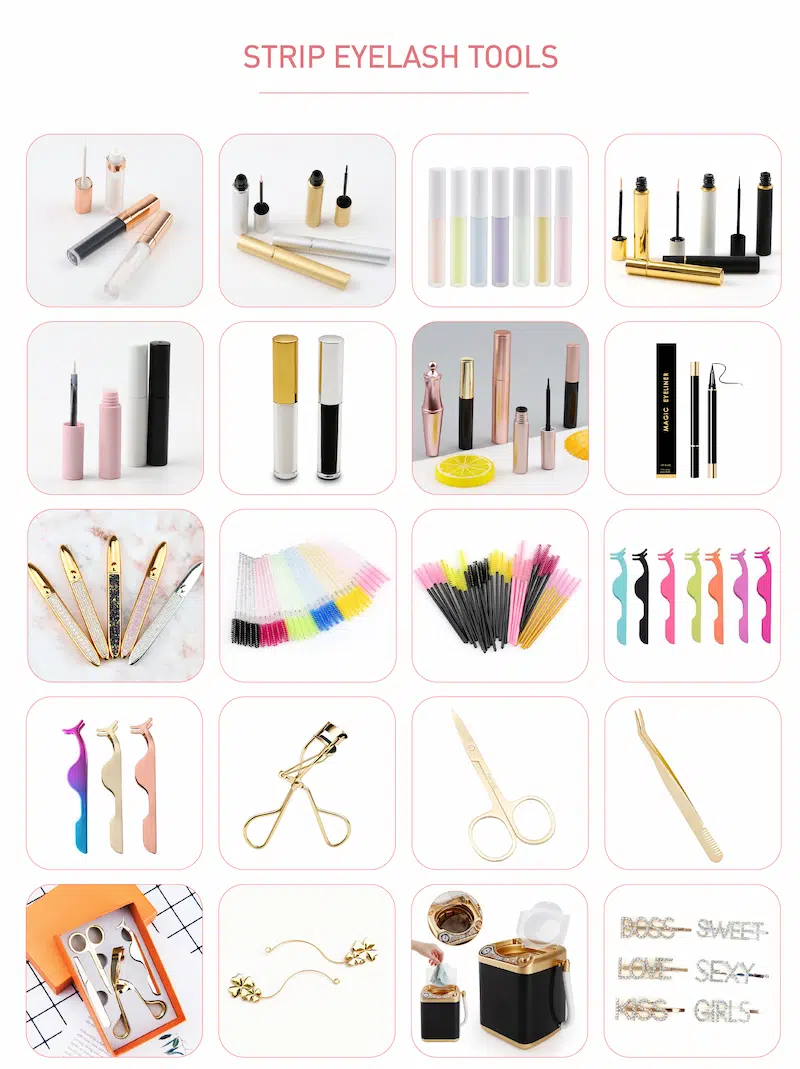 FAQ:
Q: What is a thin band eyelash?
A: A thin band eyelash refers to a type of false eyelash that has a narrow and lightweight
band. It is designed to provide a more natural and seamless look when applied to the
lash line.
Q: How is a thin band eyelash different from other false eyelashes?
A: The main difference lies in the band thickness. Thin band eyelashes have a narrower
band compared to regular false eyelashes, which makes them more comfortable to wear
and easier to blend with your natural lashes.
Q: Are thin band eyelashes suitable for beginners?
A: Yes, thin band eyelashes are often recommended for beginners. Their lightweight and
flexible nature make them easier to apply and more forgiving if you make any mistakes
during the application process.
Q: Can thin band eyelashes be reused?
A: Yes, most thin band eyelashes can be reused multiple times if they are properly cared
for. After each use, gently remove any adhesive residue and store them in their original
packaging to maintain their shape.
Q: How do I apply thin band eyelashes?
A: To apply thin band eyelashes, start by measuring and trimming them to fit your eye
shape. Apply a thin layer of lash adhesive along the band and wait for a few seconds until
it becomes tacky. Then, using tweezers or a lash applicator, carefully place the lashes as
close to your natural lash line as possible.
You may also like
Wholesale popular silk faux mink vegan eyelashes with logo XJ92
wholesale Hot Mink lashes with custom lash package in US XJ83
Private label 3D faux mink natural Half lashes small corner eyelash XJ82
Latex free Korean Strip eyelash glue XJ78