Hot Amazon DIY lash kit with cluster lash and lash bond
Now DIY lash kit are more and more hot on Amazon which include cluster lash, lash bond
and seal, lash remover, lash applicators and so on. Designed to create a dramatic and voluminous
look, cluster lash extensions offer a quick and efficient way to achieve fuller, thicker lashes.
Unlike traditional individual lash extensions, cluster lashes are applied in small groups, or
clusters, to the natural lashes, resulting in a more intense and glamorous effect.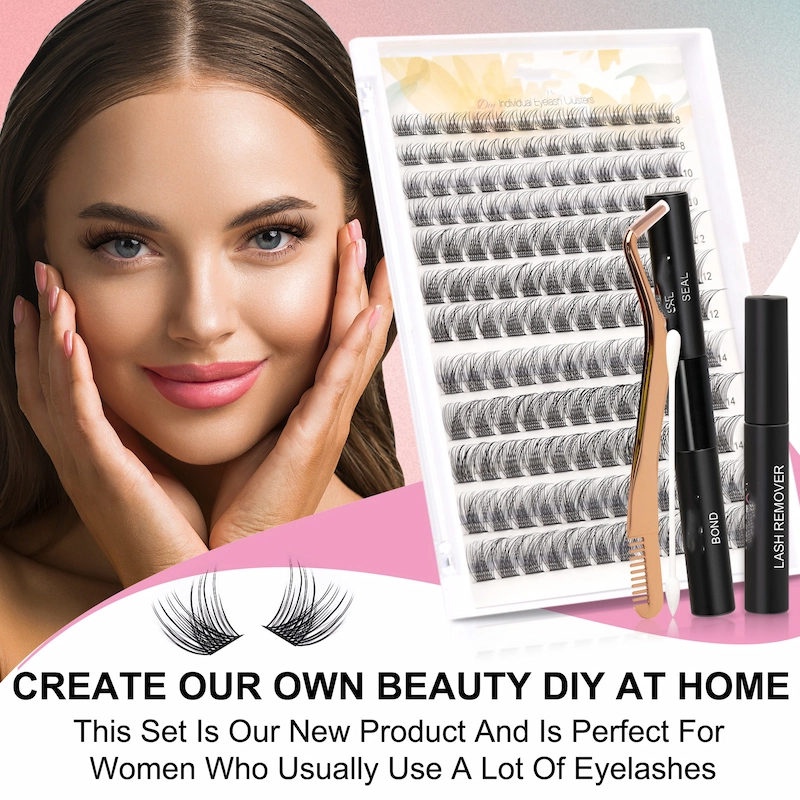 OBEYA DIY lash kit introduction
DIY lash kits are used to help girls put on cluster lashes which usually include cluster lashes,
lash bond and seal, lash remover, lash applicators.
Cluster lashes- we have different styles, natural styles, thick styles and we can recommand you
our hot styles for you to open your market easier.
Lash bond and seal-Black lash bond and seal are hot, brush a thin layer lash bond, stick lash
on, then brush a thin layer seal, this will keep cluster lash stay on eyes for about 2 weeks.
Lash remover-help remove lash from eyes and remove glue on cluster lashes.
Lash applicator-help you easy to apply cluster lash on real lash.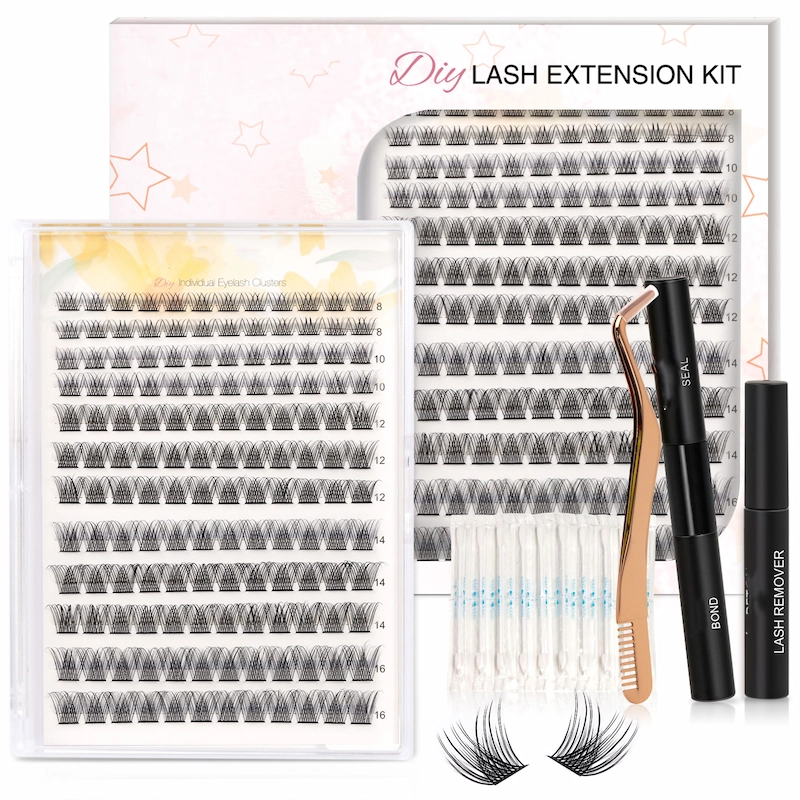 OBEYA DIY lash kit Advantages
For cluster lash,

Easy Application: Cluster lashes are relatively easy to apply, even for beginners. They come
in pre-made clusters, which means you don't have to individually attach each lash like you
would with individual lashes. This makes the application process quicker and more convenient.
Variety of Styles: Cluster lashes are available in a wide range of styles, lengths, and thicknesses.
This variety allows individuals to choose lashes that suit their desired look, whether it's a
natural enhancement or a bold, dramatic effect. The availability of different styles caters
to diverse preferences, making cluster lashes a popular choice on Amazon.
For lash tools,
we put lash bond and seal, lash remover and lash applicator together, girls can get them
together and save much for them. And our lash tools are of great quality, welcome to test~
OBEYA DIY lash kit with private label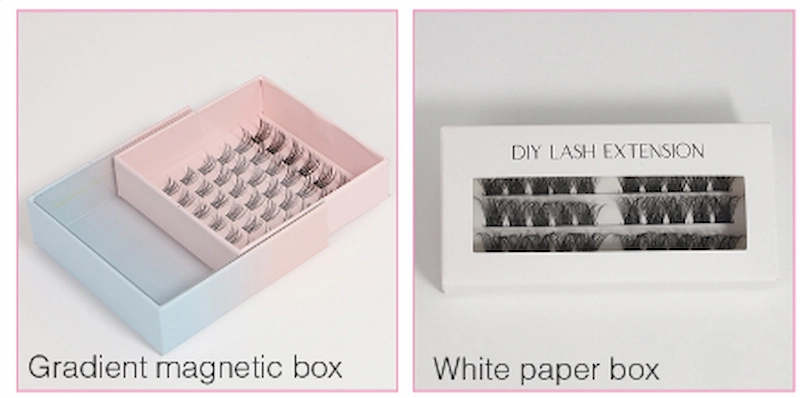 We can do custom private label paper box, magnetic box and plastic box for your DIY
lash kit. Paper box and magnetic box we can print your logo, the pattern and color you
like, your social info. DIY lash kits use bigger size magnetic box and paper box we all
can customize.
CONTACT ME for more details.
Monica:
Whatsapp: +86 185 6261 5183
FAQ:
Q: How long do DIY lash extensions last?
A: The longevity of DIY lash extensions depends on various factors, including the quality
of the lashes, the adhesive used, and how well they are cared for. Generally, strip lashes
can be worn for a day or night, while individual lashes can last up to a week with proper
maintenance.
Q: How do I remove DIY lash extensions?
A: To remove DIY lash extensions, you can gently peel them off starting from the outer
corner of your eye. Alternatively, you can use a lash glue remover or an oil-based makeup
remover to dissolve the adhesive before removing the lashes. It's important to be gentle
to avoid damaging your natural lashes.
Q: Are there any risks or precautions associated with DIY lash?
A: While DIY lash can be a safe and enjoyable experience, there are a few risks to consider.
Improper application or removal can damage your natural lashes. Allergic reactions to lash
adhesive are also possible, so it's recommended to do a patch test before using a new adhesive. Additionally, be cautious when using sharp tools like scissors or tweezers near your eyes.
Q: Can I wear DIY lash extensions if I have sensitive eyes?
A: If you have sensitive eyes, it's important to choose hypoallergenic lash adhesives and
lashes made from gentle materials. Conducting a patch test before applying the lashes is
advisable to check for any adverse reactions. If you experience discomfort or irritation, it's
best to consult with a professional or avoid DIY lash altogether.
Q: Can I reuse DIY lash extensions?
A: Whether you can reuse DIY lash extensions depends on the type of lashes and how well
you care for them. Strip lashes can typically be reused multiple times if cleaned and stored
properly. Individual lashes may not be reusable due to the adhesive used during application.
You may also like
HOT Amazon DIY lash extensions at home lash clusters segment lash XJ148
Amazon hot DIY lash extensions pre cut segmented cluster lashes XJ144
Amazon Hot cluster lashes DIY lash kit with lash bond and sealant XJ143
Amazon Hot DIY lash bond and sealant XJ142
Private label 3D faux mink natural Half lashes small corner eyelash XJ82
Latex free Korean Strip eyelash glue XJ78