Best Colored Easy Fan Eyelash Extensions Wholesale
Colored eyelash extensions Introduction
Our colored volume eyelash extensionscan do 8 mix color,including neon pink,neon orange,neon yellow,light purple,light blue,white and ombre color.Many different beautiful colors you can choose,and can make you become more charming.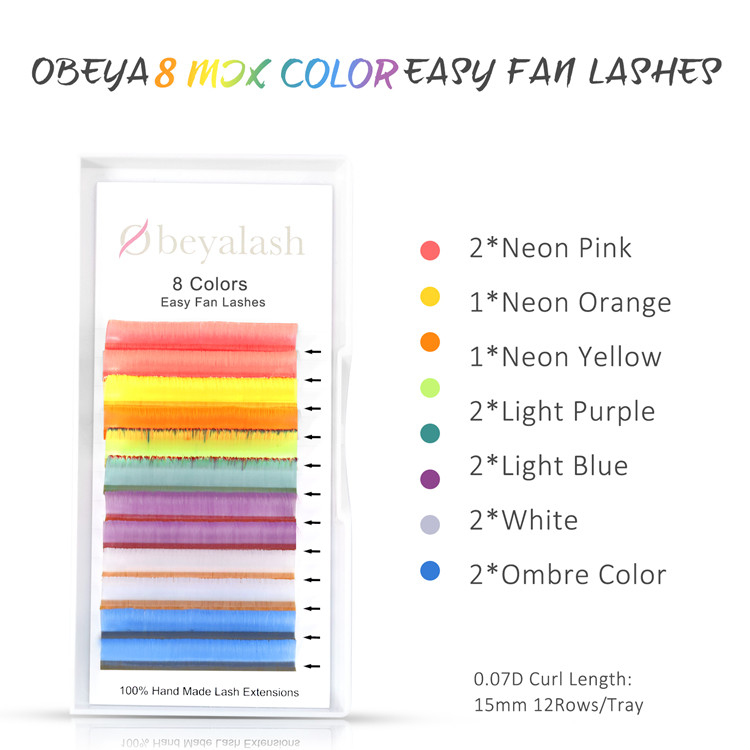 Colored eyelash extensions Details
Our colored eyelash extension use special dyeing process,materials are very soft and light.Bright vibrant colors ,also they can easy to make fans and fast fanning,standard curl for long time.If you like colored eyelash extensions,we are the best choise for you.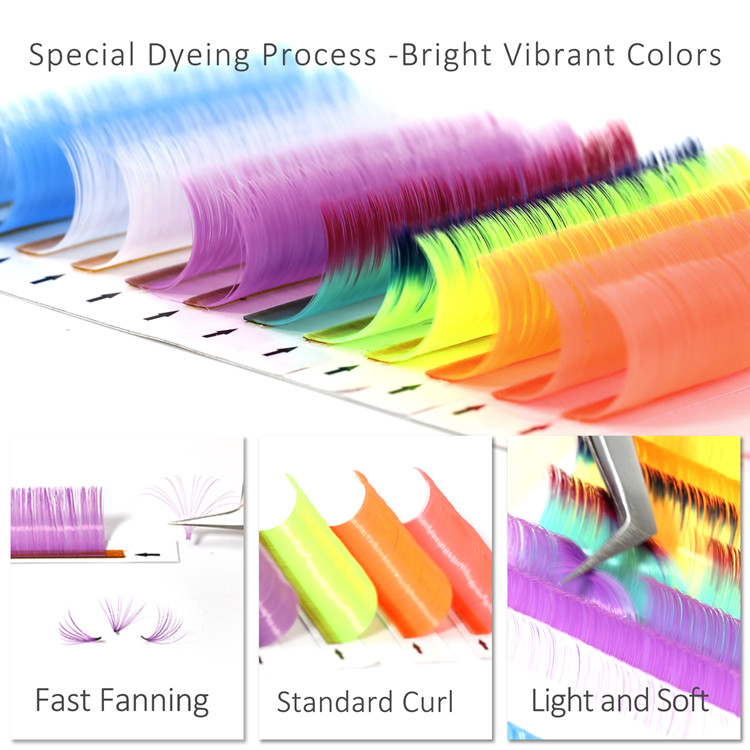 Our colored eyelash extensions including 3 neon color:pink,orange and yellow,theya are brighter than normal color lashes;also have unique two tone colors:change your eyes color and shape,very fashion;and two pop color:light purple ,white and light blue,very popular and fantastic color, they are put together will have a good and beautiful look.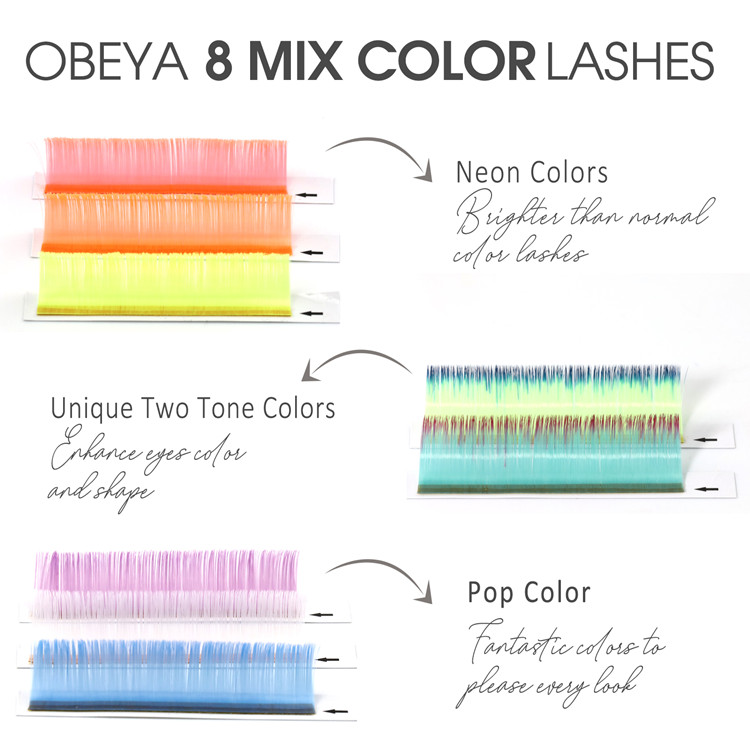 These are our colored eyelash extensions 3 different kinds of color look.Neon color are able to fluoresce vividly and perfectly under UV or Blacklight.This is the biggest difference between it and other colored lash extensions. Second kind color:two tone color,they are one roots have two different colors;another kinds color is the single light color:light purple,white and light bule.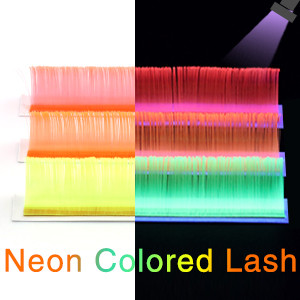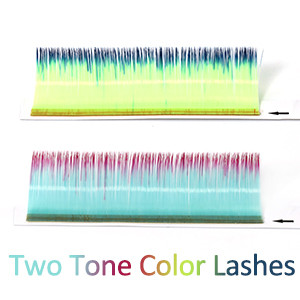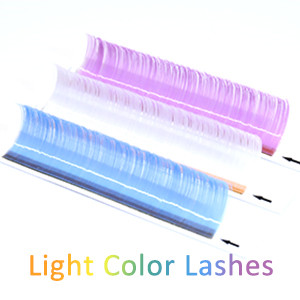 Colored eyelash extensions Look
Our colored eyelash extensions, our color rich and variety. Whether daily, party, activity, banquet or marriage has such colored eyelashes,can let you become unique, get more attention from people.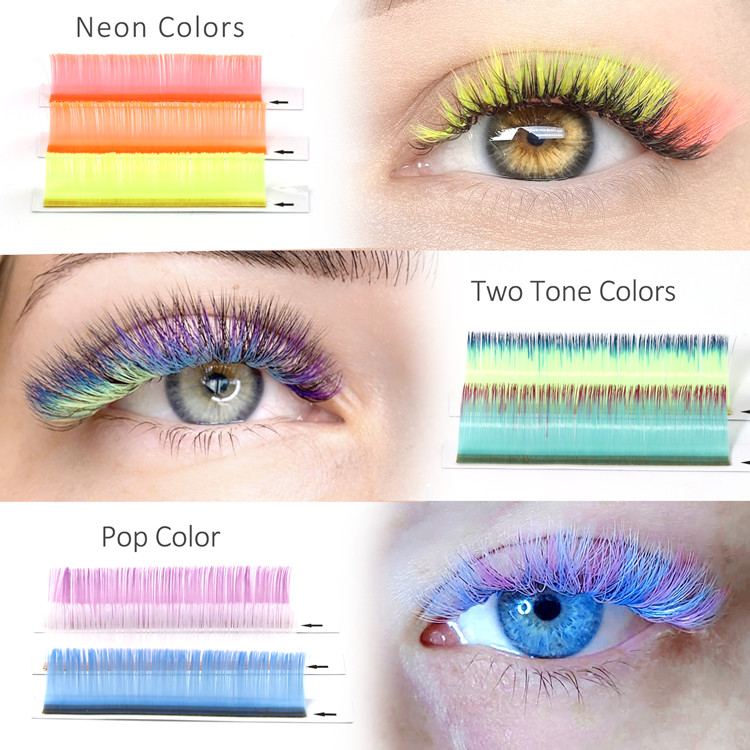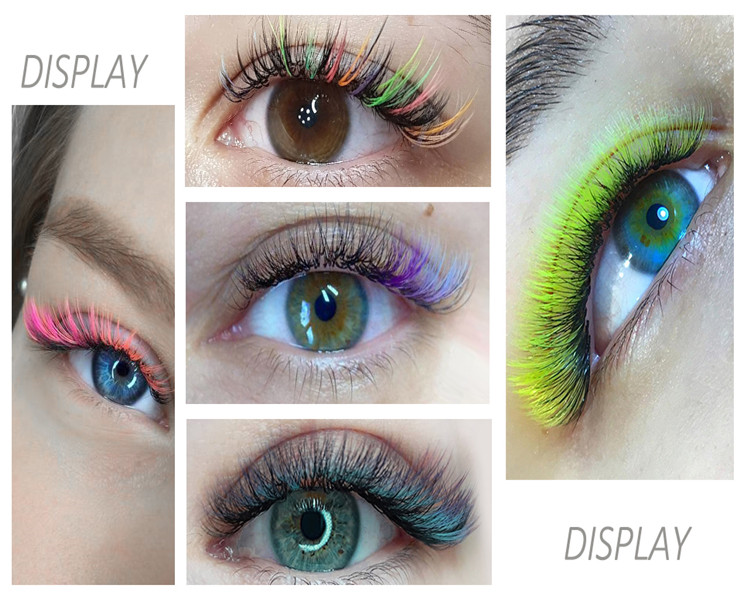 Private Label
We provide custom paper card,we can do 5 lines,6 lines,10 lines,12 lines,16 lines,20 lines,print your own logo on the paper card;also custom eyelash box,you can choose your like color,shape.Except you can tell us your design ideas,we can provide FREE design service.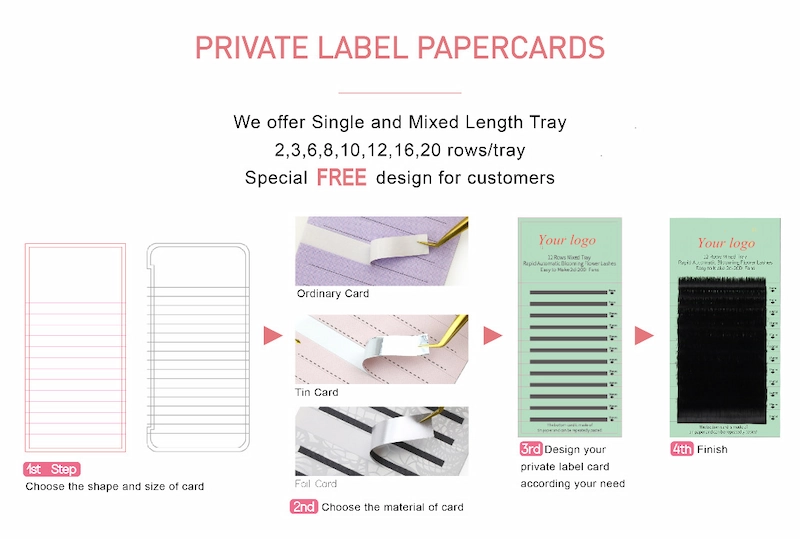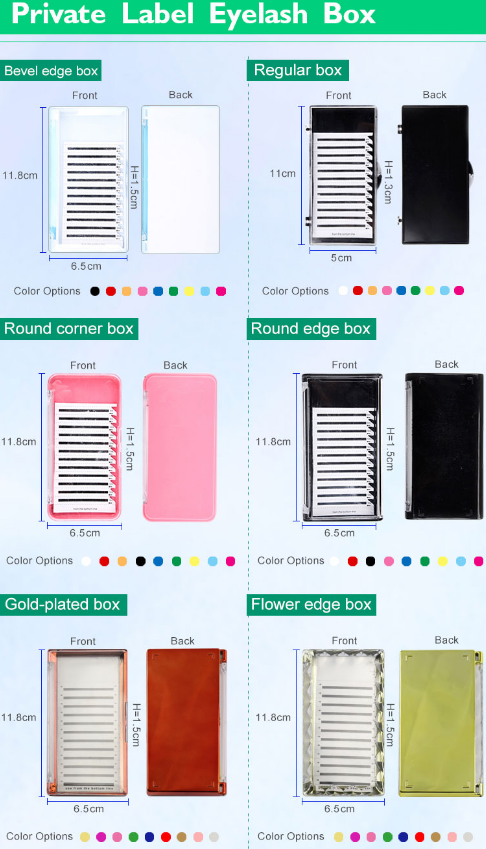 FAQ
Q: What are colored easy fan eyelash extensions?
A: Colored easy fan eyelash extensions are a type of synthetic eyelash extension that come in various vibrant colors. They are designed to create a bold and unique look by adding a pop of color to your lashes. Easy fan extensions are pre-made fans that consist of multiple lashes attached at the base, making them easier to apply and saving time during the lash extension process.

Q: Can I wear colored easy fan eyelash extensions every day?
A: Yes, you can wear colored easy fan eyelash extensions on a daily basis if desired. However, it is important to note that excessive wear and improper aftercare can lead to premature shedding or damage to your natural lashes. It is recommended to consult with a professional lash technician who can assess your natural lashes and provide guidance on the appropriate wear and care routine.

Q: Are colored easy fan eyelash extensions safe for my natural lashes?
A: When applied correctly by a trained professional, colored easy fan eyelash extensions should not cause harm to your natural lashes. However, it is crucial to ensure that the extensions are not too heavy or long for your natural lashes, as this can lead to strain and damage. It is also important to follow proper aftercare instructions and avoid rubbing or pulling on the extensions to maintain the health of your natural lashes.

Q: Can I apply colored easy fan eyelash extensions myself?
A: It is generally recommended to have colored easy fan eyelash extensions applied by a trained and experienced lash technician. Proper application requires skill and precision to ensure the extensions are safely attached and do not cause damage to your natural lashes. DIY application can be challenging and may result in an uneven or unnatural look, as well as potential damage to your lashes.

Q: How do I choose the right color for my colored easy fan eyelash extensions?
A: The choice of color for your colored easy fan eyelash extensions depends on your personal preference and desired look. Consider factors such as your eye color, skin tone, and the overall effect you want to achieve. Some popular options include black, brown, blue, green, purple, and even multi-colored extensions. It can be helpful to consult with a lash technician who can provide recommendations based on your individual features and desired outcome.
If you are intereted in any our products, please do not hesitate to contact me!
Whatsapp: +86 13573804926



You may like