Common chemical fiber false eyelashes Private custom wholesale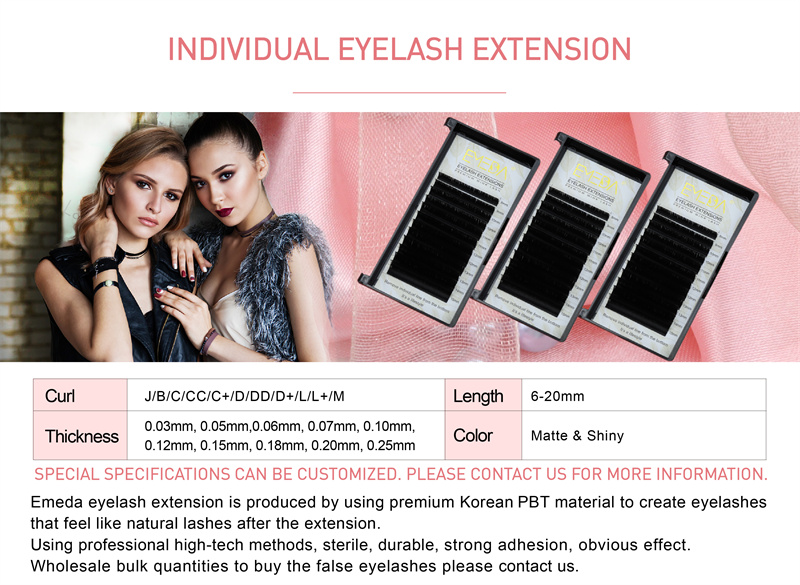 INDIVIDUAL EYELASH EXTENSION
Curl J/B/C/CC/C+/D/DD/D+/L/L+/M Length 6-20mm
Thickness
0.03mm,0.05mm,0.06mm,0.07mm,0.10mm
0.12mm,0.15mm,0.18mm,0.20mm,0.25mm Color Matte & Shiny
SPECIAL SPECIFICATIONS CAN BE CUSTOMIZED.PLEASE CONTACT US FOR MORE INFORMATION
Emeda eyelash extension is produced by using premium Korean PBT material to create eyelashes that feel like natural lashes after the extension
Using professional high-tech methods,sterile,durable,strong adhesion,obvious effect. Wholesale bulk quantities to buy the false eyelashes please contact us.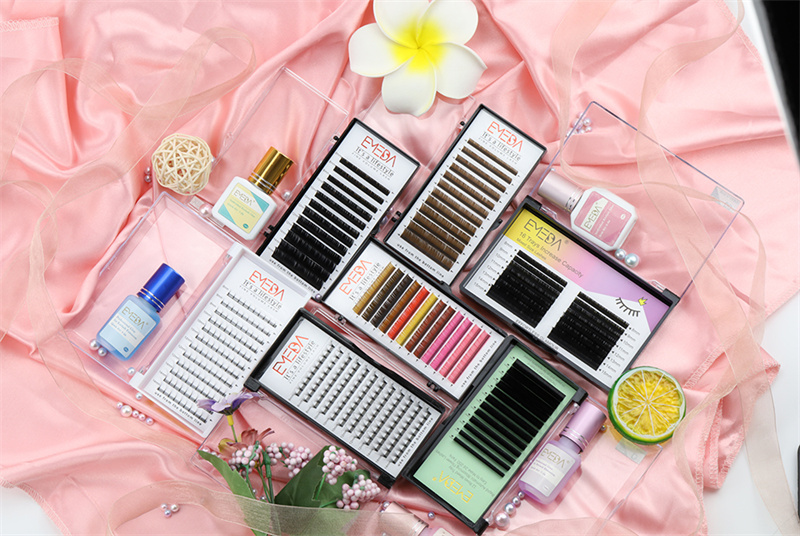 What is a clasic eyelash extension ?
The annular eyelash extension is a ring-shaped shape as a whole, which is simply an oval-shaped extended false eyelash.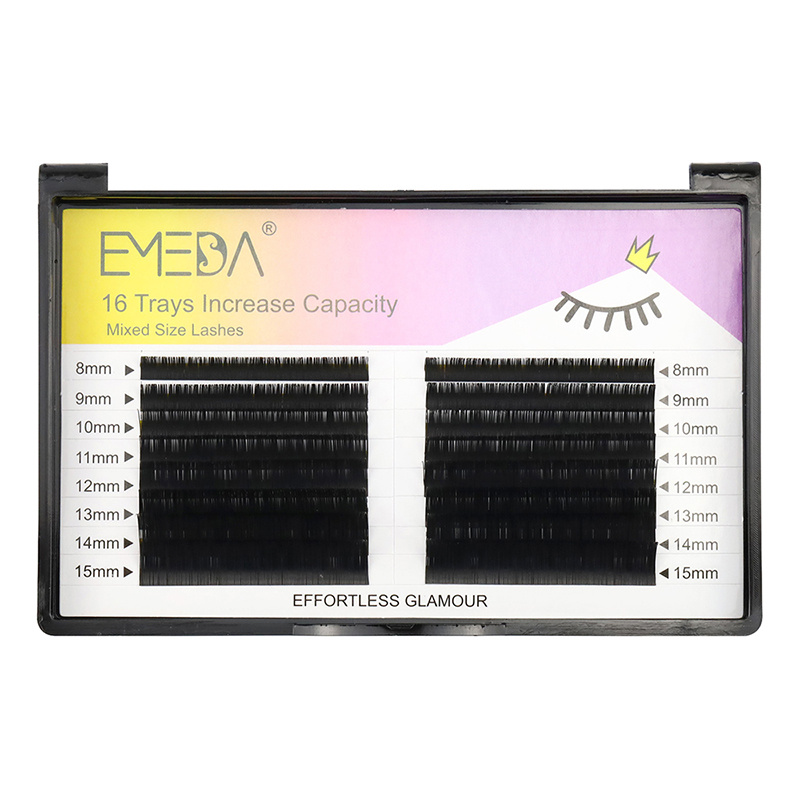 The slightly elliptical rather than rounded stretch eyelashes is a great option for customers who wish to have an exaggerated look but not enough natural eyelashes to fix traditional ones.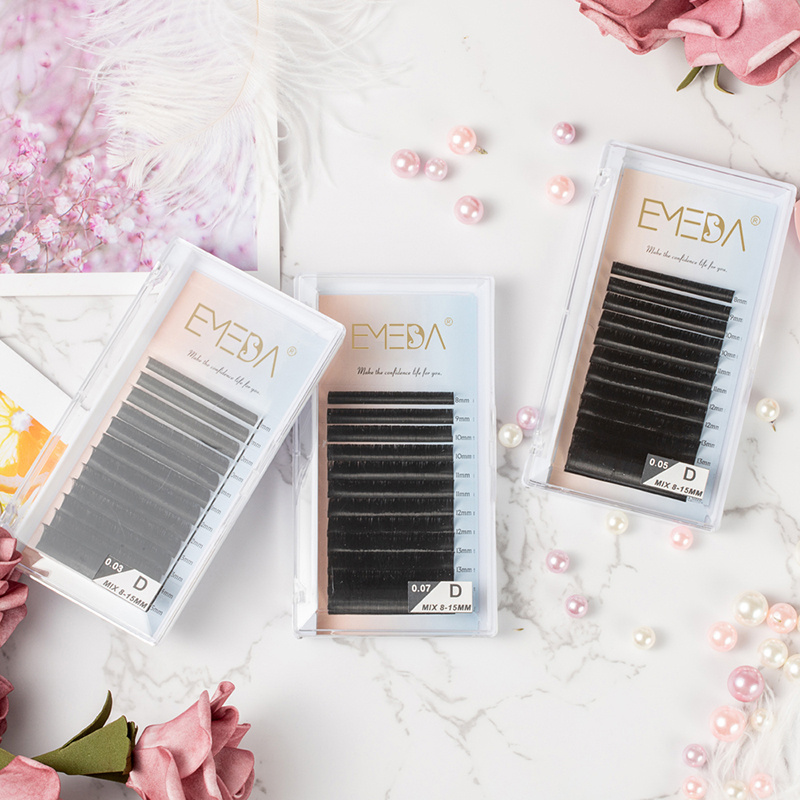 What are the product specifications of the dense row of false eyelashes?
12 Line / pallet 0.07 mm 0.10 mm 0.15 mm c / d curls Mix 15-20 mm 20-25 mm using select Korean black pbt material 100% manual eyelash hair, very soft and light.
What is it of the material?
pbt 100% from Korea is not irritating; color: matte black eyelashes; Easy fans are as soft as mink eyelashes, making your eyes look more attractive and unaffordable.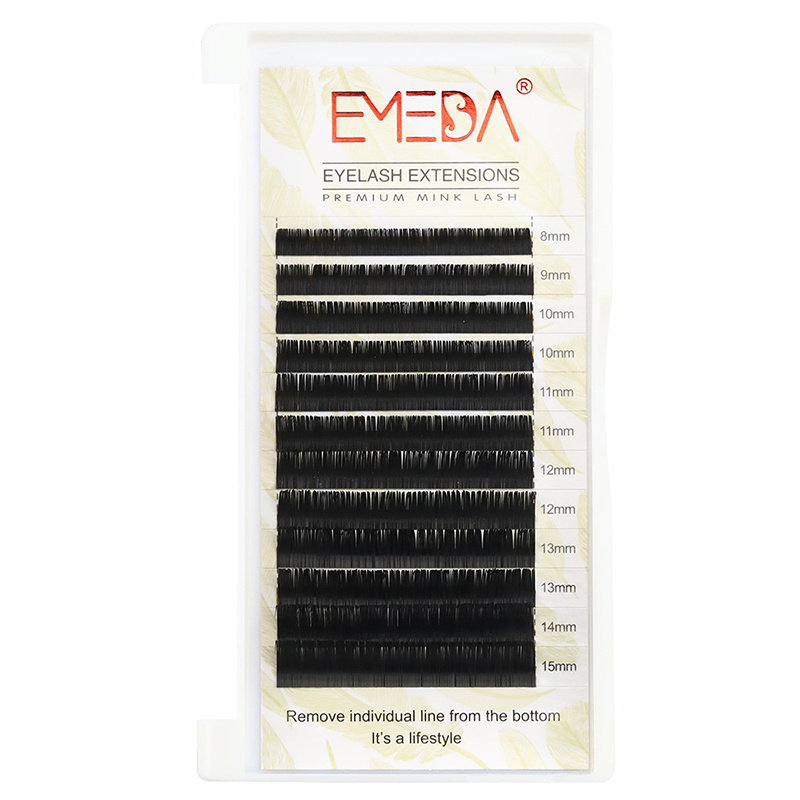 Convenient fan clusters.Using eyelash extension tweezers and professional eyelash glue, you can make any fan eyelashes yourself.For example, take 5 eyelash hair clips with tweezers, you can make 5c / 5d large eyelashes.
This fan volume eyelash extension increases density and saves half your grafting time, especially the salon tray.Flowering eyelashes are more fluffy, lighter, stronger, and softer.From 0.05 to 0.12, the hardness gets higher and higher.
What is about the false eyelash renderings?Here's a show of the renderings!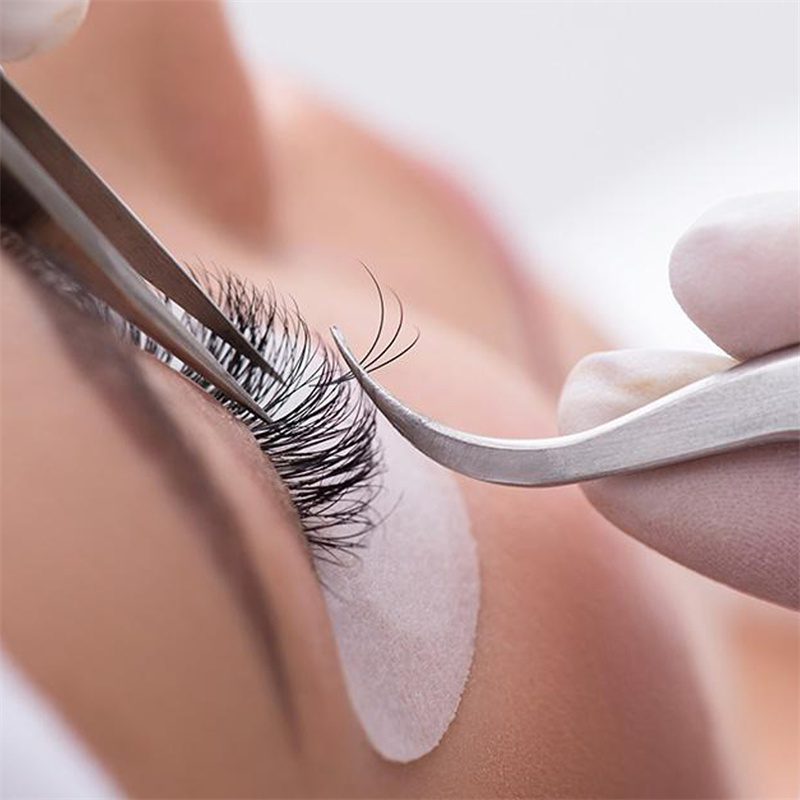 We can see that this eyelash effect is very beautiful, and the charm of the eyes lies in the eyelashes, Good eyelashes make the whole eye bright and beautiful .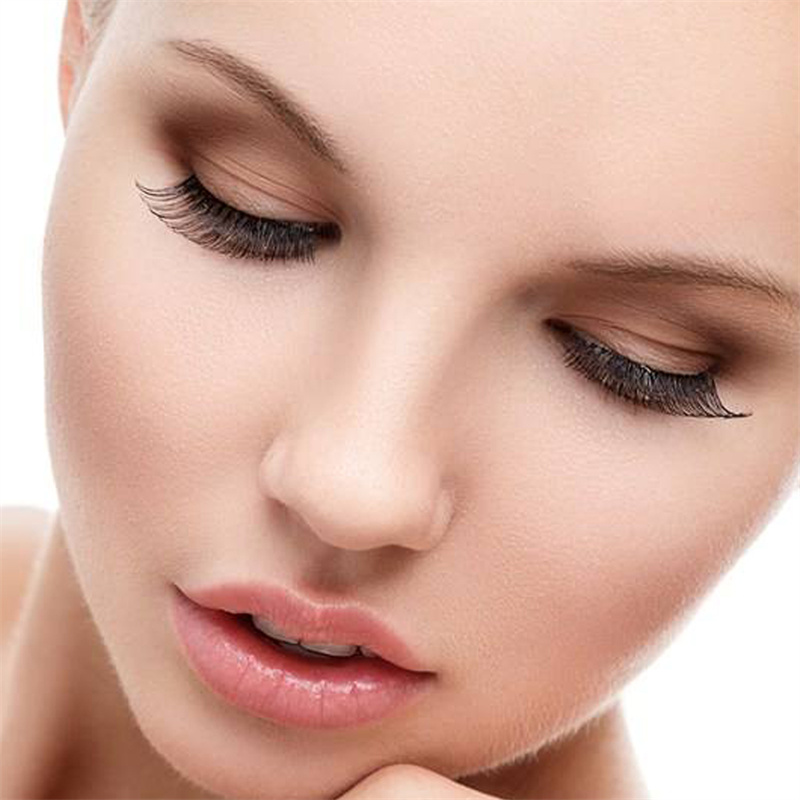 What length is this eyelash?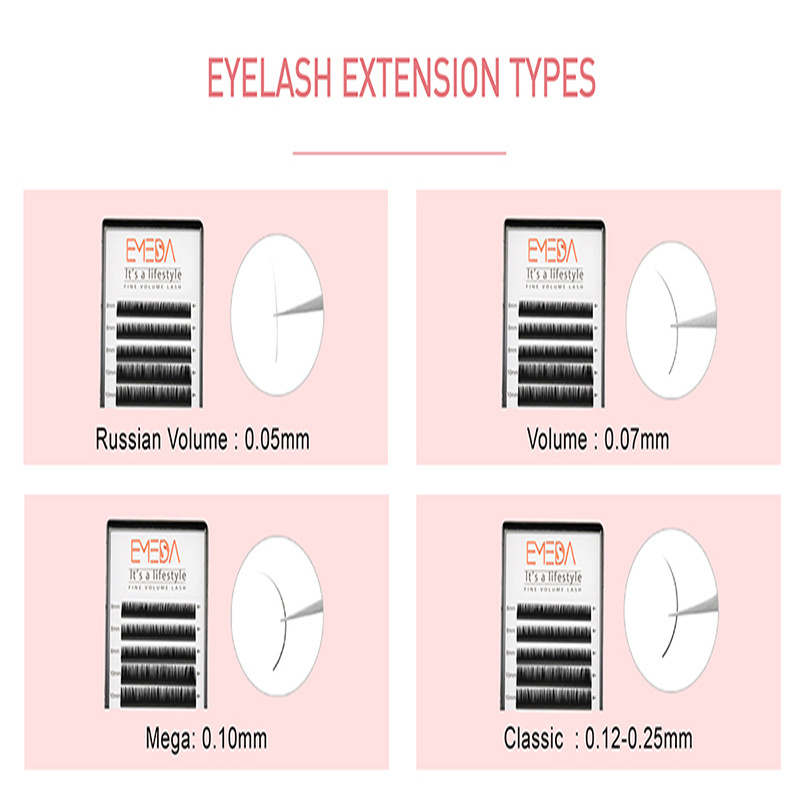 This eyelash packaging is also very good-looking, we have related product packaging, private order, interested friends can contact us.
Here about the related products !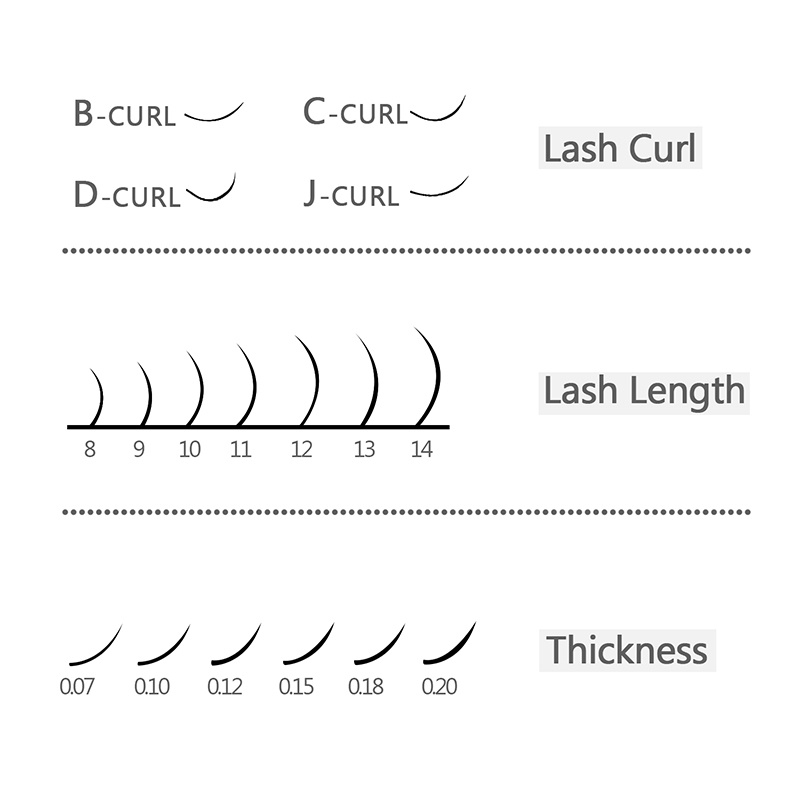 RELATED PRODUCTS
Made of best materials.Provide professional design service
OEM private label package. Mixed tray is avallable
THICKNESS:0 03 005.0.06.0.07.010
012.015.018.020.025mm
CURL:J/B/C/CC/C+/D/DD/D+/L/L+/M
LENGTH:6-20mm
MINK EYELASH EXTENSIONISHINY Cruelty free,no harm
Ultra soft,natural looking High end .luxurious
SILK EYELASH EXTENSION[MATTE] Soft and natural
Cost-effective,popular
If you have any problems, you can contact us anytime and look forward to your purchase!