WHY YOU SHOULD ADD COLORED EYELASH EXTENSIONS TO YOUR LASH BUSINESS?

In beauty and fashion, new and different things are always in high demand.
With colored eyelash extensions, also sometimes called mermaid extensions or unicorn extensions,there are plenty of ways to give your clients something new to try.
From yellow to orange to pink to purple, your clients can wear rainbow eyelash hues to enhance their natural eye color or give them a fun and dramatic look.
Colored eyelash extensions are not just for Halloween — though they really do make a costume pop!
Here is why you should have them on hand all year round, and ways to incorporate them into your lash business.

THE BENEFITS OF COLORED EYELASH EXTENSIONS
Colored mascara has been around for years, but colored eyelash extensions provide the extra benefit of volume and length.
Colored eyelash extension also come in varieties like ombre and can be mixed in with black lashes or a variety of hues for unique looks.
When you are discussing lash extension ideas with your clients, here are some unique benefits of colored eyelash extension.
Grafting Colored Eyelash Extension--YOU CAN ACHIEVE A LOOK YOU CAN NOT CREATE WITH MASCARA
Colored mascara gets applied to multiple lashes at a time, and it is darn-near impossible to create an effective ombre look with mascara.
With individual eyelash application, you have the option to add as many or as few colored eyelash extensions as you want.
And ombre extensions make achieving a neat and subtle ombre look a cinch.
COLORED EYELASH EXTENSIONS ENHANCE NATURAL EYECOLOR
For clients who want the length and volume of eyelash extensions but also want to make their eye color stand out even more, colored eyelash extensions do the trick.
Some subtle color integration with individual lashes can do wonders, or you can use ombre or bright hues to enhance eye color.
Grafting Colored Eyelash Extension--GET AN INSTANTLY-NOTICE-ME LOOK
If you have clients who want to create a dramatic look, colored eyelash extension are the way to go.
Besides complementing costumes, they can be used for fun rave looks or nights out on the town, to match vibrantly colored hair or hair extensions, or garner double takes on the daily.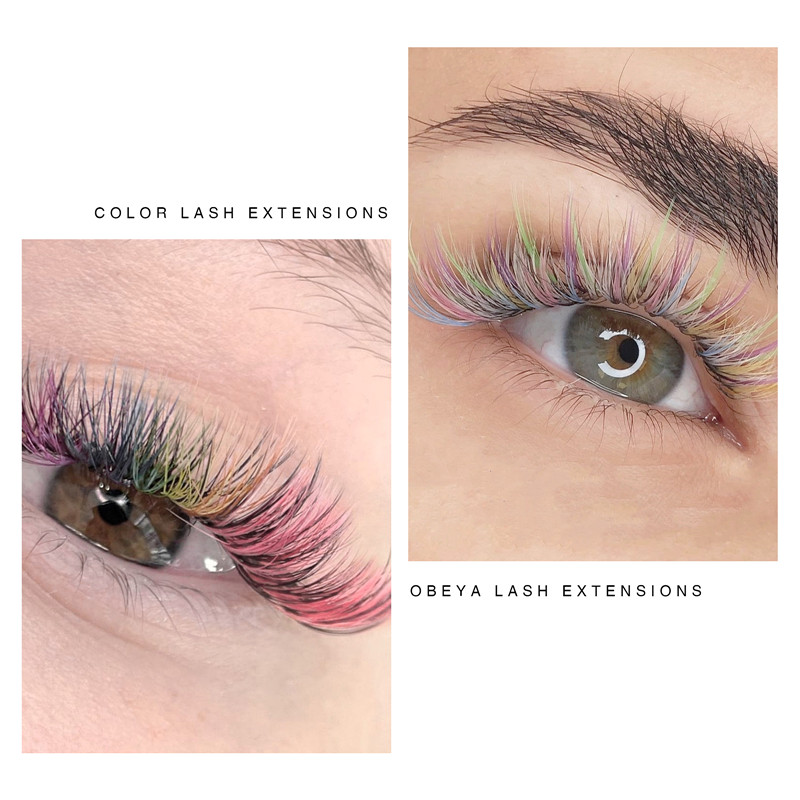 Colored Eyelash Extensions is an art
One of the best parts about colored eyelash extensions is that the styles are endless.
Your clients can dip their toe into trying colored eyelash extensions and go wilder if they end up loving the effects.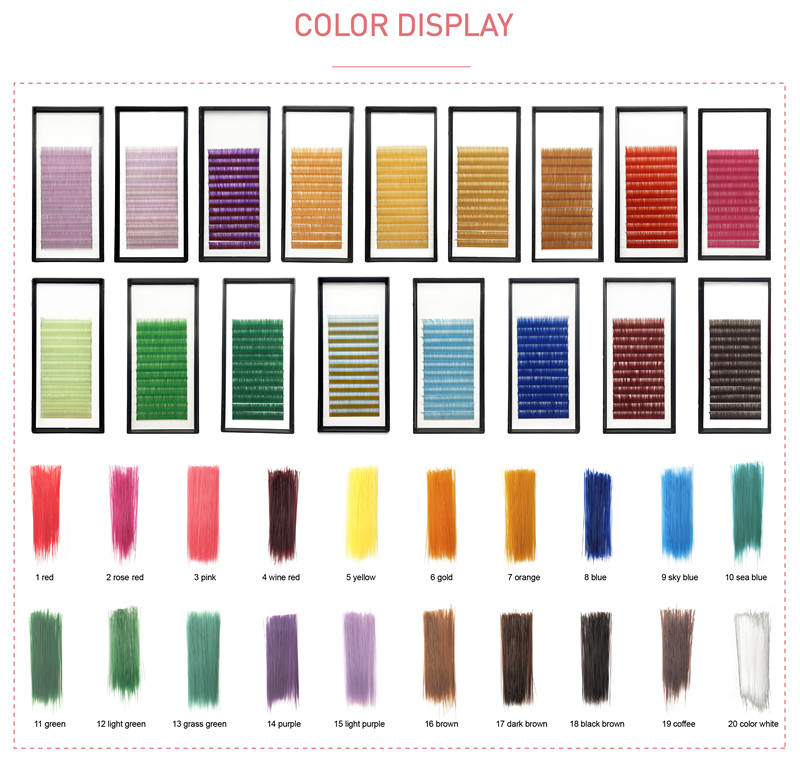 Colored Eyelash Extensions Catalogue
Now we have bright color series colored eyelash extensions, 20 colors. You can do single color, mixed colors, tone colors and rainbow. Besides, we also have matte series colored eyelash extension.
If you are interested in it, please do not hesitate to contact us through the contact information below:
Sophia Zhao

Email: minklash@emedaeyelash.com
Whatsapp: +86 135 7380 4926
You May Like:
Private Label Custom False Eyelash Packaging Box ZX099
Custom Logo Stainless Steel Eyelash Applicator Tweezers for Strip Lash ZX098
High Quality Private Label Latex Free Strip Eyelash Korean Glue For Sensitive Eye ZX097