Premade fan individual lashes extensions in US
Lash extensions now are become more and more popular in US as lash extensions can hold for
about a month which can save much time for customers' makeup time. And more and more
girls learn to be lash artists. Here we will introduce most popular premade fan individual lash
extensions in US which help girls select lash extensions kinds. And also lash artists and people
who want do lash extensions business can learn from this article.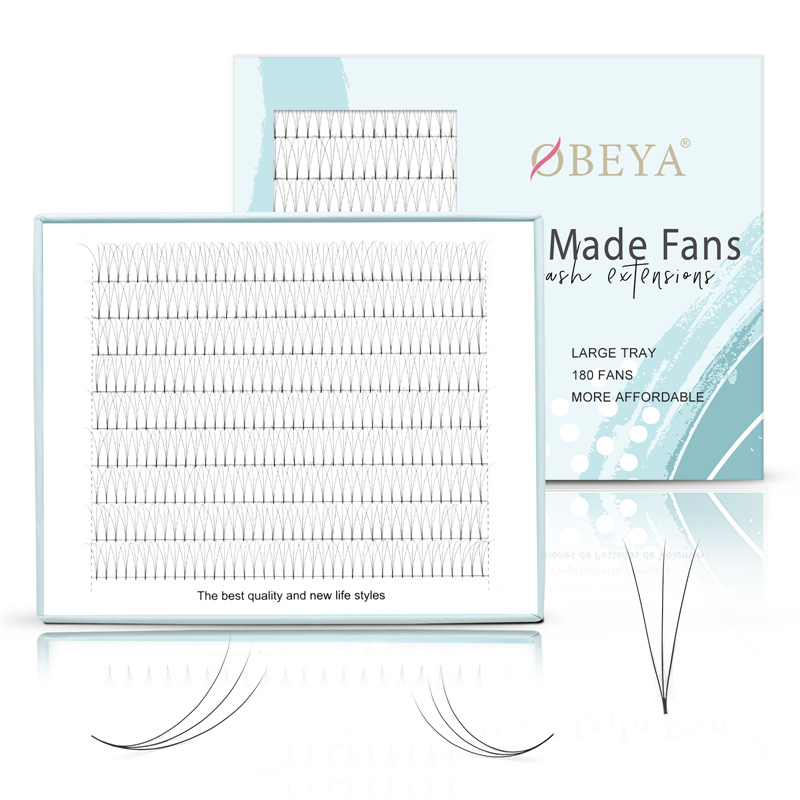 Premade fan lash extensions introduction
Before in US premade fan usually have 3 kinds, long stem premade fan, short stem premade fan and
middle tape premade fan lash. You can see from the below picture, the first one fans are stick
the middle part on the strip, so usually called middle tape premade fan; And compare the second
and third one, you see the fans are both stick the bottom part on the strip. The second one base
part are longer than the third one, so the second one called long stem premade fan, the third one
call short stem premade fan.
And you see the below 3 kinds premade fan are all 4D premade fan, the look of them: middle tape
premade fan lash fan smallest, the short stem premade fan lash fan biggest.
And the curl, middle tape premade fan look a little flater.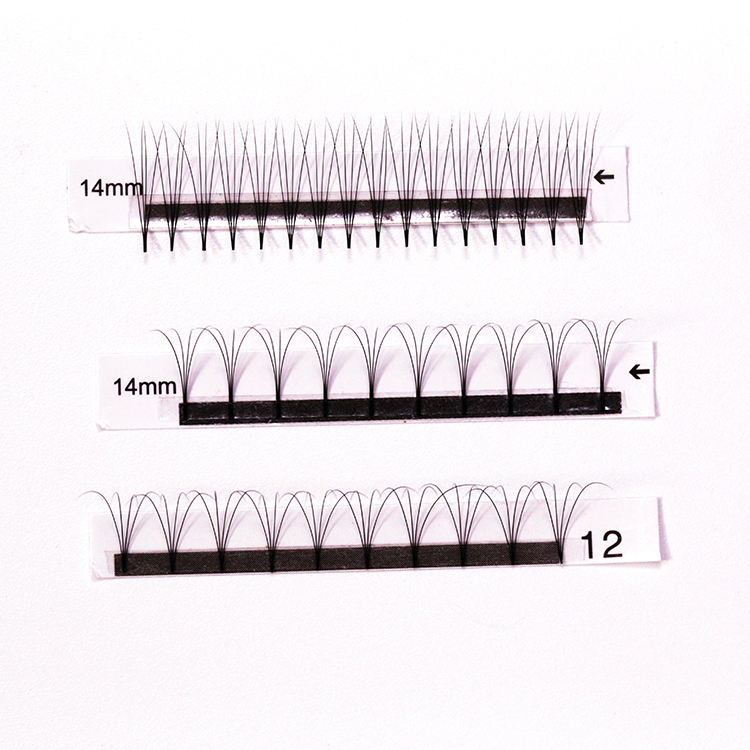 Now new premade fan in US are pointy base premade fan, the base are very thin. Also have short
stem and long stem 2 kinds. Usually are middle tape.
Pointy base premade fan thin base make premade fan easier to apply on real lash, long stem
pointy base fan are bigger, shorter stem pointy base fan bigger than before. So lash artists can
use less fans which make lash extensions light weight.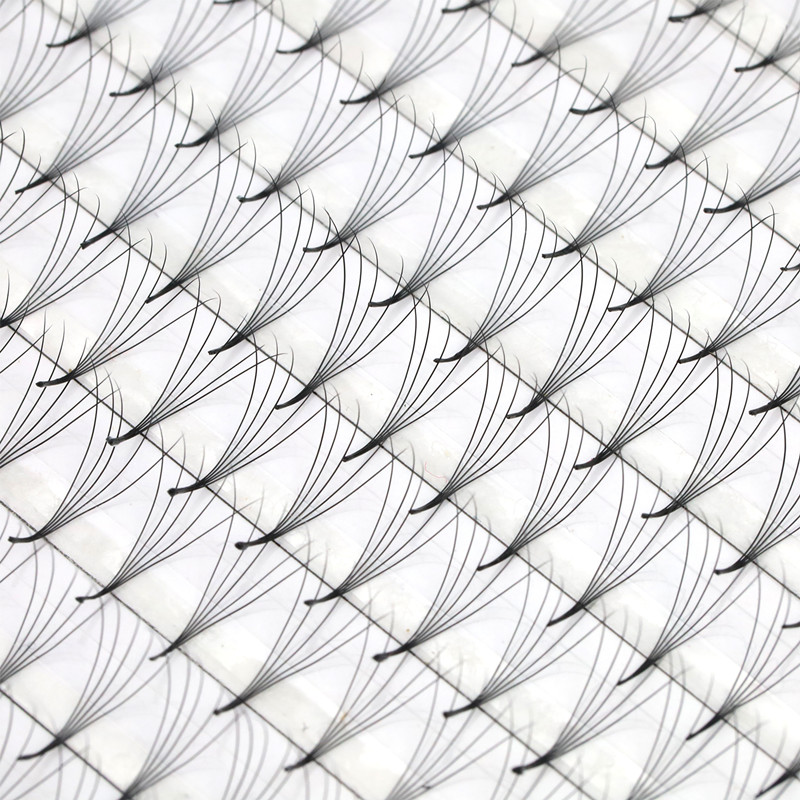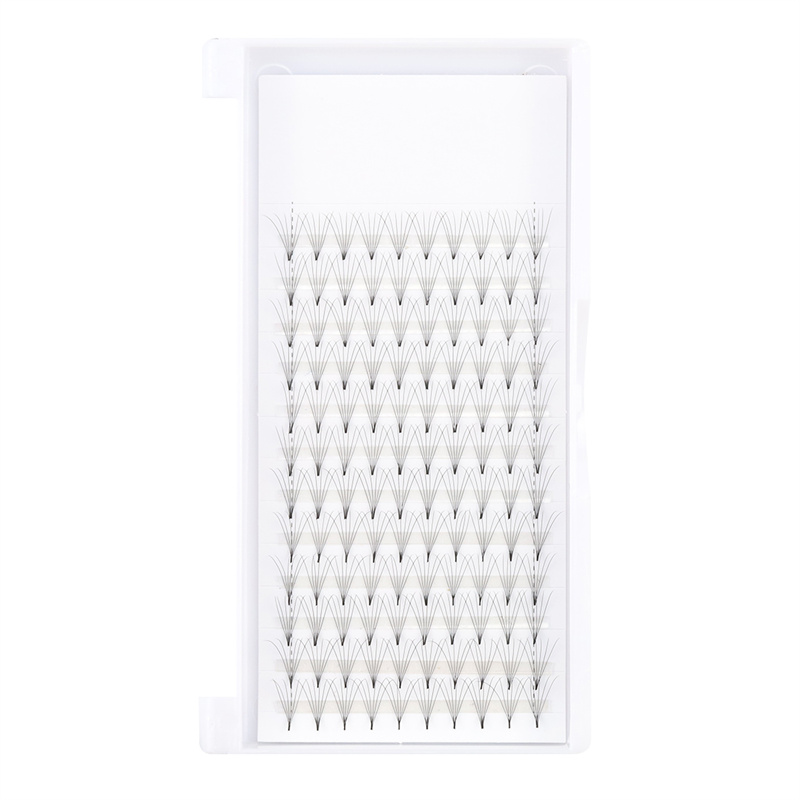 Premade fan lash extensions Advatanges
Premade fan biggest advantage is they are already fans, so customers no need to make fan
which save much time for lash artists. And no need much tech so it is friendly for lash beginners.
And just as this advantage, premade fan are used quickly. So premade fan packages now are
growing more and more economic. And more and more economic package come into US market.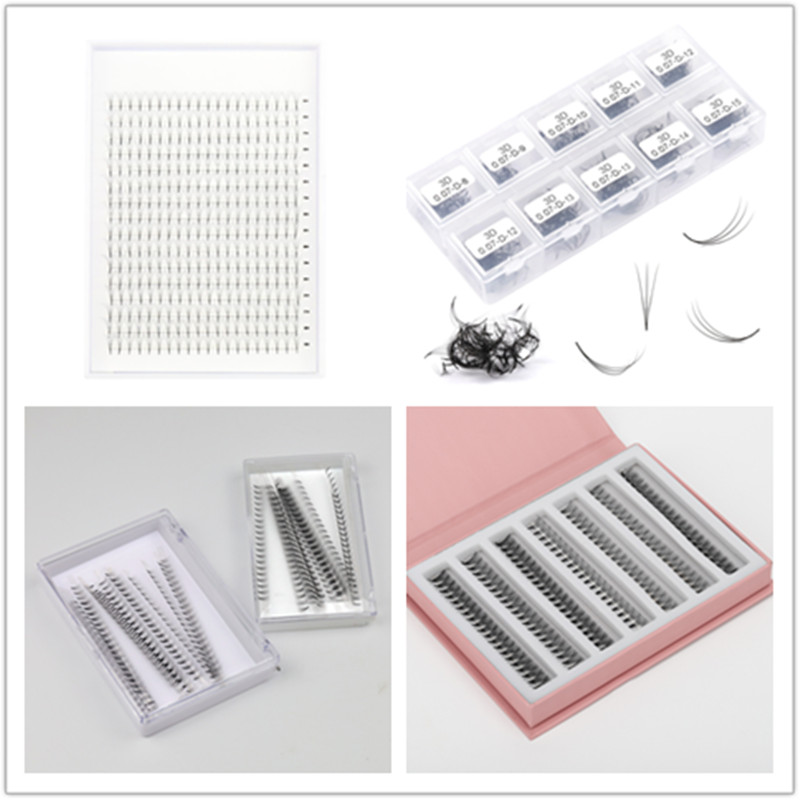 Premade fan lash extensions package development
You see above picture there are 4 kinds premade fan package in US market.
The first one is a XL tray for premade fan, this tray can do 12 lines or 16 lines.
For 4D-20D:
If do 12 lines, it will be 240 fans; if do 16 lines, it will be 320 fans.
Now it also developed into premade fan book, left side 20 lines, right side 20 lines. So left
400 fans, right side 400 fans.
Some customers like to use this such package, large tray and easy to pick.
The second one is loose fan premade fan. Workers put each fan into small boxes. so the
box can hold 300fans, 500fans or 1000fans. It is better use a sillicone pad to put on fans.
The third and fourth one are ribbions loose fan premade fan. Actually these are semi-finished
premade fan, it is easy to handle. So cost will be less. And you see the third box, this small
box can hold 500 fans, 1000fans which quite save shipping fee. This is the most economic package.
The fourth one is a magnetic box which make package looks luxury. Big brand usually do
this way. As the magnetic box can be customed with brand, logo, the color and pattern can
print on box.
The third and fourth package we suggest you can add some papercards, then lash artists can
pick ribbions stick on papercards to use. You can check below video to know more.
Premade fan lash extensions pick suggestions
Usually for bottom tape premade fan clip the stem from top to bottom direction ; middle
tape premade fan clip the base direction from bottom to top.
You may have interests
Premium Korean PBT material Individual lash extensions US XJ79
Private label Rapid blooming lash easy fan XJ77
Lash extension academy lash tools lash training kit include lash supplies with private label XJ76
Inquiry for 2021 best selling wholesale lashes premade fans eyelash extensions eyelash wholesale distributor USA XJ