2022 the latest Fluorescent eyelash custom wholesale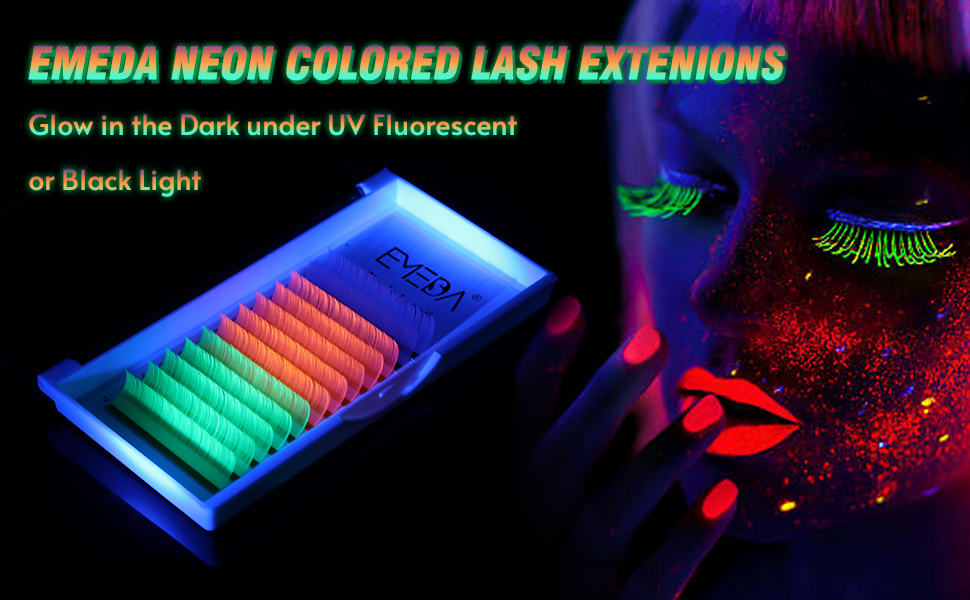 EMEDA NEON COLORED LASH EXTENIONS
Glow in the dark under UV Flourescent
or Black Light.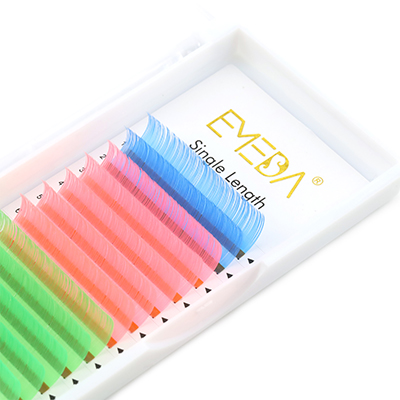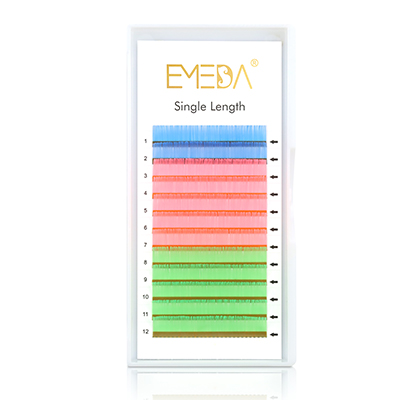 What is the buckle on the neon light is what is the fluorescent fflash fluorescent colored eyelash extension ?
★Neon Lash Extractor Only in UV fluorescence or Black Light,
Pink Blue Green Lashes Extended Tray 0.07 mm d Curel Classic Single
Color Lash Extractor (15 mm). Neon hair patch is one of the colored eyelashes also named black / fluorescent UV eyelashes.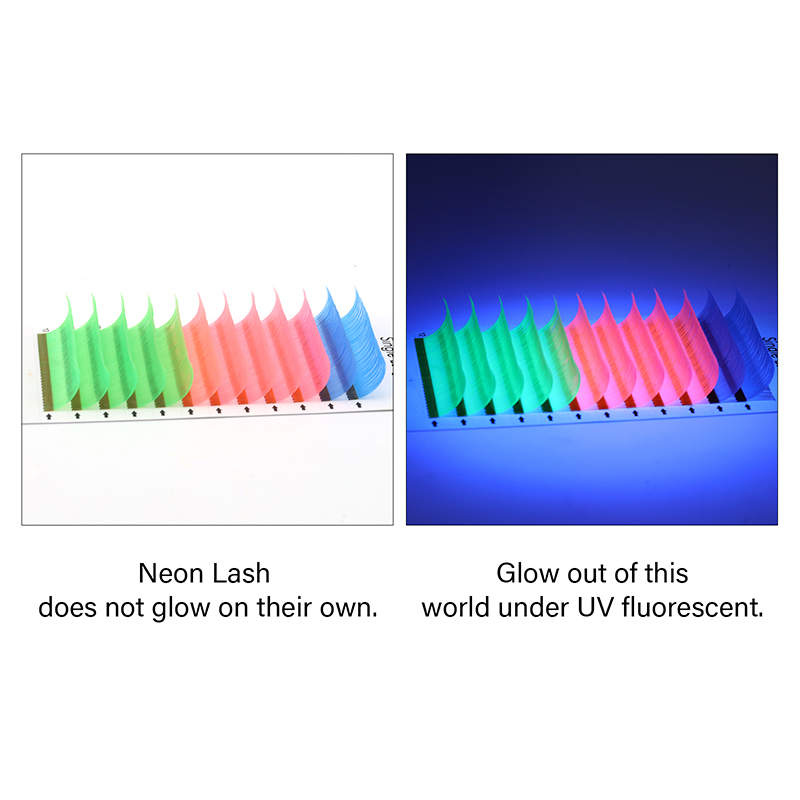 What is the difference between fluorescent eyelashes and ordinary eyelashes?
★Neon lash does not glow on their own.

Glow out of this world under UV fluorescent.
★Neon hair clips are different from regular monochrome eyelashes is what makes neon eyelashes able to shine bright and perfectly in ultraviolet or black light.These eyelashes are made from neon pbt fibers directly imported from South Korea, and are eco-irritating, soft and lightweight, coming in different lengths and colours.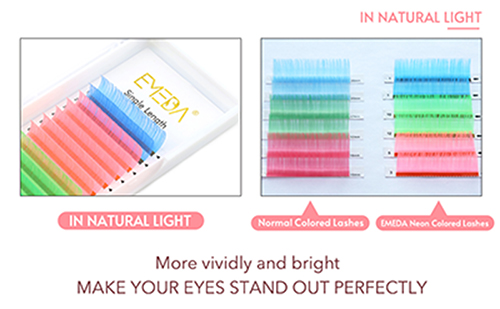 More vividly and bright
MAKE YOUR EYES STAND OUT PERFECTLY
How do these neon uv eyelashes work?
★ while vibrant, neon eyelash catches don't glow in the dark.They can only be activated by UV fluorescence or black light.These neon lights glow if you wear these eyelashes at a bar or a neon party with UV fluorescence or black light.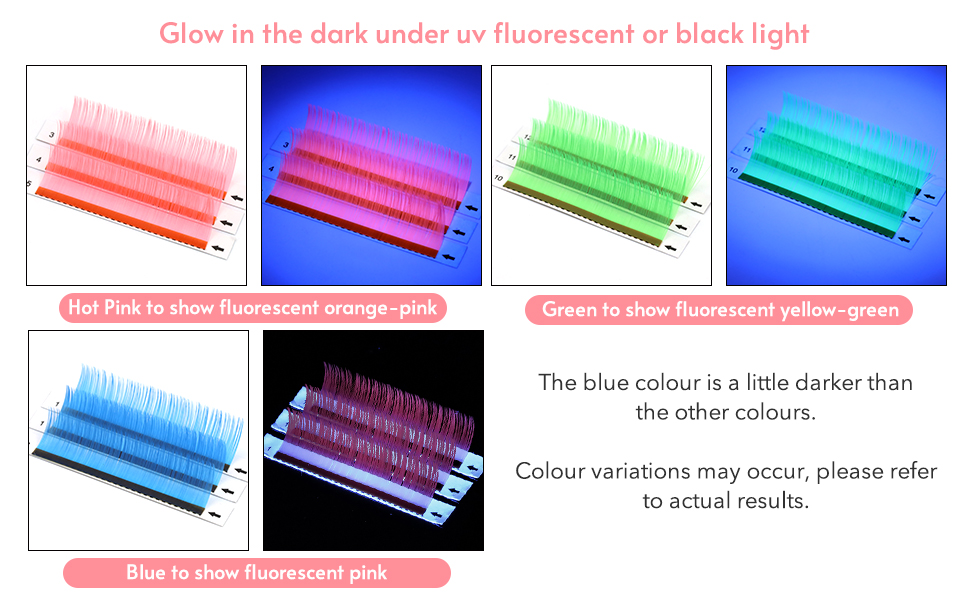 Glow in the dark under UV Fluorescent or black light.
The blue colour is a little darker than the other colours.
Colour variations may occur, please refer to actual results.
Hot pink to show fluorescent orange-pink
Green to show fluorescent yellow-green
Blue to show fluorescent pink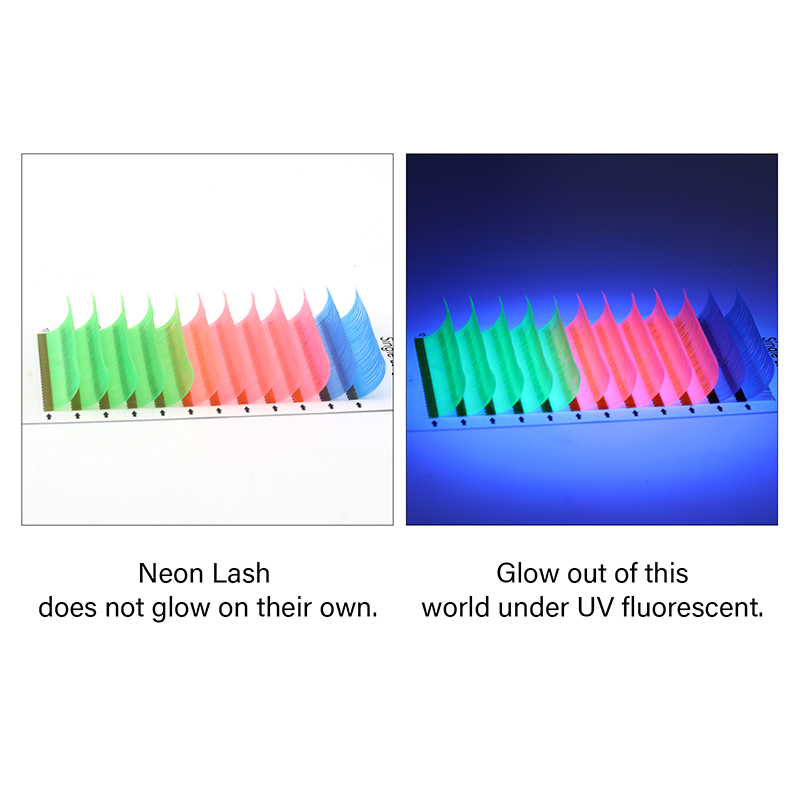 Neon lash does not glow on their own. Glow out of this world under UV fluorescent

The color of the eyelashes is different from that of natural light and the brightness varies.Green will become neon green.Peach color becomes neon orange pink.Blue becomes neon pink.
DATE REFERENCE
J curl : 35 B curl: 45 C curl:55 D curl 65
How to measure the lash length?
The right picture is correct.Please messure the length in straight condition.
Why should you try the emeda uv eyelash extensions?
★ A tray has blue * 2 lines, pink * 4 lines, green * 4 lines, 12 rows per box.Neon colors are brighter and more vivid than normal colored eyelashes in natural light.Add these neon UV eyelashes to the black eyelash suit or design a complete suit based on our unique color options to make your eyes stand out, something that normal eyelashes absolutely cannot offer.They make your eyes look bright, charming and charming.
Recommend some products about eyelashes, if you are interested, you can also contact me !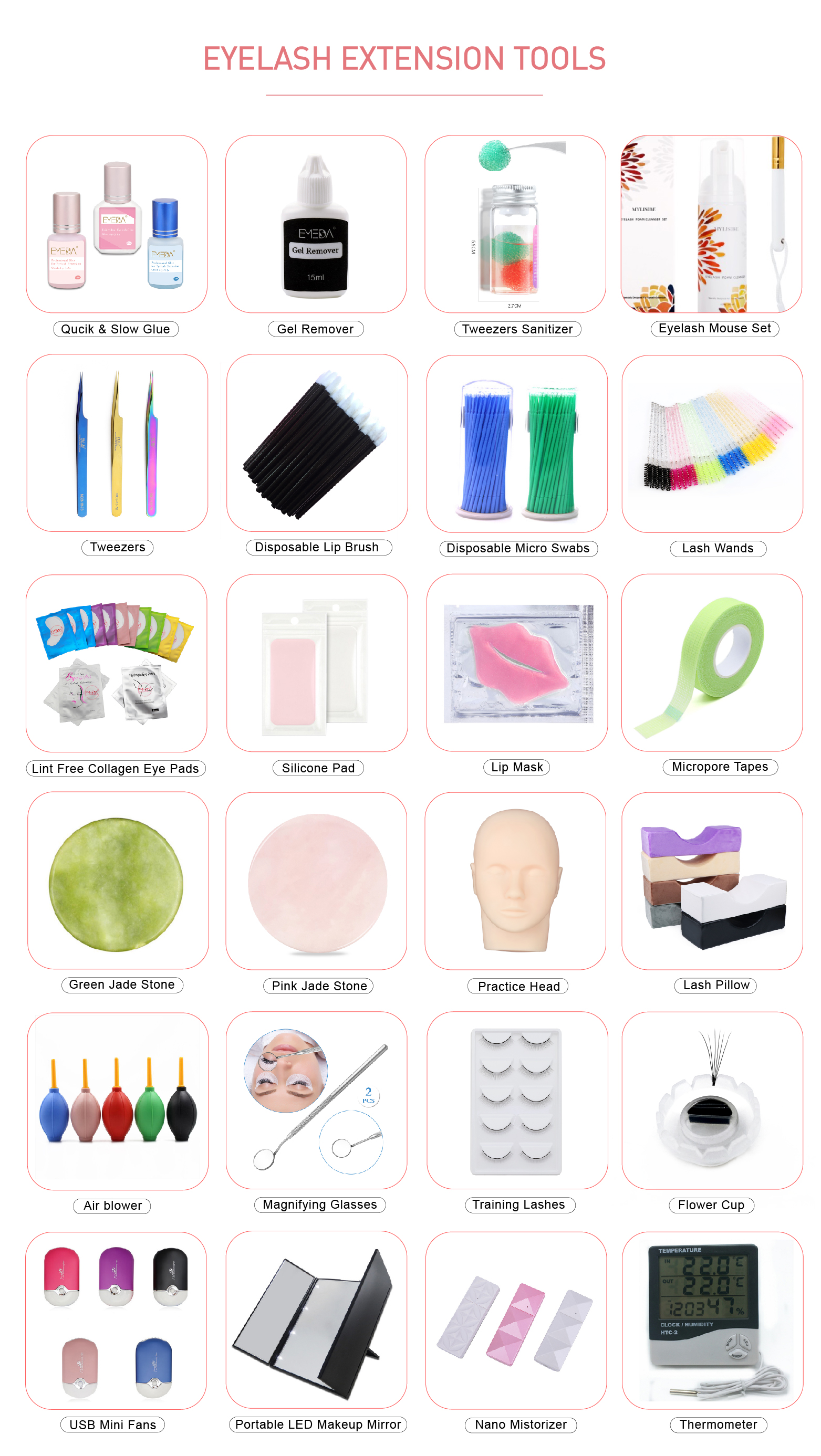 Best accessories to wear on any special occasion!★ costume parties, neon parties, special events, Halloween, Christmas, or a bar.Warning: Do not light the ultraviolet light directly into your eyes for a long time, because this can cause damage.Please note that the neon lights cannot shine without UV / black light.
After-sales service Commitment: If you have any problems, wrong goods, broken, or dislike this type of eyelashes, please let us know that we will give you a replacement or other satisfactory solution.
SHIPMENT
Emeda Professional Packaing & Shipping Team
Careful/ Clean/ Professional/ Fast/ Efficien
Payment
You can choose any of the following payment methods to look forward to your purchase .