In 2020, a new coronavirus rages in China. After strict control by the Chinese state, the virus is mainly severe in Wuhan, Hubei.
In other areas, such as Qingdao, Shandong, once suspected cases were found, they were immediately quarantined and treated, and the epidemic did not spread on a large scale. With the end of the Chinese New Year holiday, various eyelash factories have begun to resume production. EMED lashes, OBEYA lashes and other eyelash factories have begun processing and production, and express logistics has also been opened and officially shipped.
After returning to work, our staff members must report to the government department. First quarantine for 7-14 days. Everyone must wear a mask, wash their hands frequently, and take their temperature to be sure.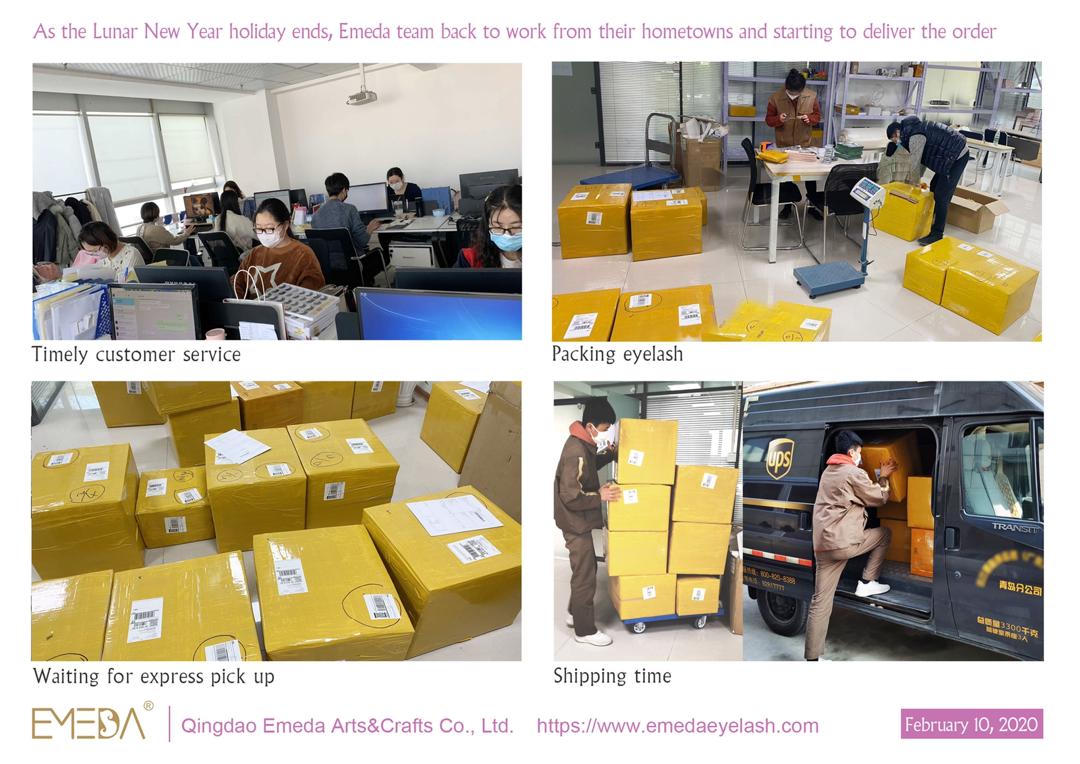 Our isolation and protection is very good, the eyelashes are safe, and the order can be placed normally.
The following eyelash websites can be shipped normally.
1,https://www.emedaeyelash.com/
We are a leading supplier and manufacturer of Eyelash Extensions, mink eyelashes and false eyelashes products in qingdao China.
24 Hour Service Hotline.
2,https://www.obeyabeauty.com/
We are professional manufacturer and vendor of different kinds of private label lashes: eyelash extensions, russian lashes, mink eyelashes, 3D Lashes & Eyelashes Tools since 2002
3,http://eyelashfactorycn.com/
Qingdao Obeya Beauty Products is one of the leading suppliers and manufacturers of individual eyelash extensions, eyelash extension tools, 3D mink eyelashes and 3D false eyelashes products in Qingdao China. We also produce human hair eyelash, mink hair eyelash, animal fur eyelash, paper eyelash feather eyelash and Japanese and South Korean fibrin thread eyelash. We can also customize lashes based on your samples. All of our false eyelashes are 100% handmade. We have a dedicated system for designing, manufacturing and distributing false eyelashes products to customers around the world and we have gained a good reputation all over the world especially to the US, Australia, Japan, Europe and other countries.
4,https://www.obeyalashes.com/
Qingdao Obeya Beauty Products Co. ,Ltd is specialized manufacturer and vendor of handmade eyelashes.
Producing Handmade Eyelashes Products
We specialize in manufacturing good quality but cheap eyelash extensions, cheap mink eyelashes, cheap fasle eyelashes, such as 5D mink lashes, 25mm mink lashes, private label eyelash extensions, Russian volume lashes, Blooming Volume Eyelash and YY eyelashes, etc. Eyelash Extensions types includes Classic Lash Extensions, Volume Lash Extensions, Real Mink Eyelash Extensions, Flat Eyelash Extensions, Camellia Eyelash Extensions and other 100 real mink hair products, etc. Most of our products are exported to USA, EU, Africa and Australia. As a professional and reliable mink eyelash vendor and eyelash extensions manufacturer, we have won lots of high reputation from our customers in the past 18 years.
This is the mall website from China Eyelash Factory. Currently we have independent eyelash brands EMEDA and OBEYA. We offer OEM/ODM services to global eyelash buyers. We also offer wholesale eyelashes. Whether you want a box of eyelash extensions or a pair of eyelashes, we are giving you high quality eyelashes whith wholesale price.