Wholesale private label DIY lash cluster lashes
In the world of beauty and cosmetics, trends come and go, but one trend that seems to
be here to stay is the use of false eyelashes. Women (and even some men) have long been
using false lashes to enhance their natural beauty and achieve a more dramatic look. And
now, with the rise of wholesale private label DIY lash cluster lashes, achieving that perfect
fluttery lash look has never been easier.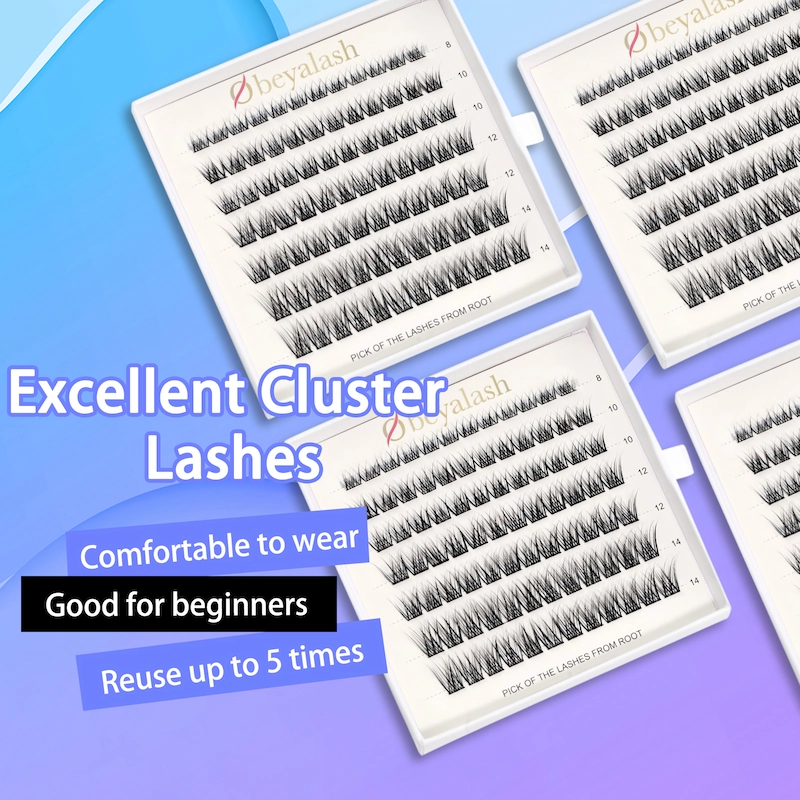 How we do private label DIY lash cluster lashes?
More and more customers want to do their own brand DIY lash cluster lashes. You can see
from Amazon, there are many kinds package for DIY lash.
There are economic plastic box / plastic tray for cluster lash, professional paper box and
luxury magnetic box. And also there are DIY lash kit pacakge.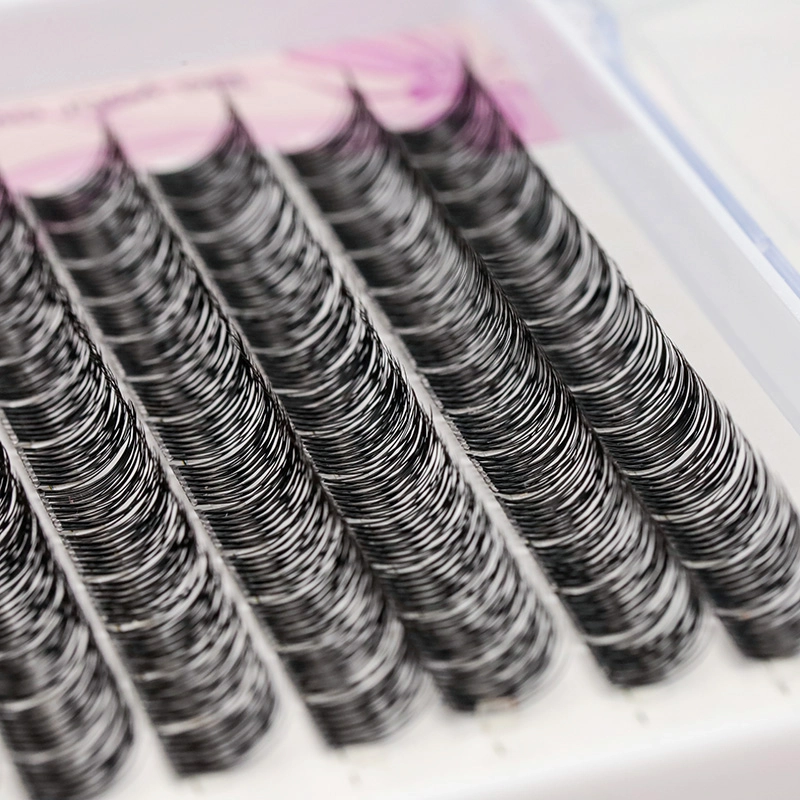 How we do small quantity private label DIY lash cluster lashes?
OBEYA now introduce 4 styles cluster lashes which are fast delivery for small quantity, now
production are very busy for cluster lash, our 4 styles cluster lash can be finished soon.
And for small quantity private label, we suggest do plastic box. You can just print papercards
with your logo then you can get your own brand DIY lash. You also can sell lash bond and seal
together.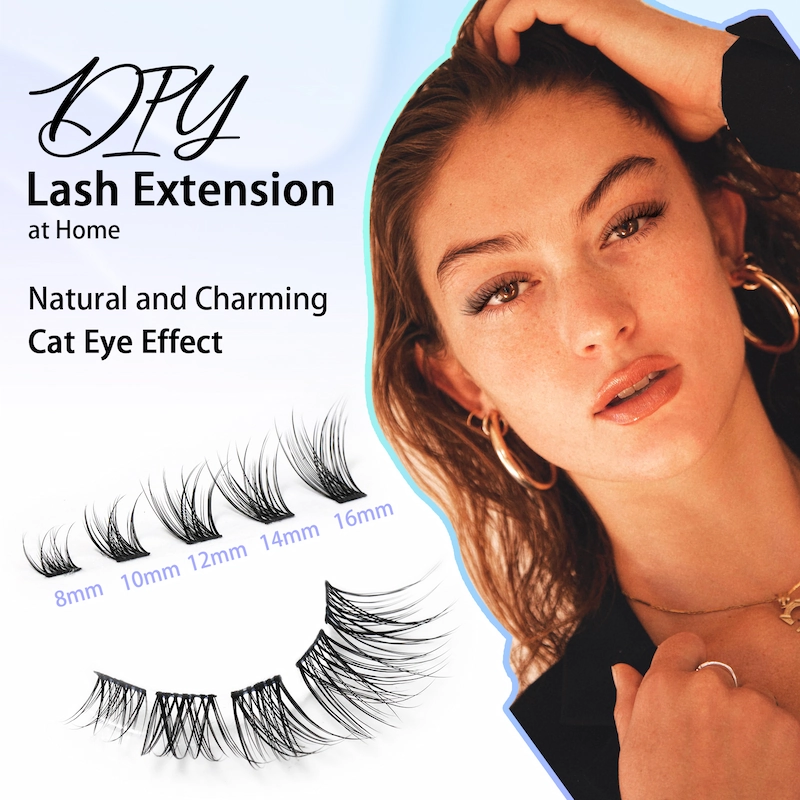 How to develop our brand DIY lash cluster lashes?
Later when your orders grow, you can try to do more styles and print paper box, even paper
box DIY lash kit. And then you can introduce Luxury magnetic box print the pattern you like,
your logo.
For bigger order, you have more choices for DIY lash styles. We have D series and C series.
C series are the best quality DIY lash, super soft material lash hair and super thin lash band
which are the most comfortable lash you wear.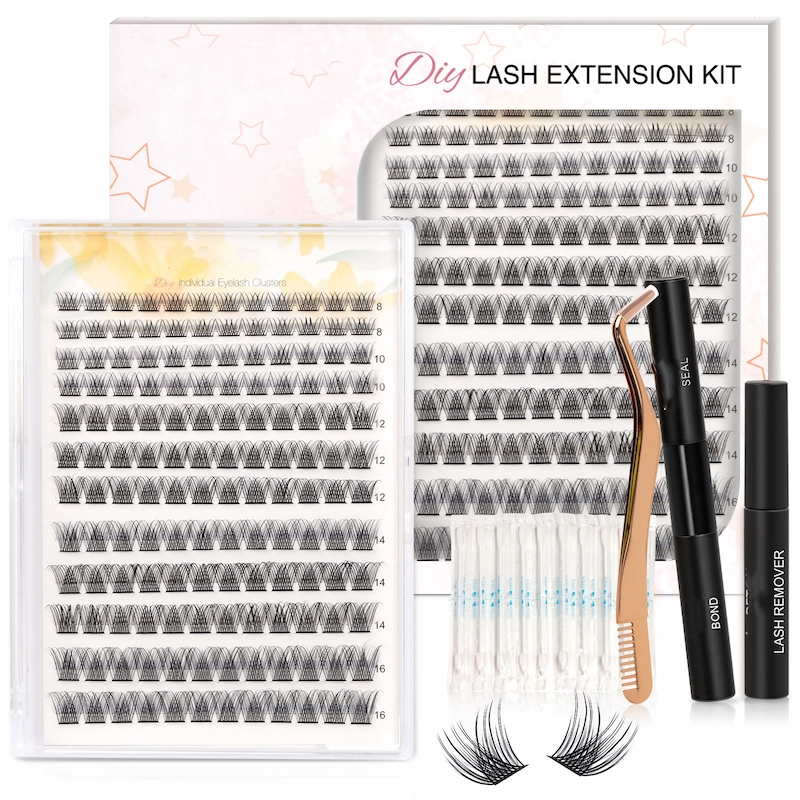 What is the process for private label DIY lash cluster lashes?
After we confirm the lash styles for DIY lash, we select the package for lash. The most economic
is plastic box, then professional paper box and luxury magnetic box or Drawer box.
For plastic box, you can do private label paper cards, print your logo, social info or the lengths
on papercards.
For paper box and magnetic box or drawer box, you can print logo, pattern you like on box; then
print papercards. You also can do DIY lash kit, make bigger box to hold them. Add the use info
on the box.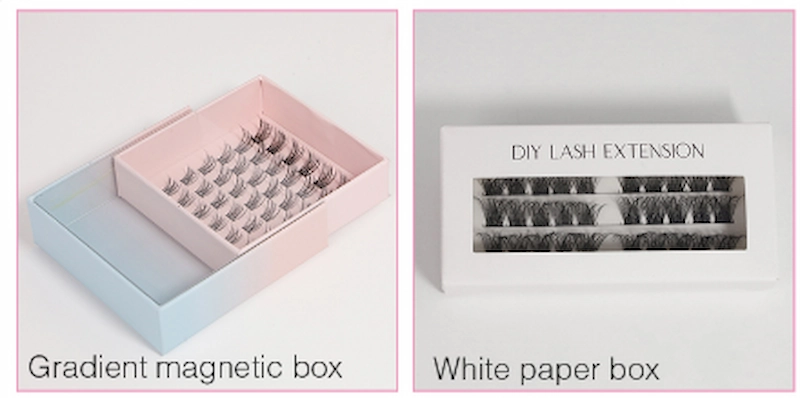 CONTACT ME for more details.
Monica:
Whatsapp: +86 185 6261 5183
FAQ:
Q: What is DIY lash?
A: DIY lash refers to the practice of applying false eyelashes at home without professional
assistance. It involves using adhesive and individual or strip lashes to enhance the
appearance of your natural lashes.
Q: Why would someone choose to do DIY lash?
A: There are several reasons why someone might choose to do DIY lash. It can be a
cost-effective alternative to getting lash extensions or visiting a salon. It also allows
for more flexibility and customization in terms of lash length, volume, and style.
Additionally, some individuals enjoy the process of applying lashes themselves as a
form of self-expression.
Q: What materials do I need for DIY lash?
A: To do DIY lash, you will need false eyelashes (individual or strip lashes), lash adhesive,
tweezers or lash applicators, scissors (if using strip lashes), and a mirror. Optional materials
include lash curlers, mascara, and lash glue remover.
Q: How do I choose the right false eyelashes for DIY lash?
A: When choosing false eyelashes, consider factors such as the desired length, volume, and
style. Individual lashes provide a more natural look, while strip lashes offer more dramatic
effects. You can also choose between synthetic or mink lashes, depending on your preferences
and budget.
Q: How do I apply false eyelashes for DIY lash?
A: The general steps for applying false eyelashes are as follows:
1. Measure and trim the lashes to fit your eye shape if using strip lashes.
2. Apply a thin layer of lash adhesive along the lash band or directly onto individual lashes.
3. Wait a few seconds for the adhesive to become tacky.
4. Using tweezers or lash applicators, carefully place the lashes as close to your natural lash line as possible.
5.Press gently to secure the lashes in place.
6.Repeat the process for the other eye.
7.If desired, curl your natural lashes and apply mascara to blend them with the false lashes.
You may also like
Hot Amazon DIY lash kit with cluster lash and lash bond XJ150
HOT Amazon DIY lash extensions at home lash clusters segment lash XJ148
Amazon Hot cluster lashes DIY lash kit with lash bond and sealant XJ143
Wholesale New trend manga lash style Spikes cluster lash DIY lash extensions XJ123
Amazon Hot DIY lash bond and sealant XJ142
Wholesale cluster lashes lash bond and seal XJ120