New natural wispy styles silk lashes for Christmas Purchase
Christmas is a time when people often gather with loved ones and attend various social events. This can motivate individuals to enhance their appearance, including their lashes. Using high-quality mascara or lash serums that promote growth and nourishment can help to enhance the natural beauty of lashes during this time. So natural wispy styles silk lashes have great market, customers also prepare fund to do shopping during Christmas season.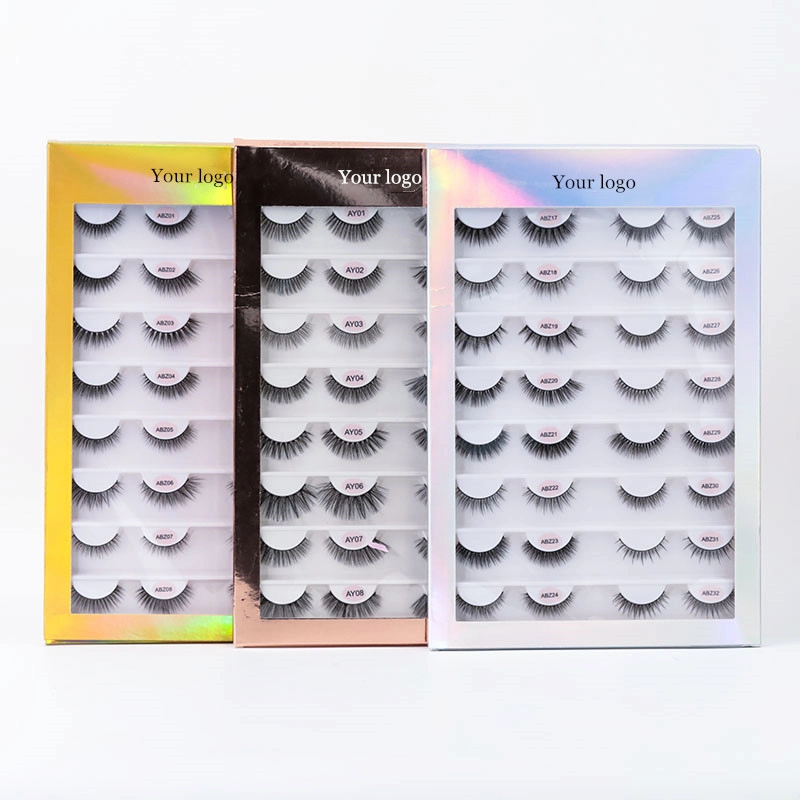 New Natural wispy styles silk lashes introduction
Material: premium faux mink
Band: clear band and cotton black black both ok.
Design: 3D effect natural styles, Cat eye, round eye, wispy styles, cross styles.
What designs we can offer?
Natural Wispy: These lashes feature a delicate and fluttery design, with wispy strands that mimic the look of natural lashes. They provide a subtle enhancement to your eyes, perfect for everyday wear or a natural makeup look.
Cat-Eye: Cat-eye silk lashes are designed to accentuate the outer corners of your eyes, creating a lifted and elongated effect. These lashes are longer towards the outer edges, giving your eyes a seductive and feline appearance. They are perfect for achieving a sultry and dramatic look.
Natural Length: If you prefer a subtle and natural enhancement, natural length silk lashes are a classic option. These lashes provide a slight lengthening effect without overwhelming your natural lashes. They are versatile and suitable for both casual and formal occasions.
Crossed and Layered: Crossed and layered silk lashes feature crisscrossed strands that create a multidimensional effect. This style adds depth and dimension to your lashes, making them appear fuller and more voluminous. They are great for achieving a glamorous and textured look.
Styles: we introduced 48 new styles.
Package: we can custom paper box, magnetic box and acrylic box.
For more clearly pictures, you can message me by whatsapp +86 185 6261 5183.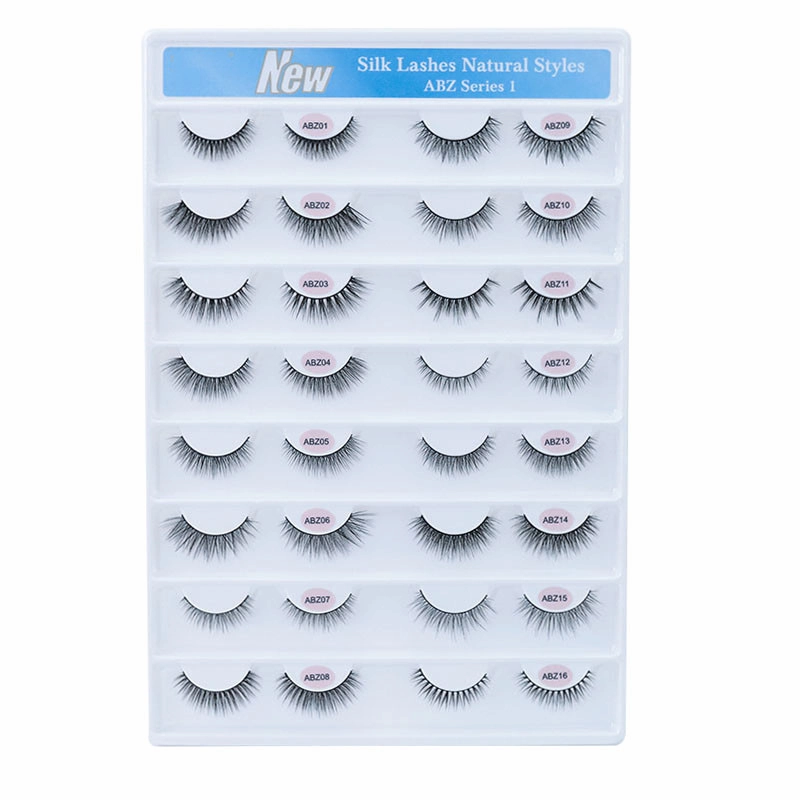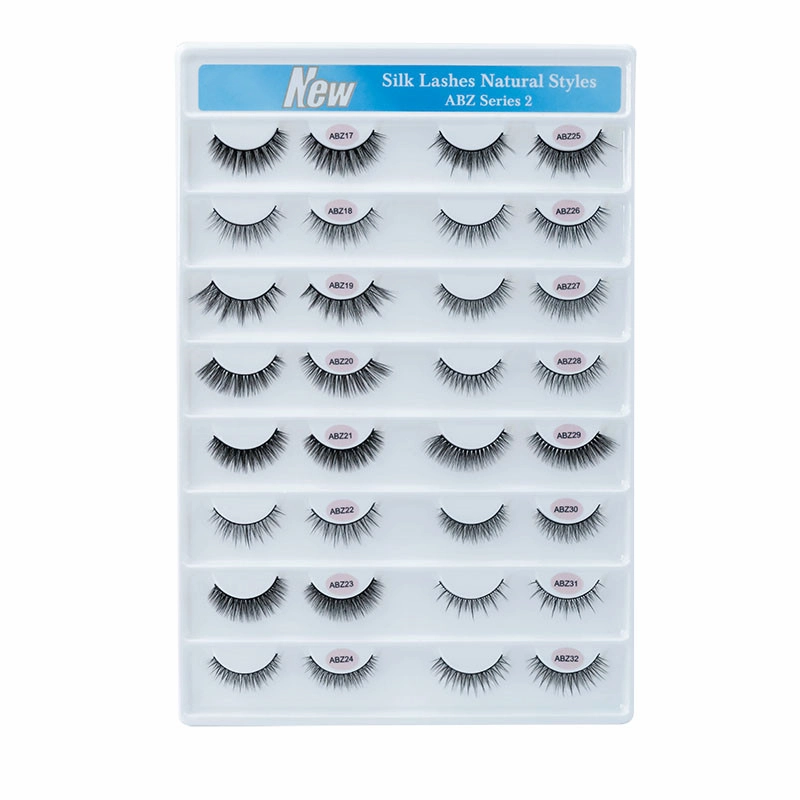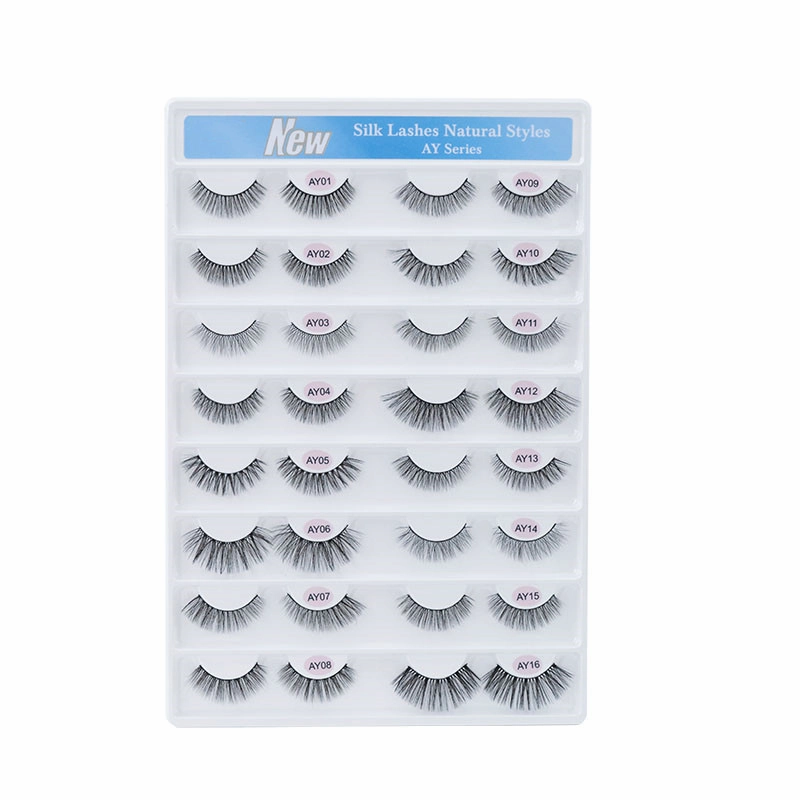 How to test silk lashes quality?
Material Inspection: Start by examining the lashes closely. High-quality silk lashes should have a soft and smooth texture, resembling the look and feel of real lashes. Check for any signs of fraying, tangling, or uneven strands. The lashes should be made from fine silk fibers that are lightweight and comfortable to wear.
Band Flexibility: The lash band plays a crucial role in the comfort and durability of silk lashes. Gently flex the lash band to assess its flexibility. It should be thin, flexible, and easily conform to the shape of your eyelid. A stiff or rigid band may cause discomfort and make the lashes difficult to apply.
Lash Strand Placement: Look closely at how the individual lash strands are placed on the lash band. They should be evenly spaced and securely attached. Avoid lashes with clumps or gaps between the strands, as this can affect the overall appearance and durability of the lashes.
Reusability: High-quality silk lashes are designed to be reusable. Check if the lashes can be easily cleaned and maintained without losing their shape or shedding excessively. Lashes that maintain their integrity after multiple uses are a good indicator of their quality.
Natural Appearance: Put the lashes on and assess how they look on your eyes. High-quality silk lashes should blend seamlessly with your natural lashes, creating a natural and flattering effect. They should not appear overly shiny or fake-looking.
Comfort and Fit: Pay attention to how the lashes feel when worn. They should be lightweight and comfortable, without causing any irritation or discomfort. The lash band should fit snugly along your natural lash line, without poking or lifting at the corners.
Customer Reviews: Read customer reviews and feedback about the specific brand or style of silk lashes you're considering. This can provide valuable insights into the quality, durability, and overall satisfaction of other users.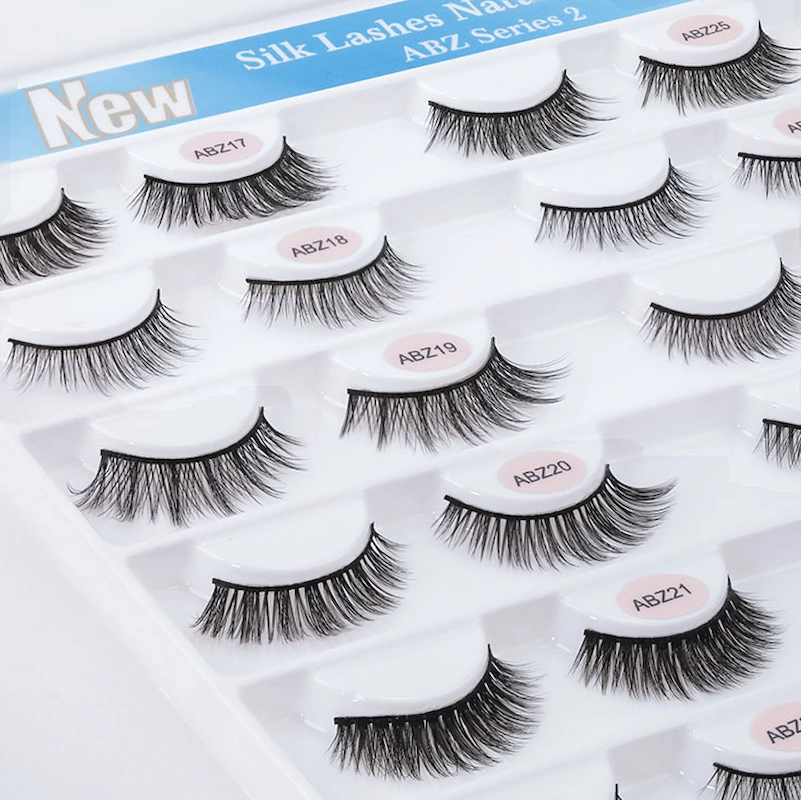 New Natural wispy styles silk lashes Advantage
Lash material : premium faux mink are very soft, made from high-quality silk fibers, these lashes are lightweight, soft, and comfortable to wear. The silk material mimics the texture and shine of real lashes, creating a seamless blend with your own. Whether you have sparse or full lashes, these wispy styles are versatile enough to complement any eye shape or makeup look.
Clear band: Clear band lashes are typically lighter in weight compared to lashes with a black band. This makes them more comfortable to wear for extended periods, as they put less strain on your eyelids.Clear band lashes can be easily customized to fit your eye shape and desired look. The transparent band allows for greater flexibility in terms of placement and adjustment, making it easier to achieve the desired lash style.
Cotton band:Cotton band lashes are known for their softness and flexibility, which makes them more comfortable to wear. The cotton thread band contours to the shape of your eyelids, providing a snug and secure fit.Cotton band lashes are generally more durable and long-lasting compared to other types of bands. The cotton thread is less prone to breakage or fraying, allowing you to reuse the lashes multiple times with proper care.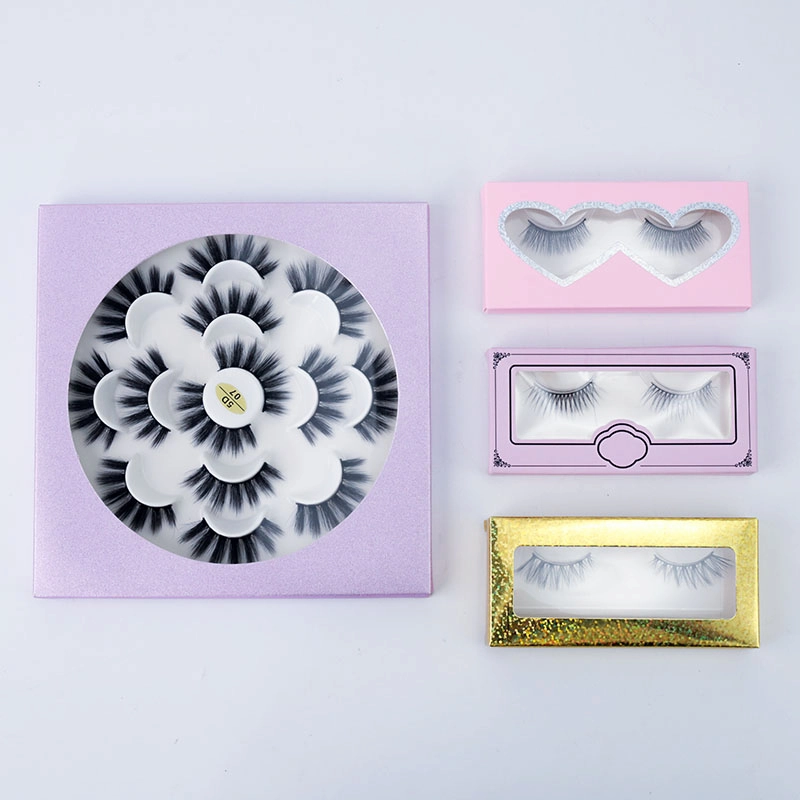 New Natural wispy styles silk lashes with private label
Eyelash packaging can be produced using various materials, depending on your preferences, budget, and desired aesthetic. Here are some common materials used for eyelash packaging:
Cardboard/Paperboard: Cardboard or paperboard is a popular choice for lash packaging due to its versatility and affordability. It can be easily customized, printed, and shaped into different box styles. Cardboard packaging is lightweight and eco-friendly, making it a sustainable option.
Plastic: Plastic packaging is durable and provides a clear, transparent display for the lashes. It offers a sleek and modern look, allowing customers to see the lashes inside. Plastic materials commonly used include PVC (Polyvinyl Chloride) and PET (Polyethylene Terephthalate).
Acrylic: Acrylic packaging is known for its high-end and luxurious appearance. It is a transparent material that can be molded into various shapes and sizes. Acrylic packaging is durable and offers a premium feel, making it a popular choice for luxury lash brands.
Metal: Metal packaging, such as tin or aluminum, can provide a unique and sturdy option for eyelash packaging. Metal tins or cases can be customized with embossing, engraving, or printing to create a distinctive and high-quality look.
Eco-Friendly Materials: With the increasing focus on sustainability, eco-friendly materials are gaining popularity for lash packaging. These materials can include recycled paper, biodegradable plastics, or plant-based materials like bamboo or cork. They offer a more environmentally conscious option for packaging.
Hybrid Materials: Some lash packaging combines different materials to achieve a specific look or functionality. For example, a combination of cardboard and plastic can create a windowed box that showcases the lashes while providing structural support.
Then we can print logo on paper box, cardboard box and so on to realize private label lash package.

FAQ:
How to do a great lash brand package?
Determine Your Brand Identity: Before customizing your lash packaging, define your brand identity. Consider your target market, brand values, and overall aesthetic. This will help guide your packaging design decisions.
Packaging Type: Decide on the type of packaging you want for your lashes. Common options include lash boxes, trays, or cases. Consider factors such as durability, functionality, and visual appeal.
Design Concept: Create a design concept that aligns with your brand identity. Decide on colors, fonts, graphics, and any other visual elements that will be incorporated into the packaging. Ensure that the design is visually appealing and reflects the quality of your lashes.
Branding Elements: Incorporate your brand logo, name, and any other branding elements into the packaging design. These elements should be prominently displayed to create brand recognition and reinforce your brand identity.
Customization Options: Consider additional customization options to make your lash packaging stand out. This may include foil stamping, embossing, debossing, spot UV coating, or custom shapes. These techniques can add a premium and unique touch to your packaging.
Packaging Materials: Choose the materials for your lash packaging. Common options include cardboard, paperboard, plastic, or eco-friendly materials. Consider the durability, sustainability, and cost-effectiveness of the materials.
Packaging Inserts: Decide if you want to include any inserts or accessories in your lash packaging. This could include lash applicators, mirror inserts, or informational cards. These additions can enhance the overall customer experience.
Mockup and Prototyping: Create a mockup or prototype of your customized lash packaging to visualize the final product. This will help you assess the design, dimensions, and overall functionality before mass production.
Printing and Production: Once you are satisfied with the design and prototype, work with a printing and packaging manufacturer to produce your customized lash packaging. Provide them with the necessary design files and specifications.
Quality Control: Conduct quality control checks on the produced packaging to ensure it meets your standards. Check for any printing errors, color discrepancies, or structural issues.
You may also like
Wholesale popular silk faux mink vegan eyelashes with logo XJ92
wholesale Hot Mink lashes with custom lash package in US XJ83
Private label 3D faux mink natural Half lashes small corner eyelash XJ82
Latex free Korean Strip eyelash glue XJ78